after reading and looking at all the pictures, Make sure to
VOTE HERE
!
Voting begins Tuesday, Sept. 4 and ends Thursday, Sept. 6 at 7pm central time so be sure to check out the rest of the designer's looks and vote! The winner of the challenge will be announced Friday, Sept. 8.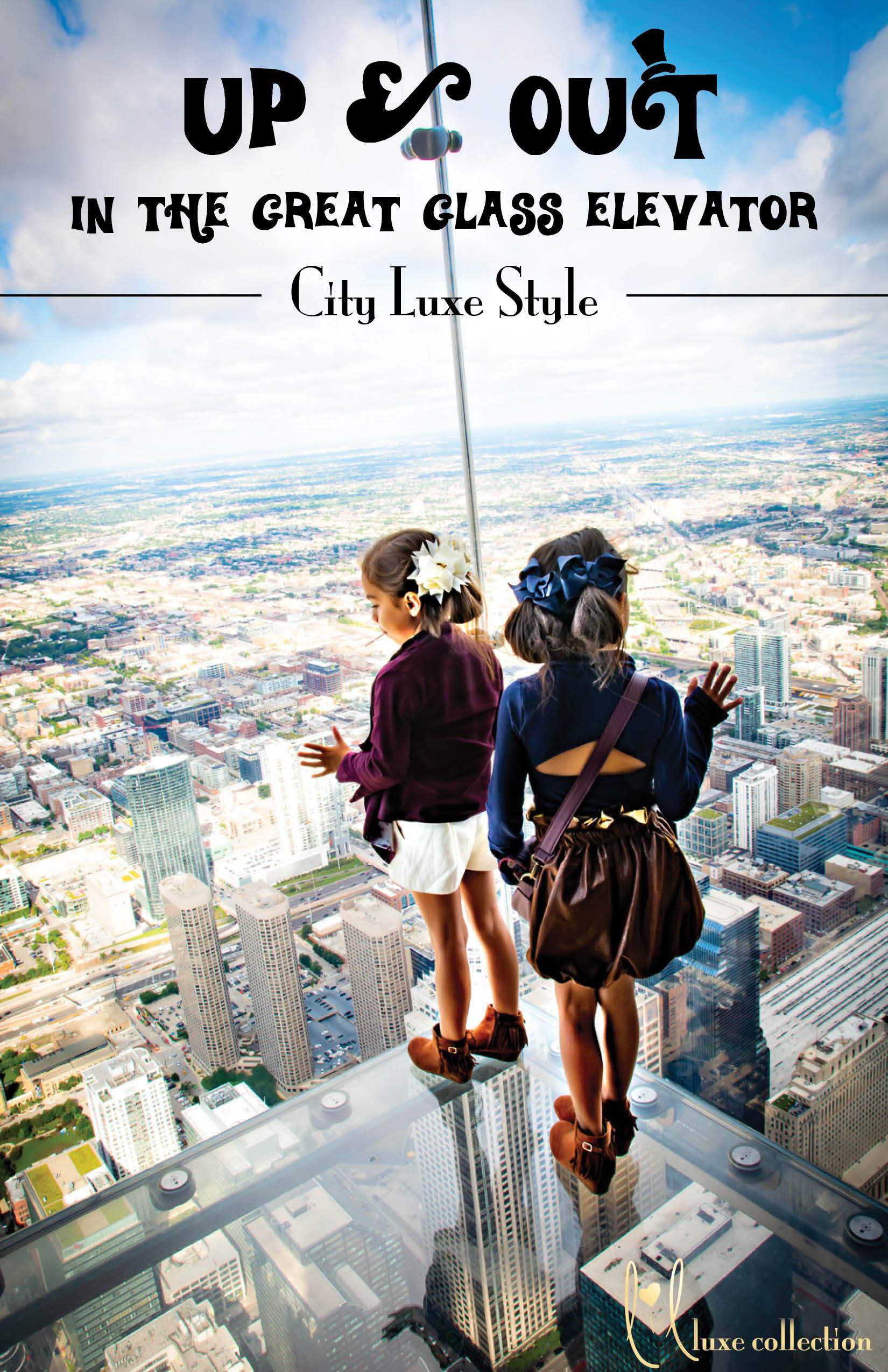 "Up & out!" in the Great Glass Elevator! For the Willy Wonka themed challenge, I first chose the location of photography as my muse. "The Ledge" at Skydeck, Willis Tower (formerly the Sears Tower for all my fellow Chicagoans who won't give up the name) began construction after the new owners of the building decided to add a new and unique observation deck to the old building. The Ledge's Glass Skyboxes protrude 4.3 feet from the Skycraper's 103rd floor, 1,353 feet up, offering an exhilarating experience and served as inspiration for my garments and offered a truly one of a kind photography location mimicking the Great Glass Elevator from the movie. I love both the 70's version and the new version of the Willy Wonka movie and I love how the new owners of Willis Tower transformed the Skydeck level with today's architectural advances. My Willy Wonka outfits are a modern interpretation of the original Charlie and Willy Wonka outfits gone modern day city luxe girl. They're wearable, everyday pieces that can be worn together or separately with other outfits and are true to my style and aesthetic. Getting them to pose so high in sky with a glass floor took some convincing/bribing so to end our experience we went to Sugar Factory, a super cool, fancy candy shop with yummy food and smoking candy goblets…very Willy Wonka-esque!
---
First, I'd like to show you my Skydeck pictures because I was super impressed with my girls fearlessness and I'm so happy with how these pictures came out. Look out family...printed pictures are coming your way!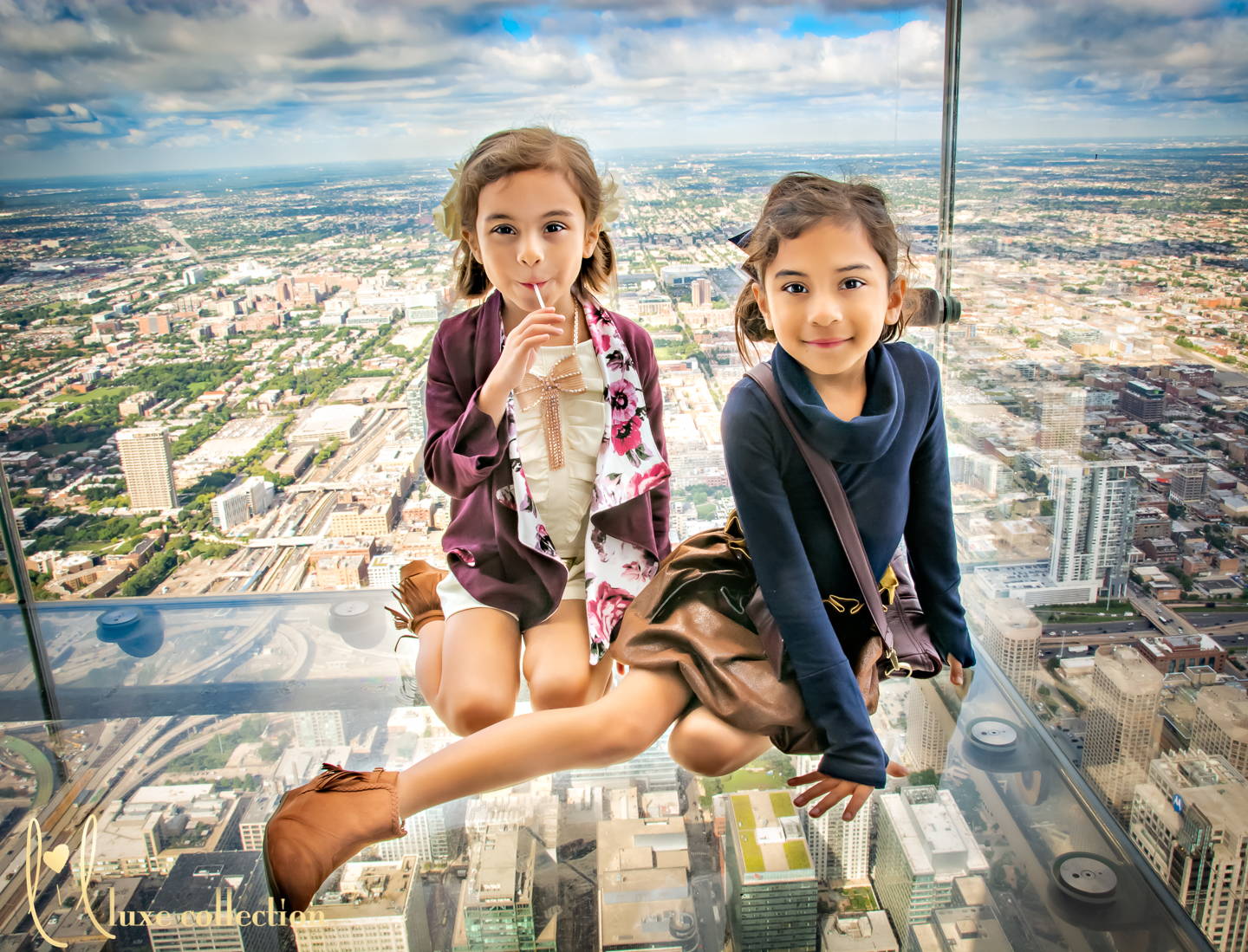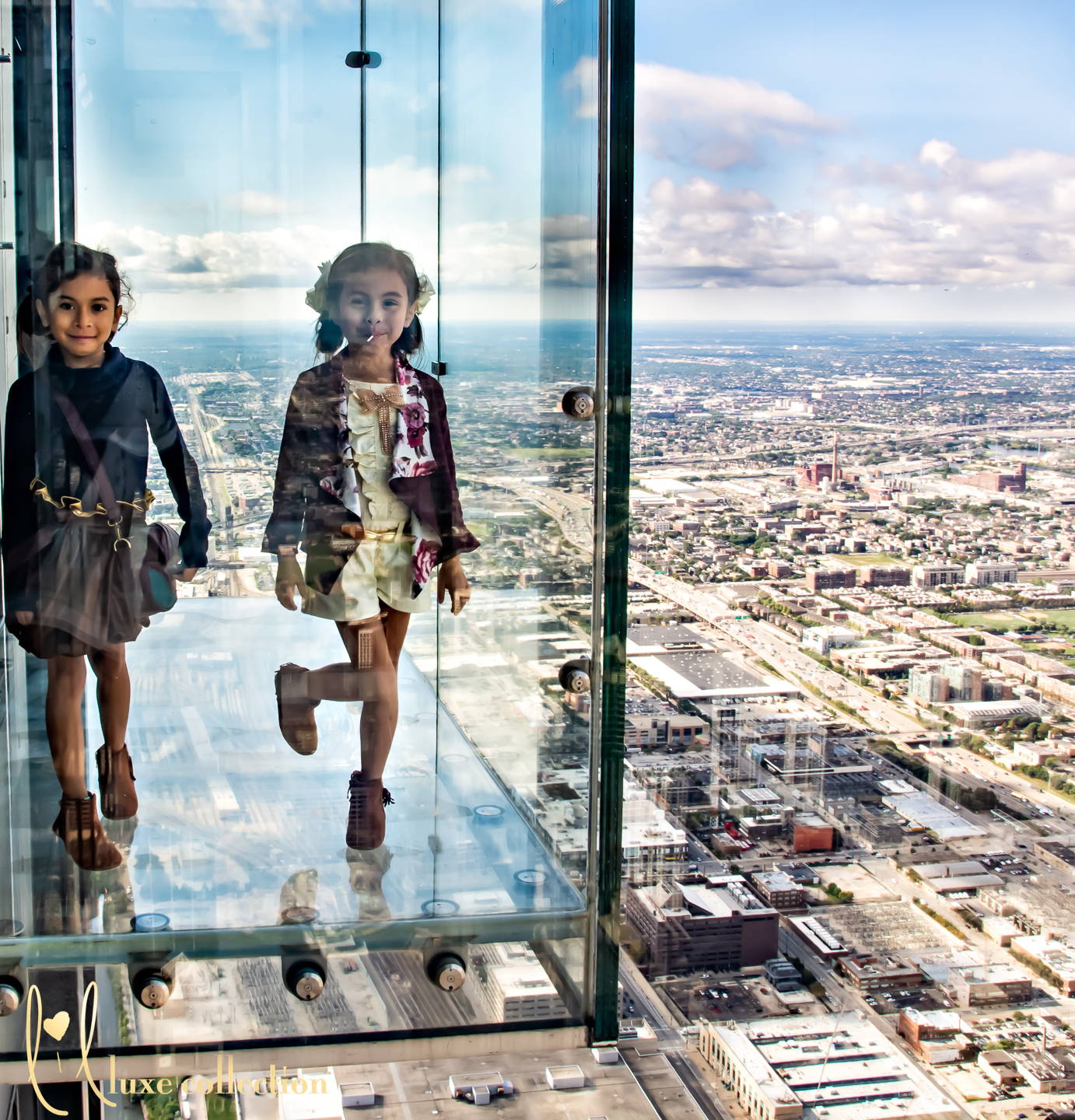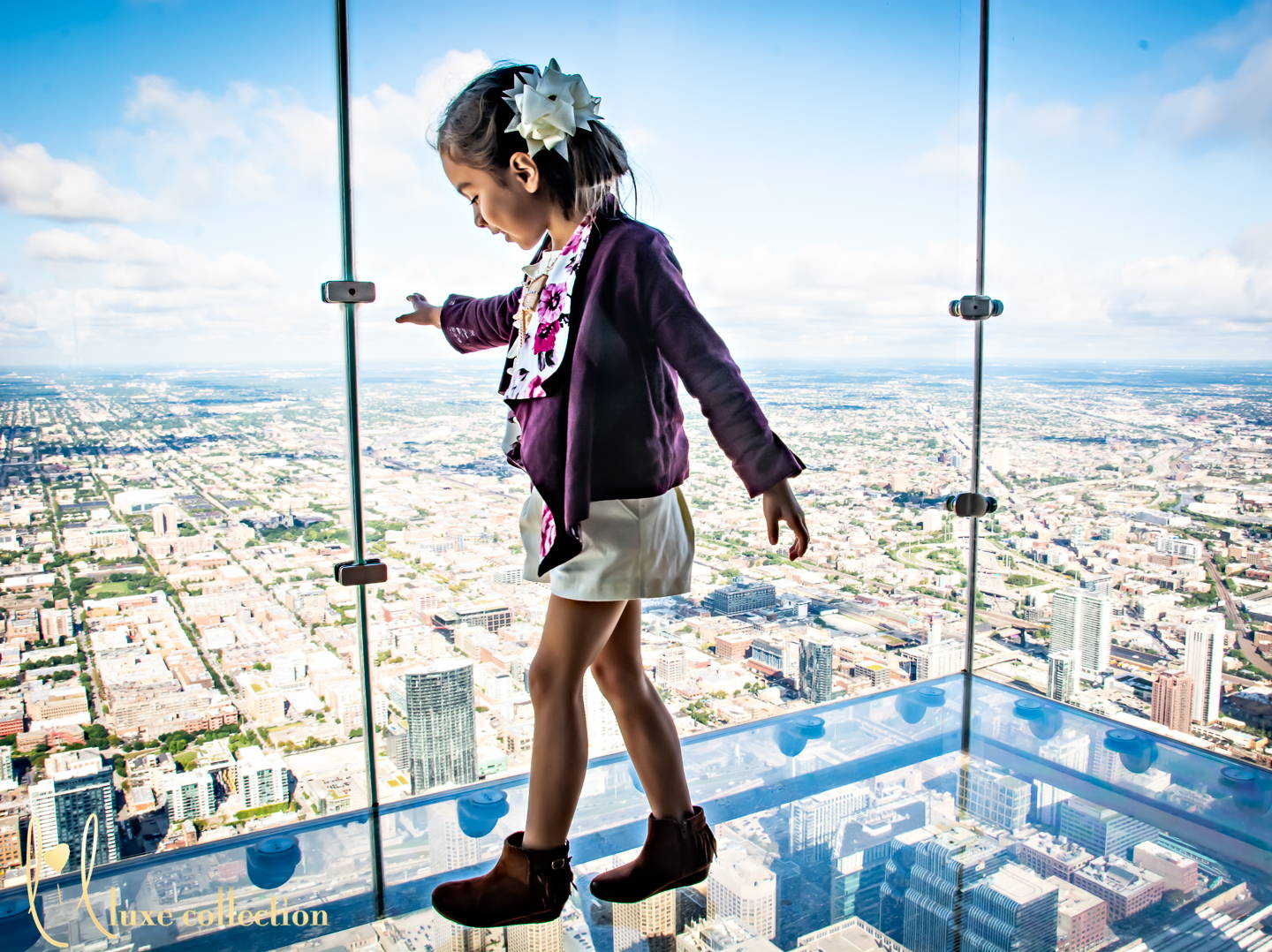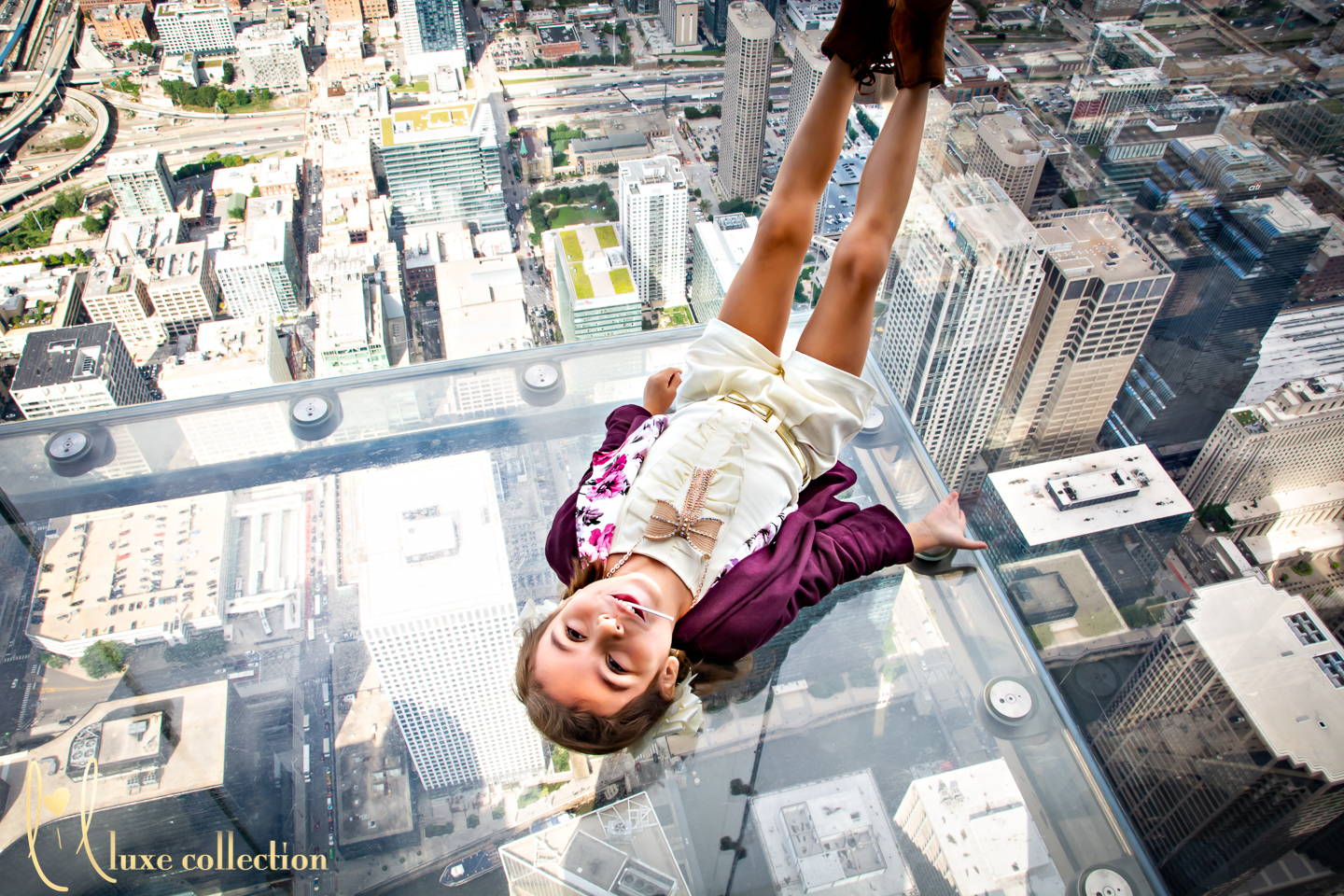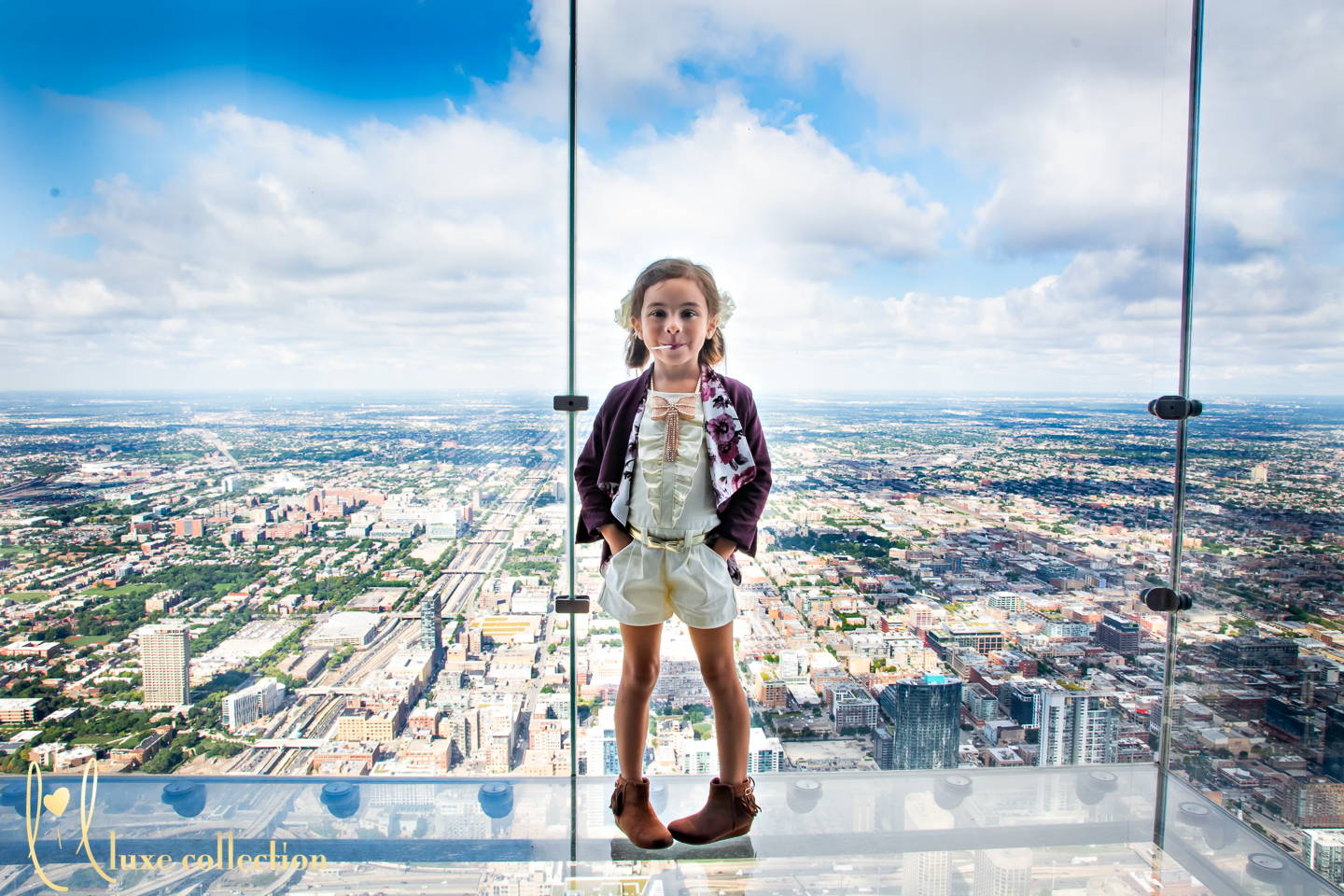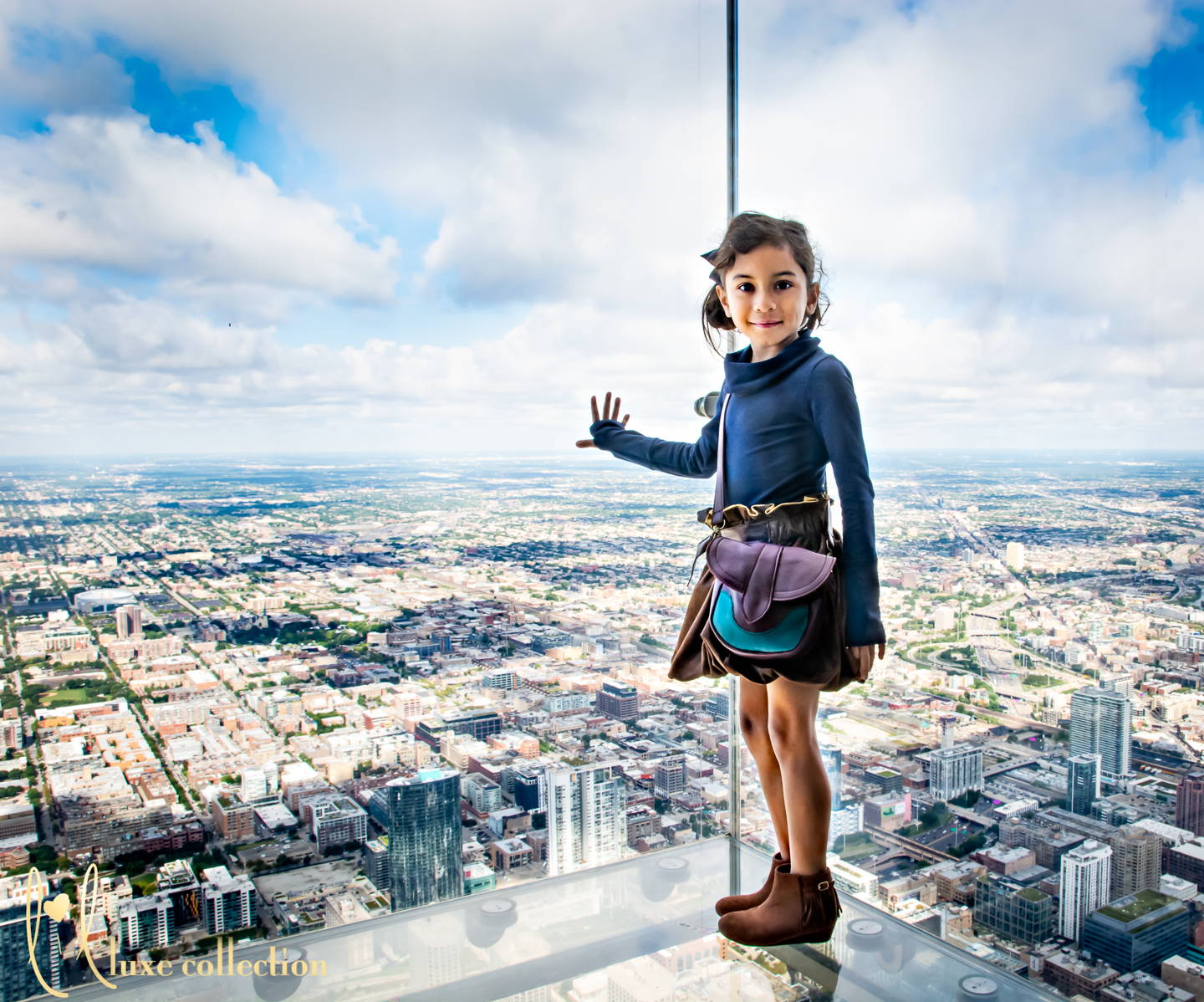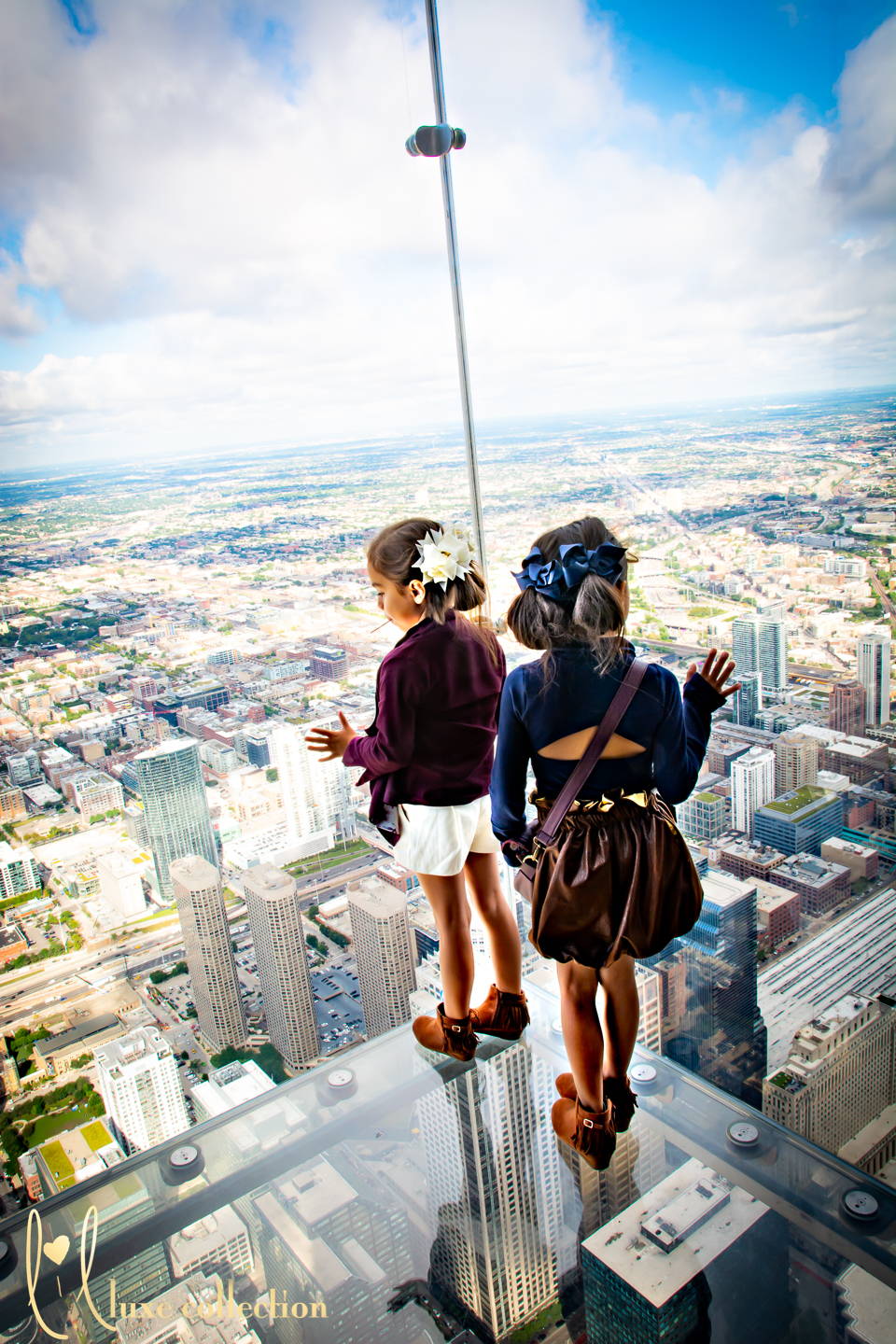 Next are our pictures from Sugar Factory. They had a blast picking out their candy and we would have tried their smoking candy goblet drinks but they were sooooo expensive...like $30 for a non alcoholic drink! Nope! Maybe if I hadn't already invested so much in the photoshoot, fabric and accessories. Maybe next time!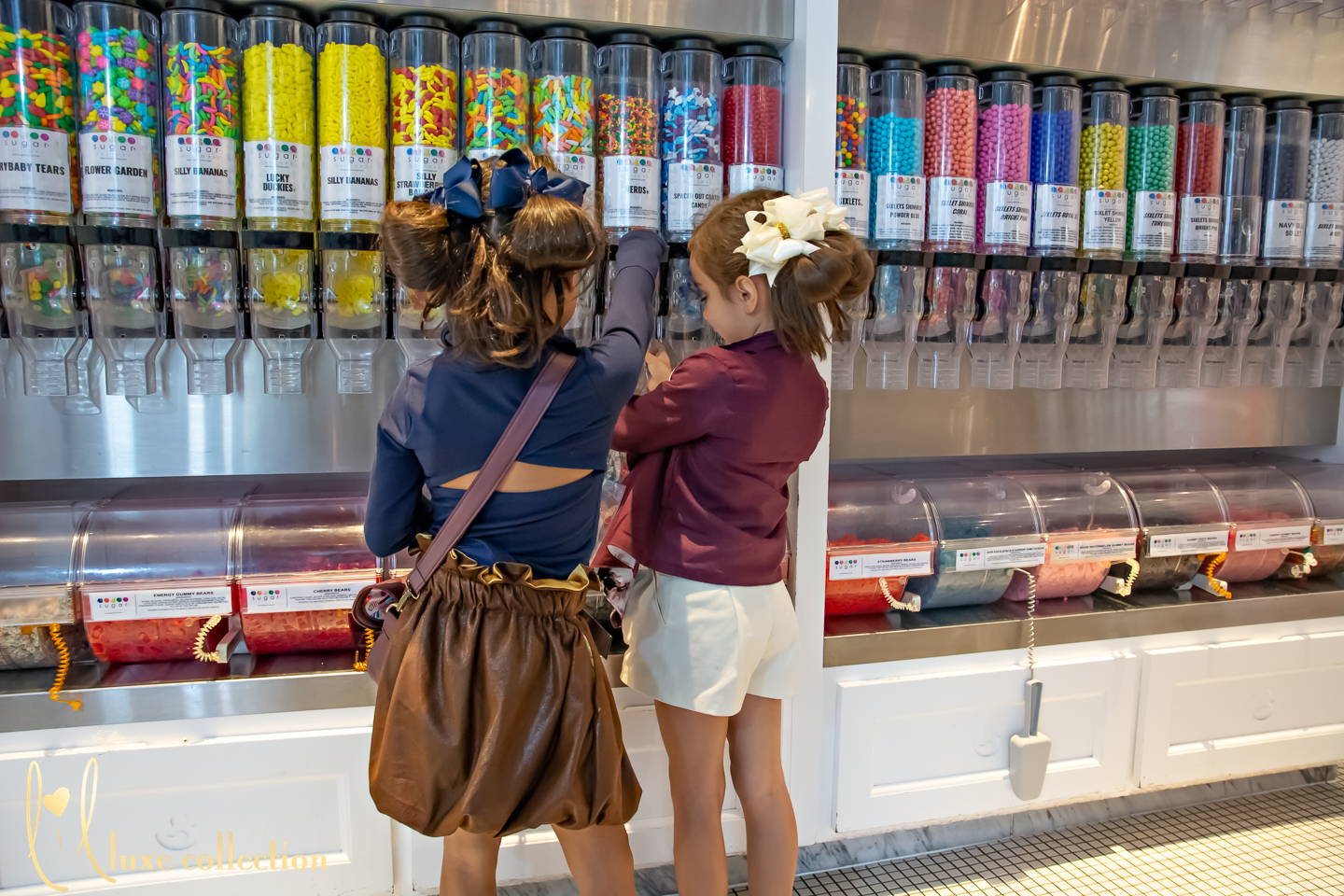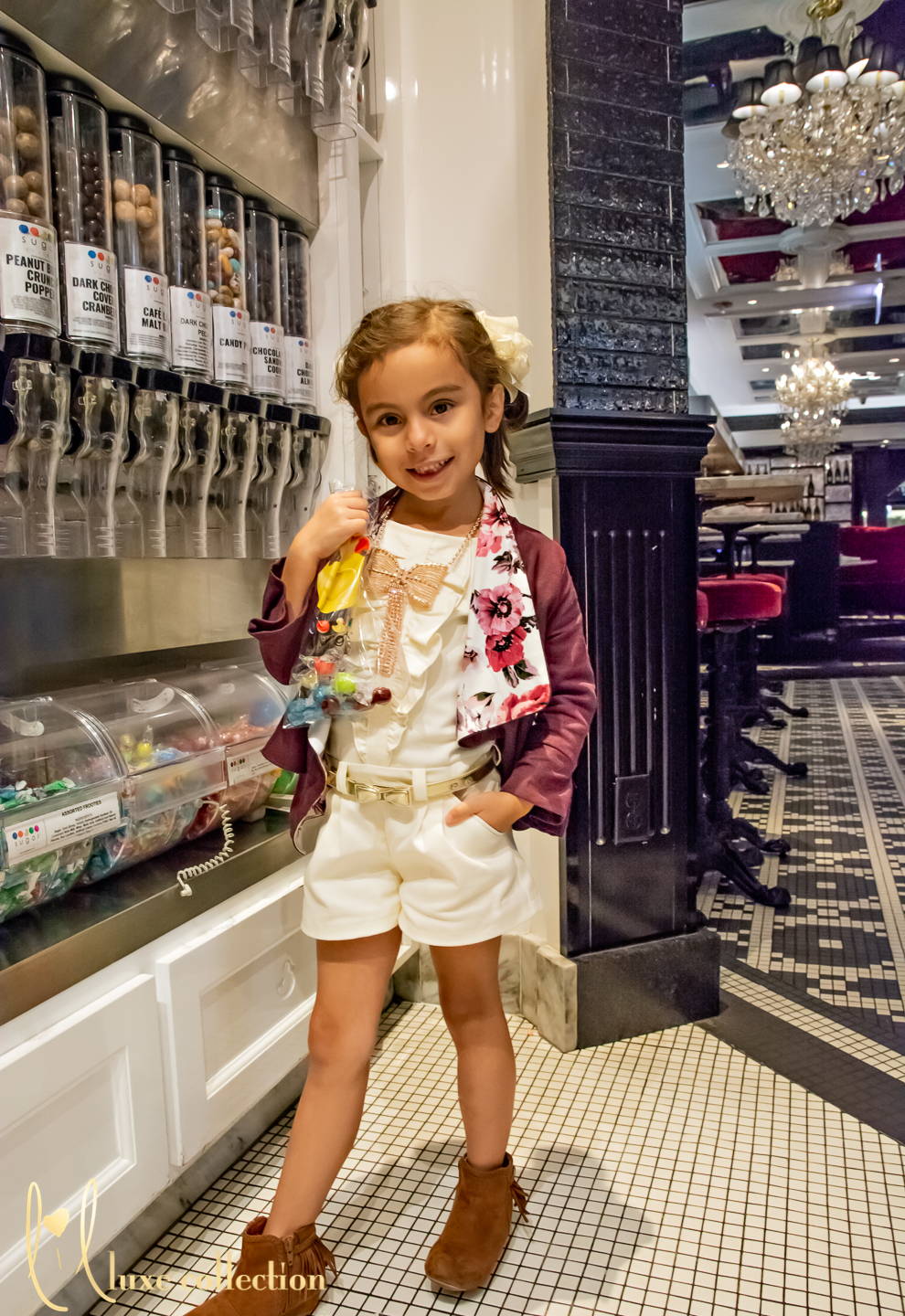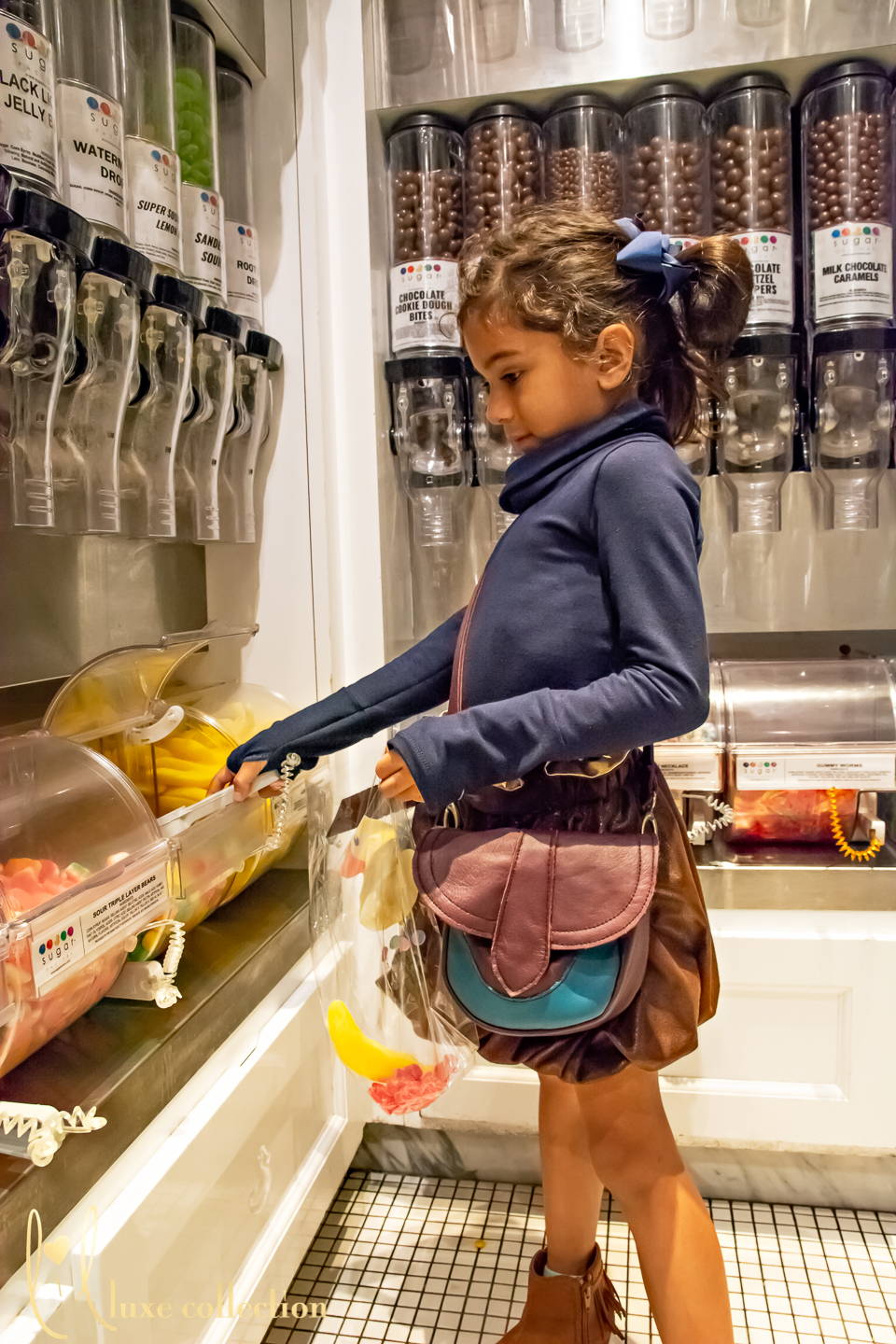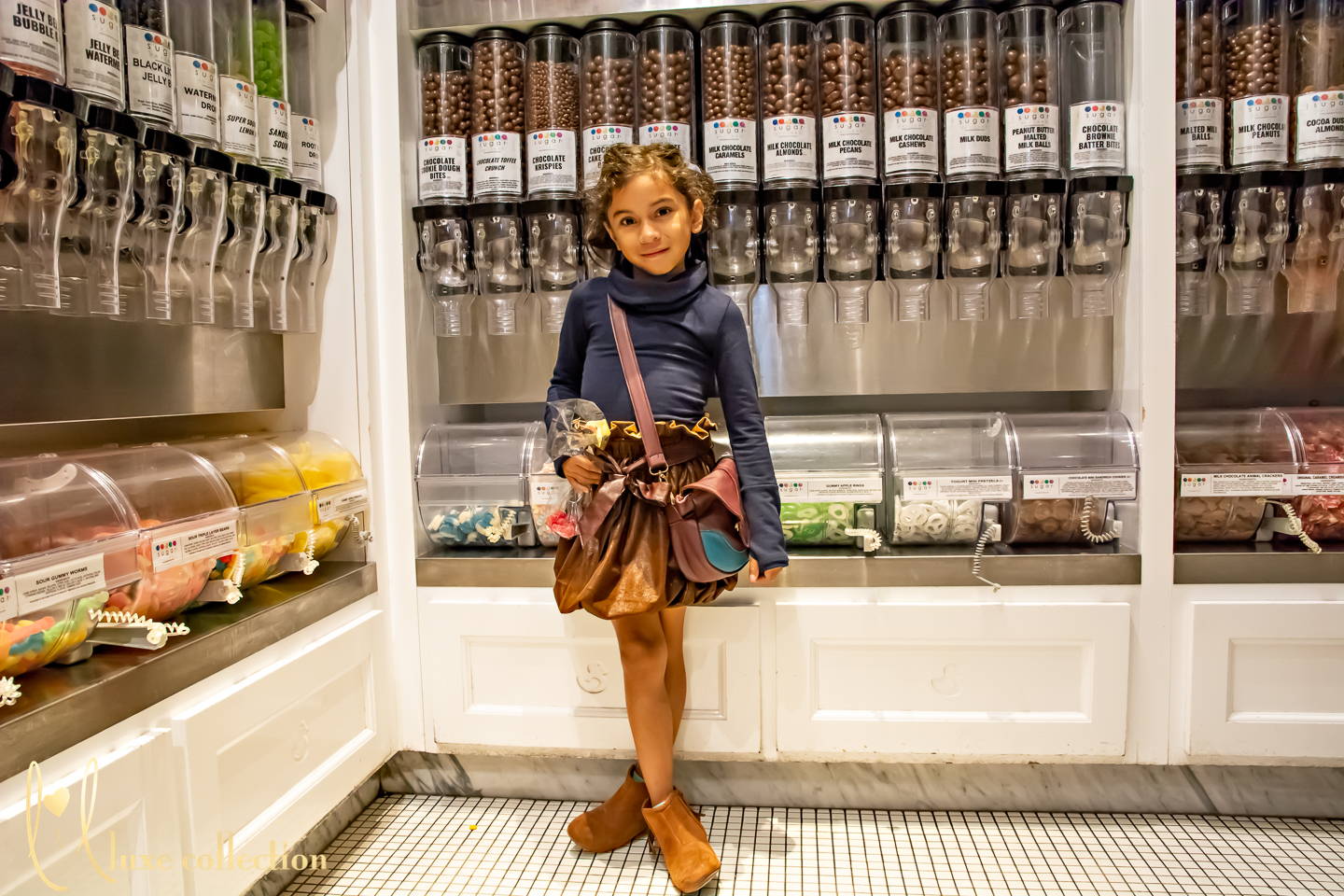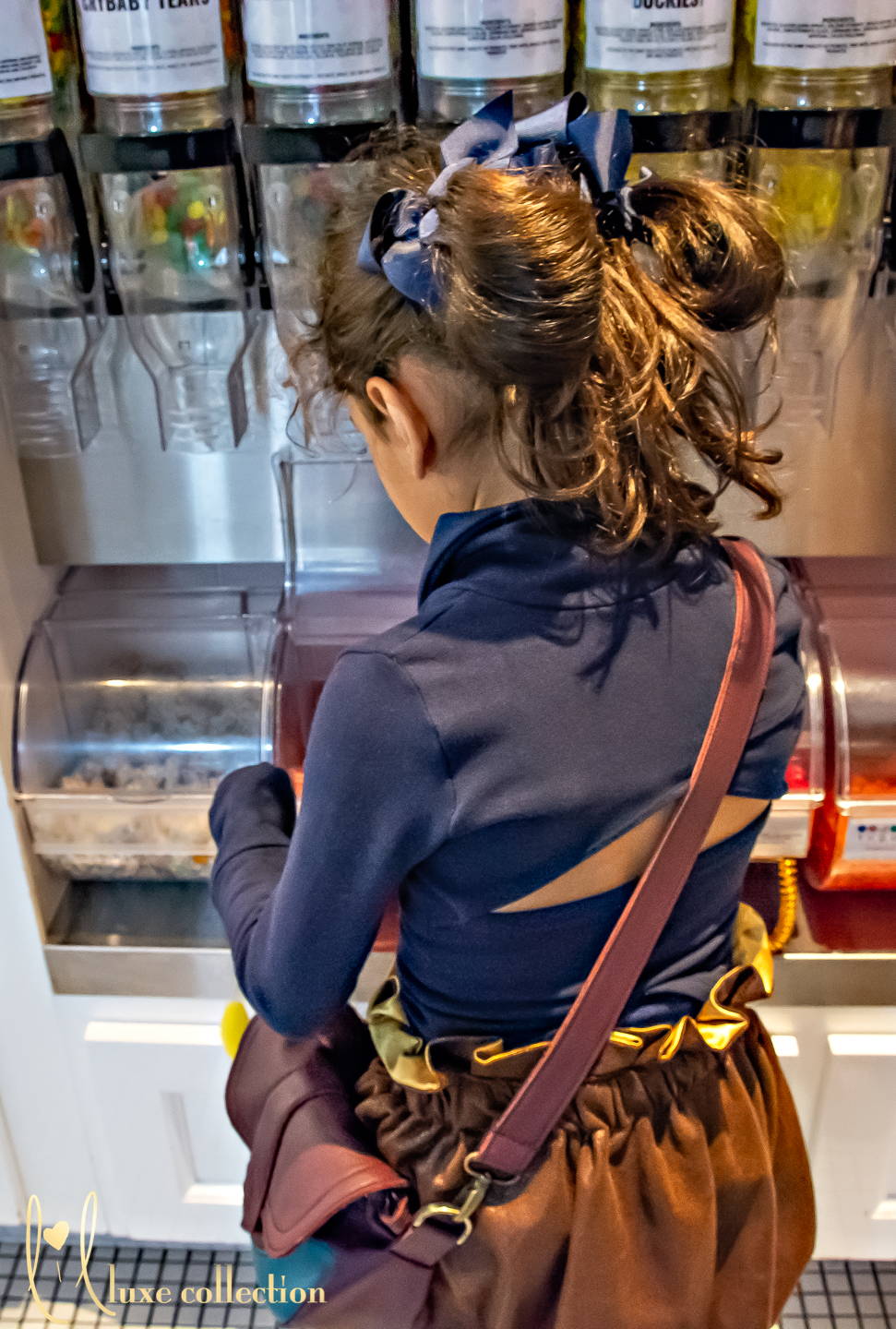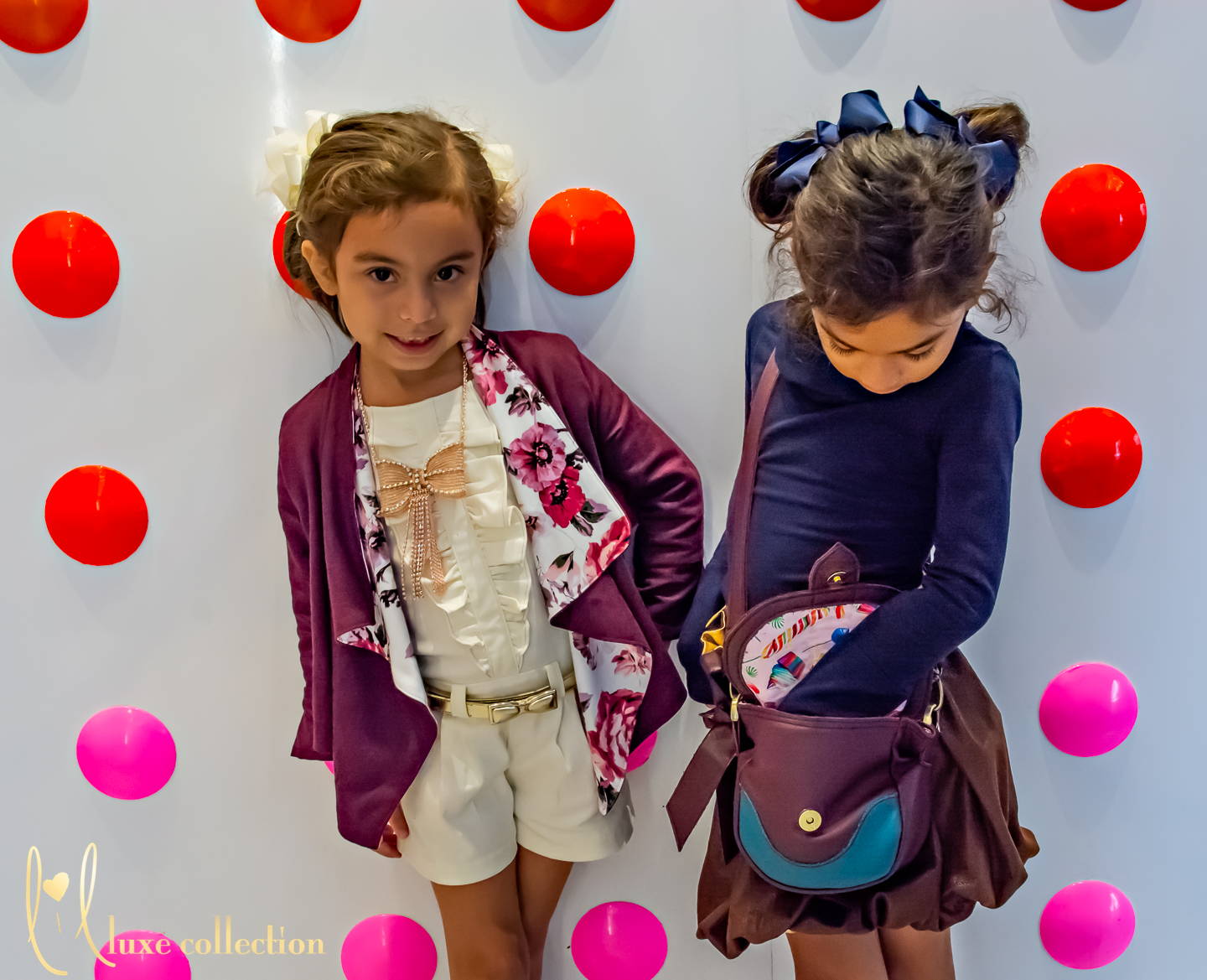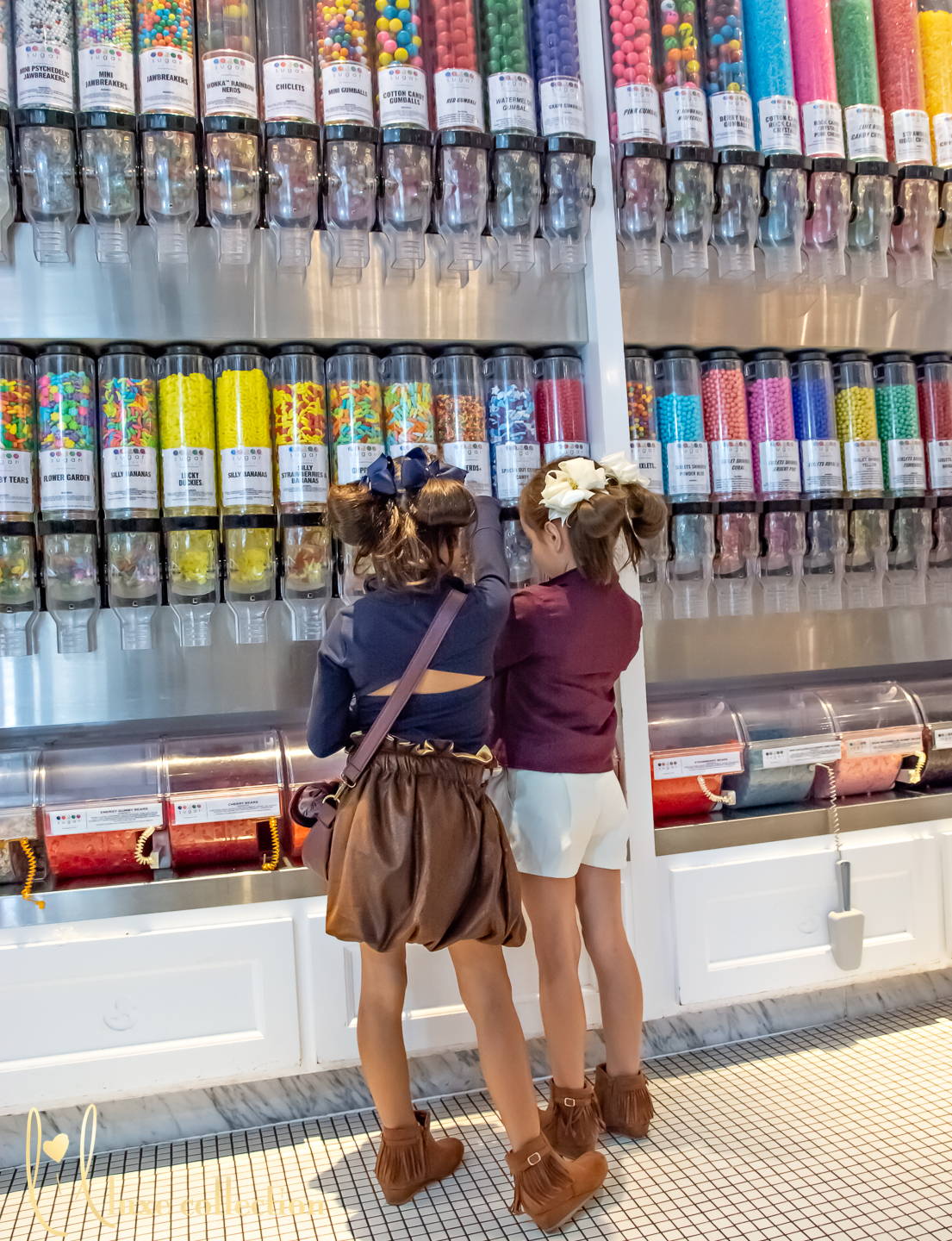 ---
Now for the details...
For Charlie's original blue turtleneck, I used the LLC Petite Ballet Sweater pattern, lengthened to a top, complete with thumbholes and a criss cross open back for a modern look made from a classic navy knit. For the bottom of Charlie's look, I wanted to lean on his "poor family" with a glint of happiness when he gets the golden ticket as inspiration, so I decided on a paper bag style skirt. I used the LLC Pleated Skirt for the top of the skirt, then added an elastic waistband and bubble skirt bottom with gold lining and pockets for a golden ticket wrapped in chocolate interpretation. The fabric is a variated brown/black suede with satin gold lining, tied together with a dark, maroon leather belt. To tie the look together and bring in another aspect from the movie, I made the Dollie Crossover bag to represent Charlie's messenger bag from the movie. I used a dark maroon leather with contrasting blue accent and candy fabric for the lining. The leather is so buttery soft and making the bag was surprisingly easy. I'll definitely be making another!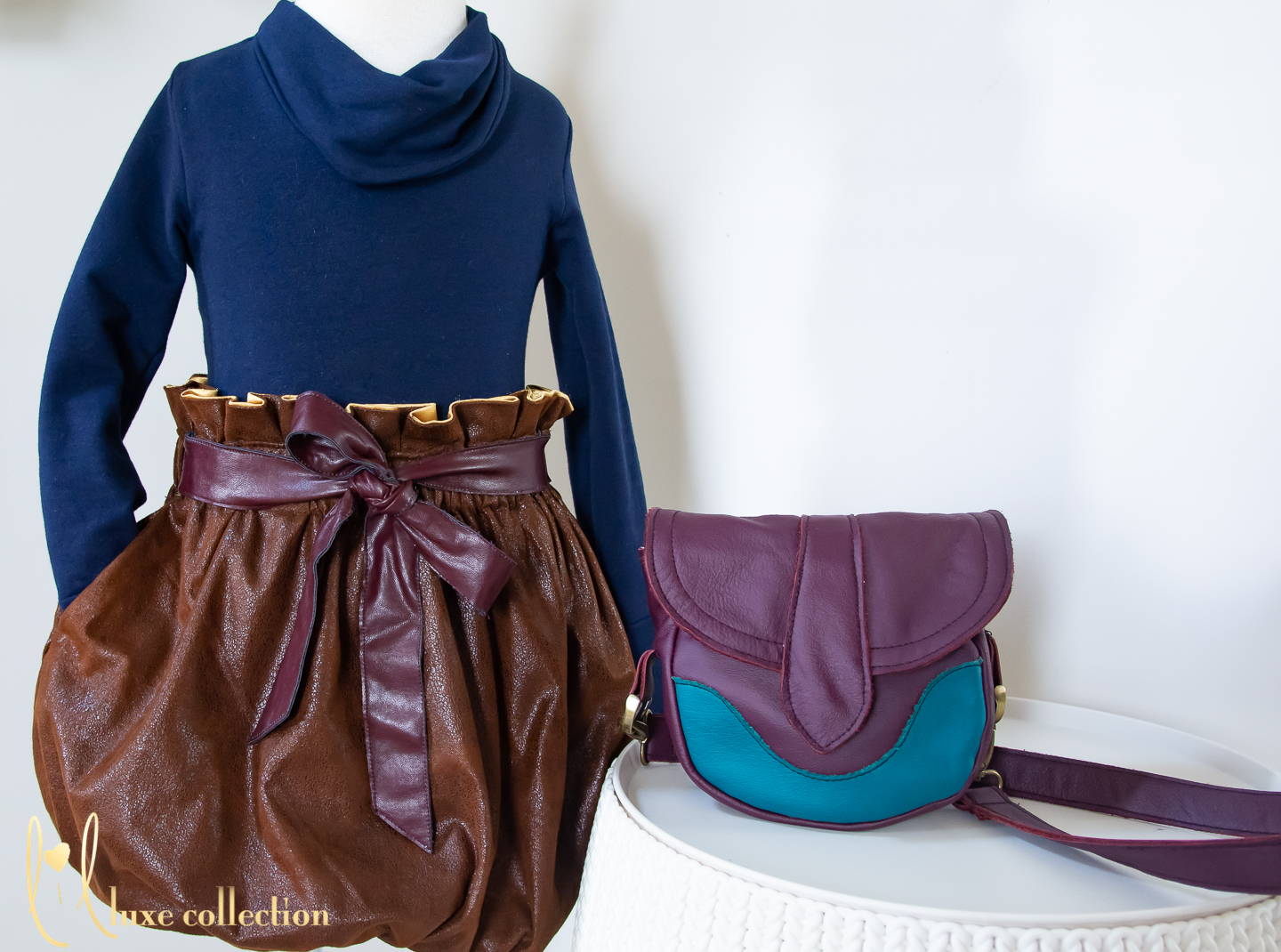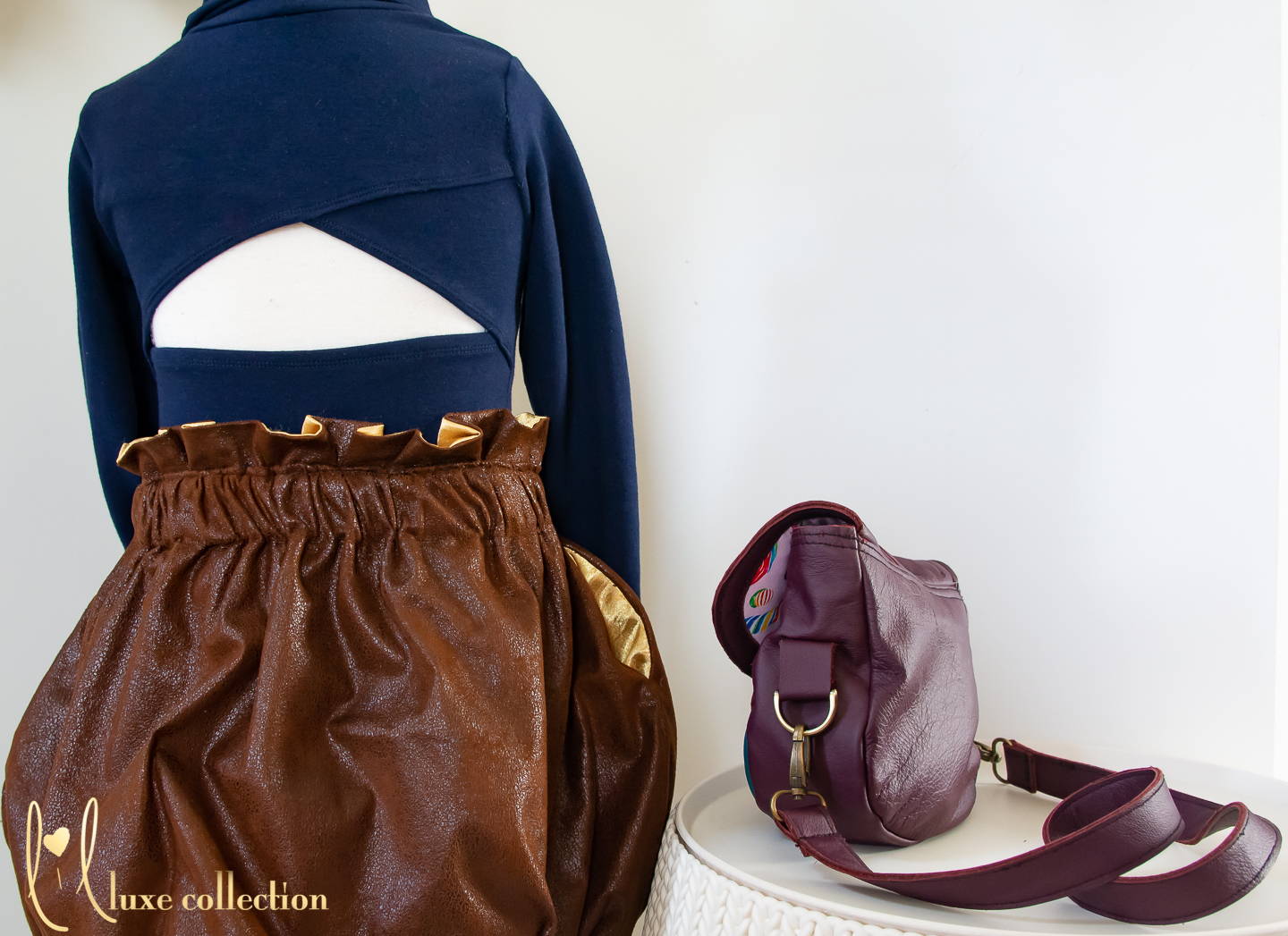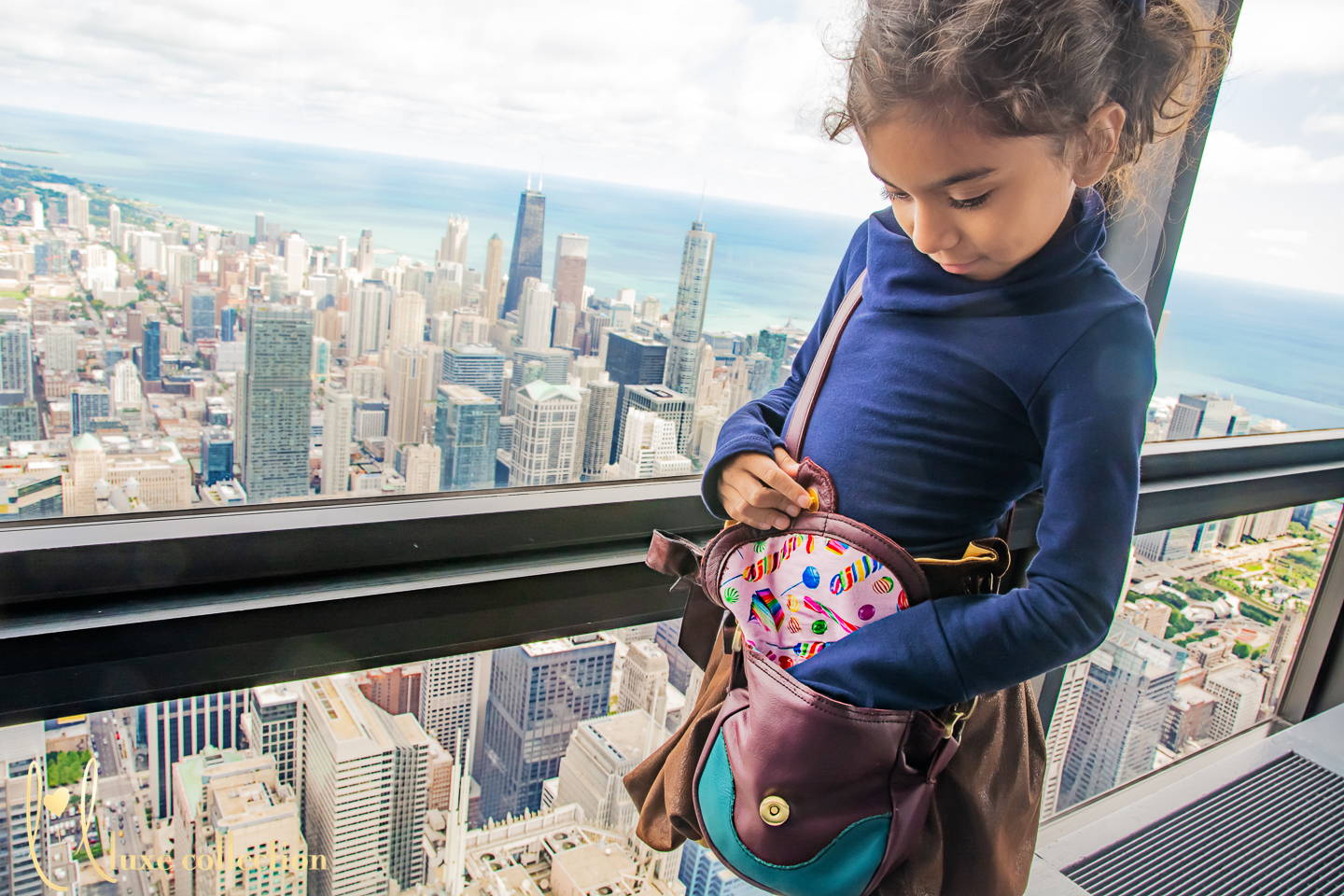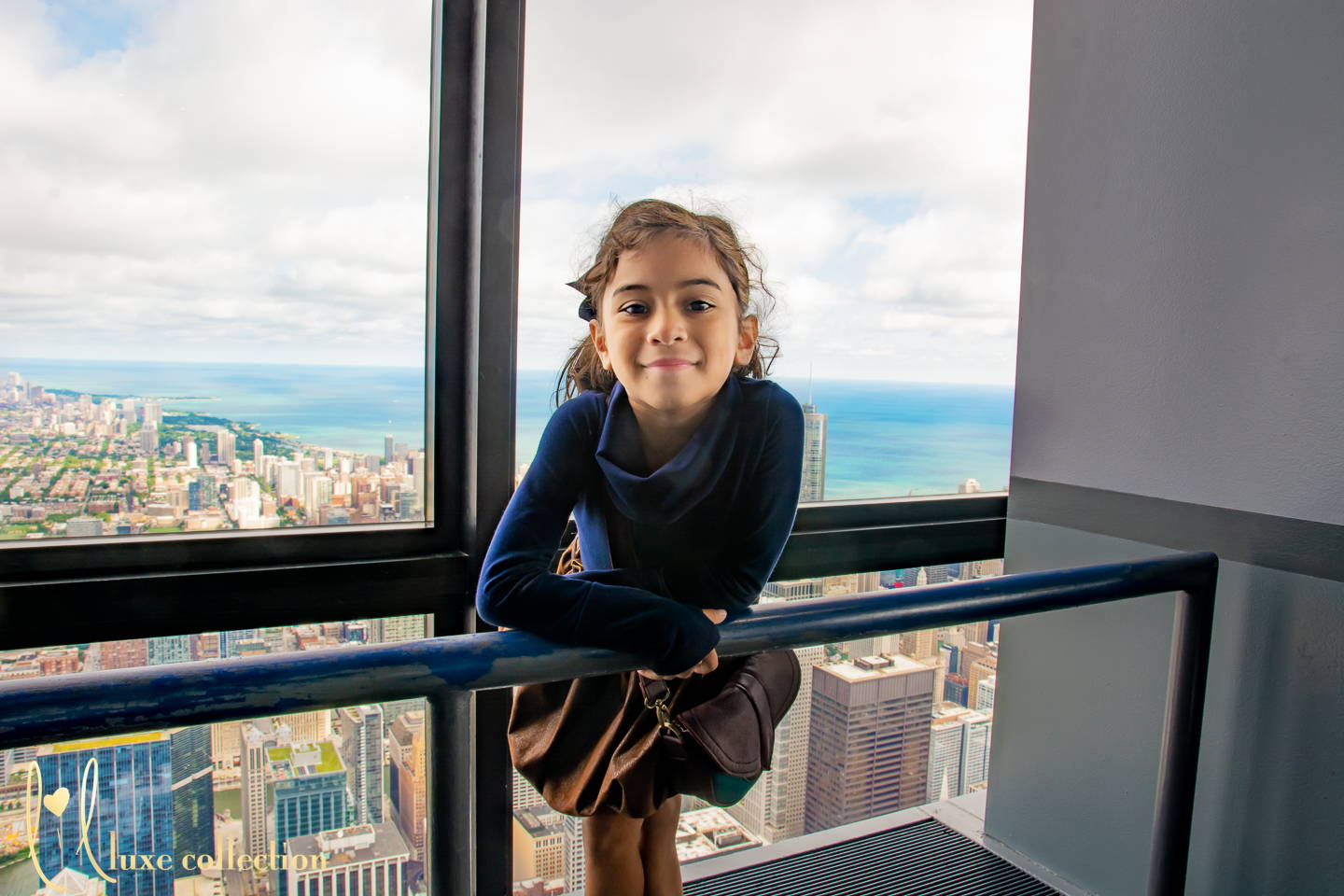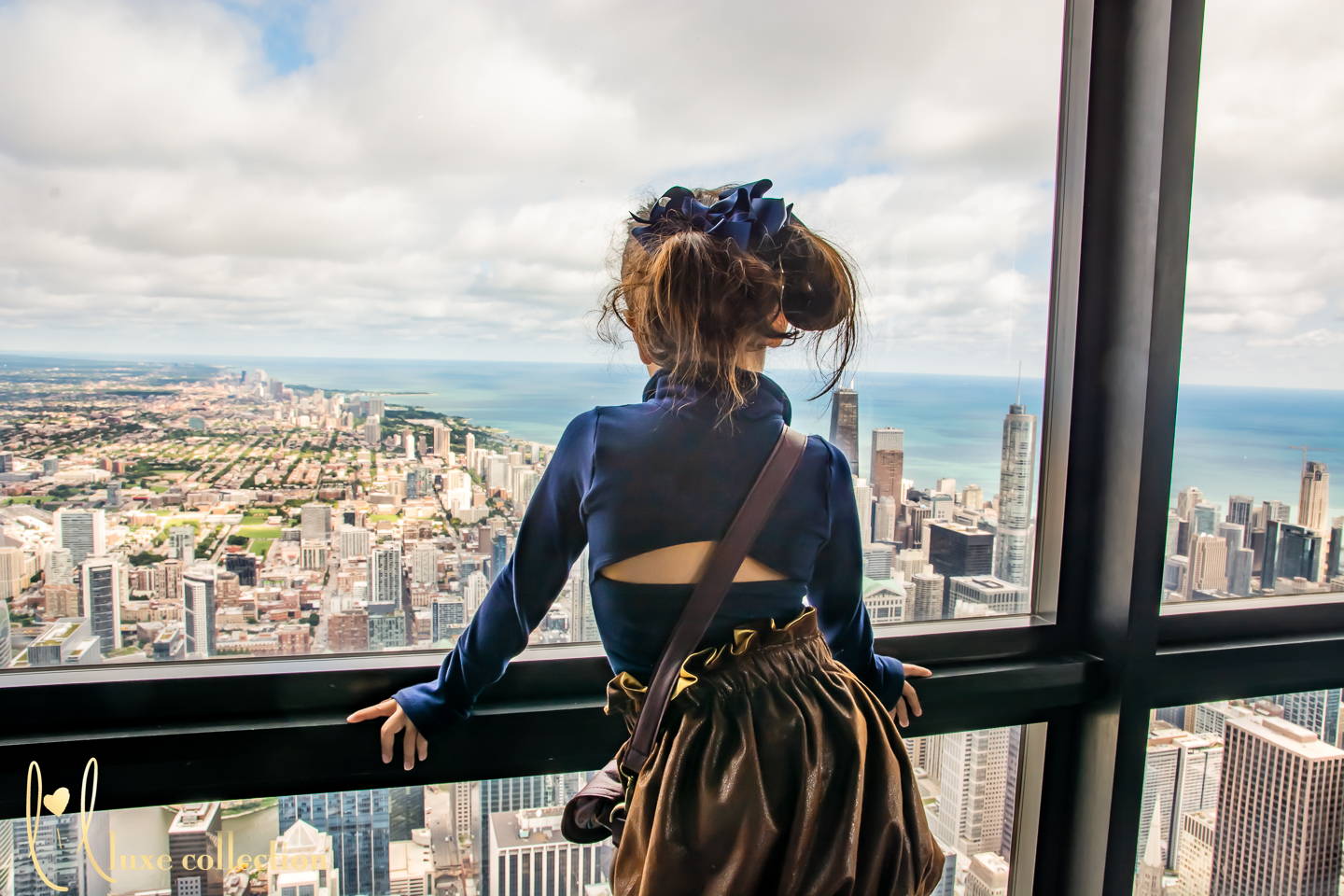 For Willy Wonka, I took his original outfit of a three piece suit with bowtie and transformed it into a ruffle front shorts romper with pleats for a tailored look. I used the Lil Luxe Dress pattern for the bodice, added length and width to the center front to fold down and allow for the ruffle front. I then used the LLC Papillon Shorties, minus the scalloped waistband for the shorts portion and added belt loops. The garment is made from a stretch woven with no lining and no zippers/buttons to make it easy for my daughter to stretch and take on/off. The Notch Lapel style of the original suit jacket were my inspiration for how I would interpret the jacket. The lapel style made it easy to envision my version as a drape front cardigan. I used a basic block to draft the pattern and made it with a dark maroon linen for the outside and lined it with a floral to mimic Willy Wonka's vest from the movie. To glam up the look we chose a gold bow belt and an over the top bow necklace to bring out the Wonka! I also made a hat to add a bit of whimsy but we forgot it amongst everything we needed to bring on our trip downtown so it didn't make it into the photoshoot but I added it on the detail and flat lay pictures.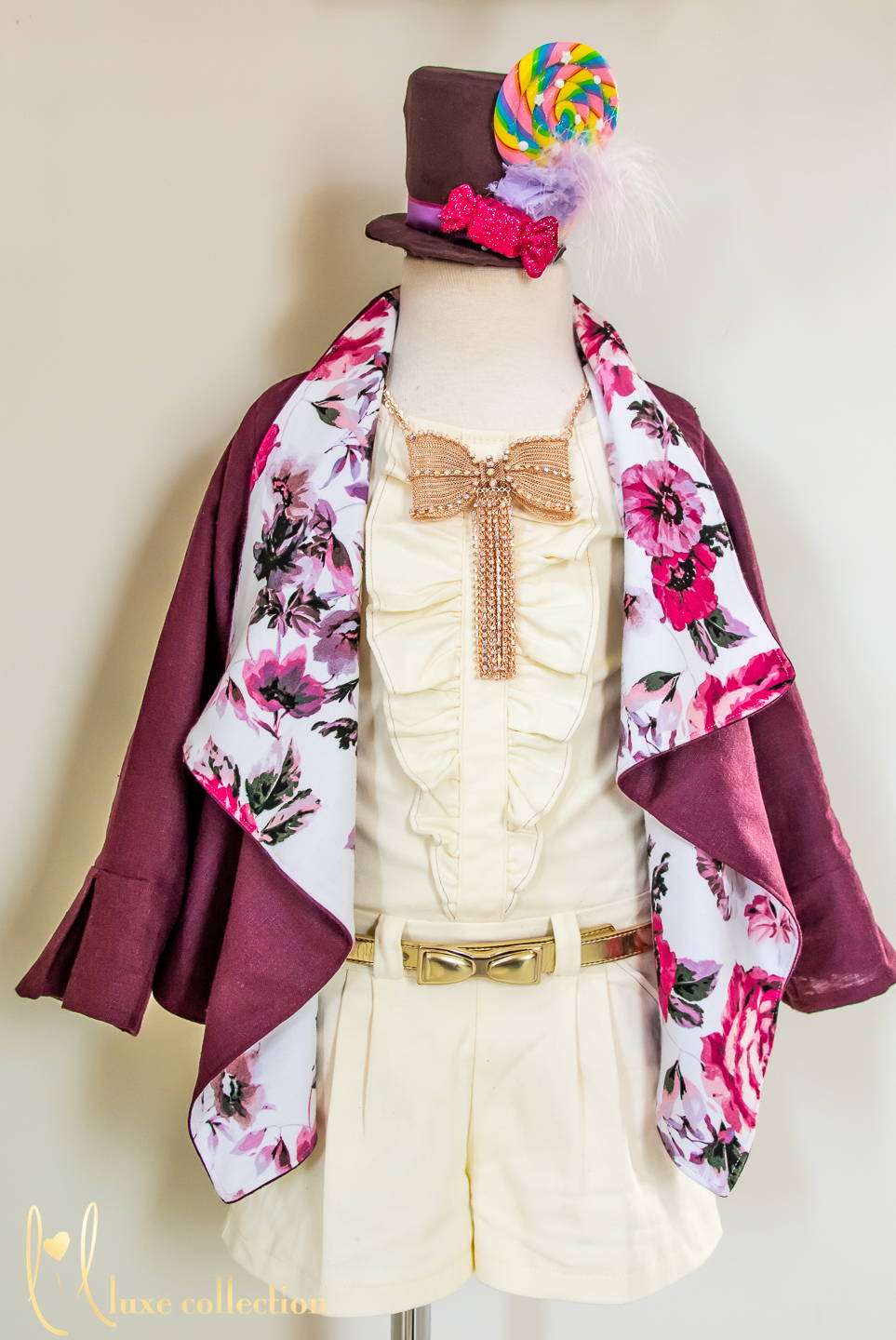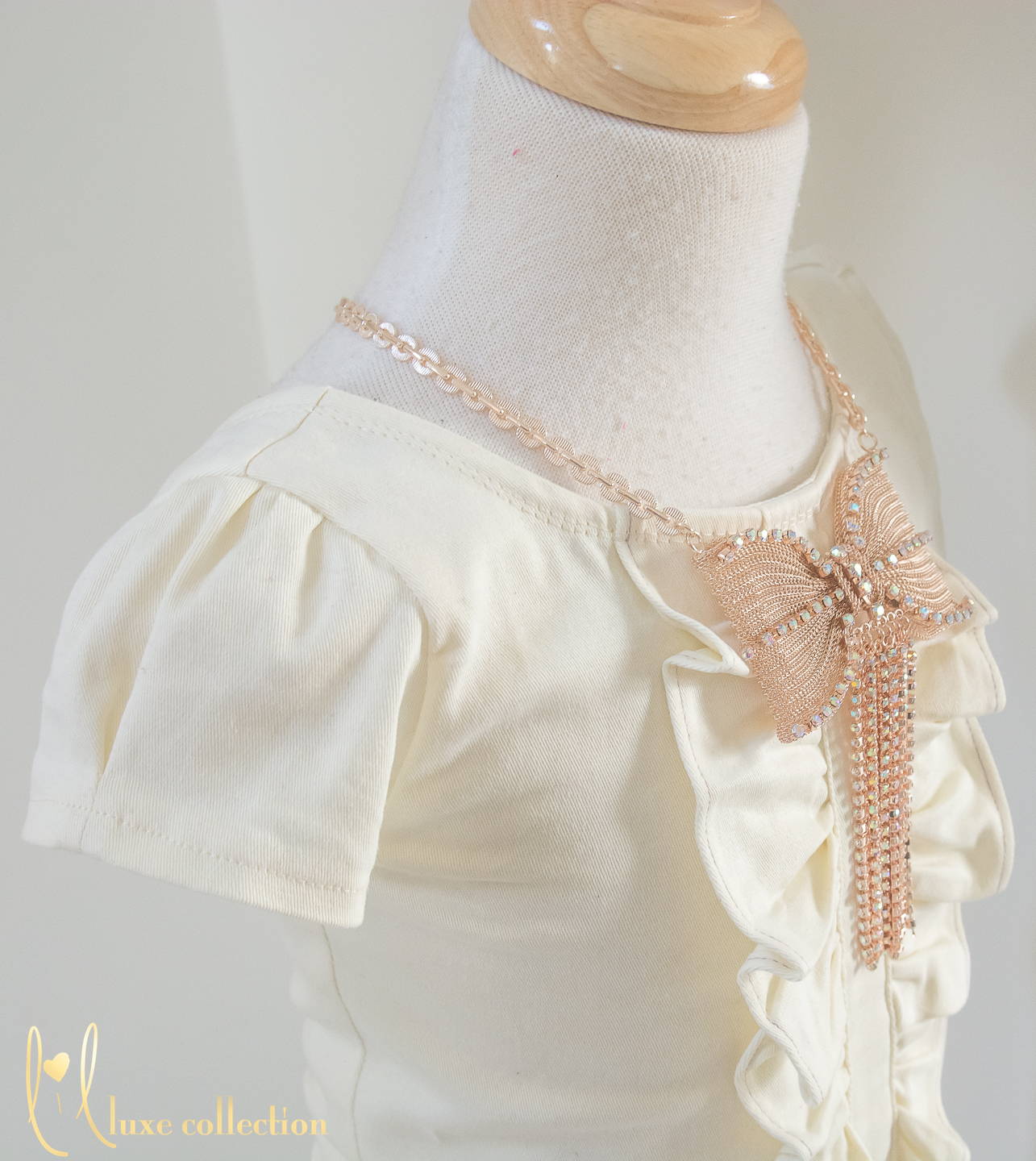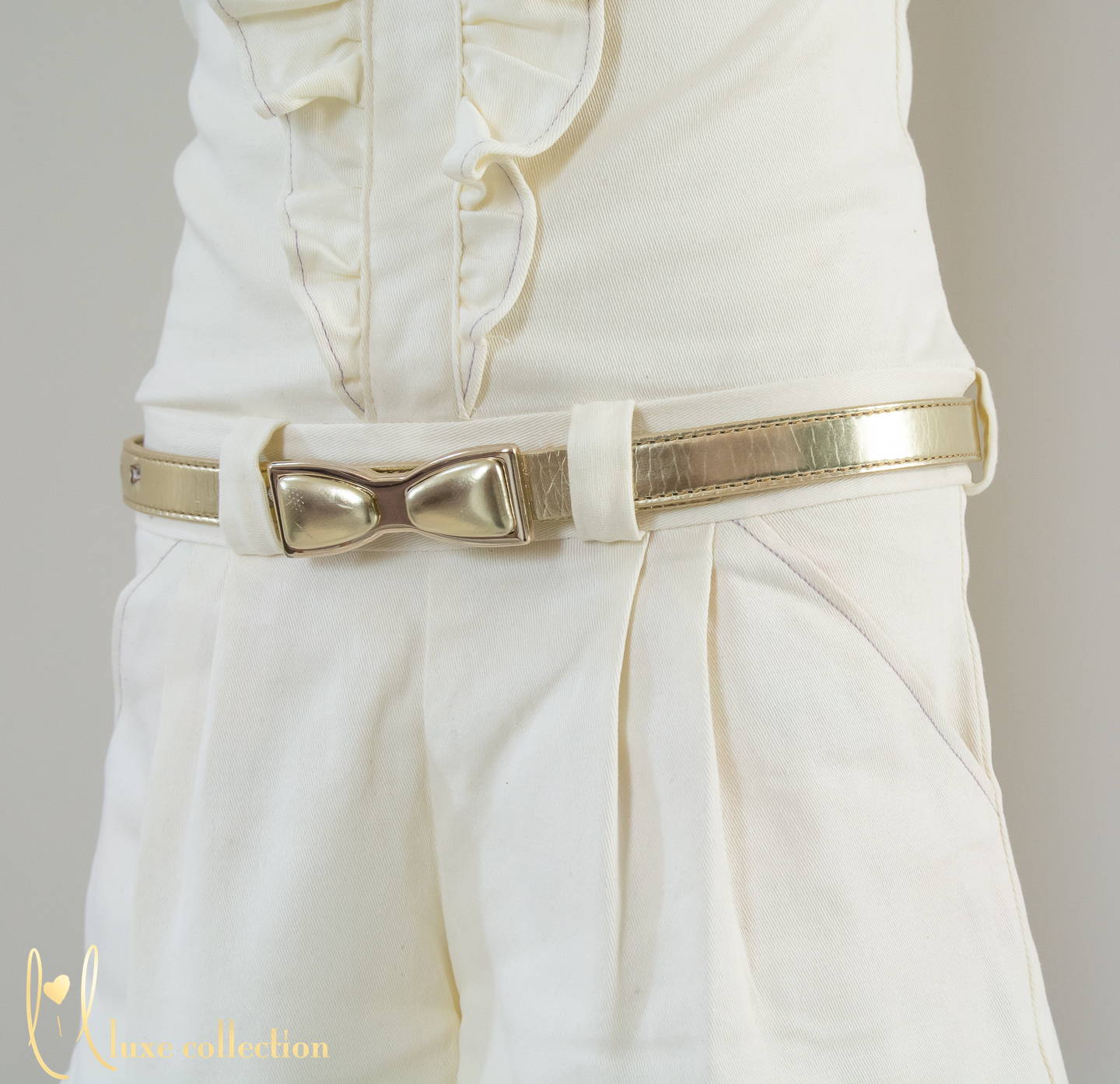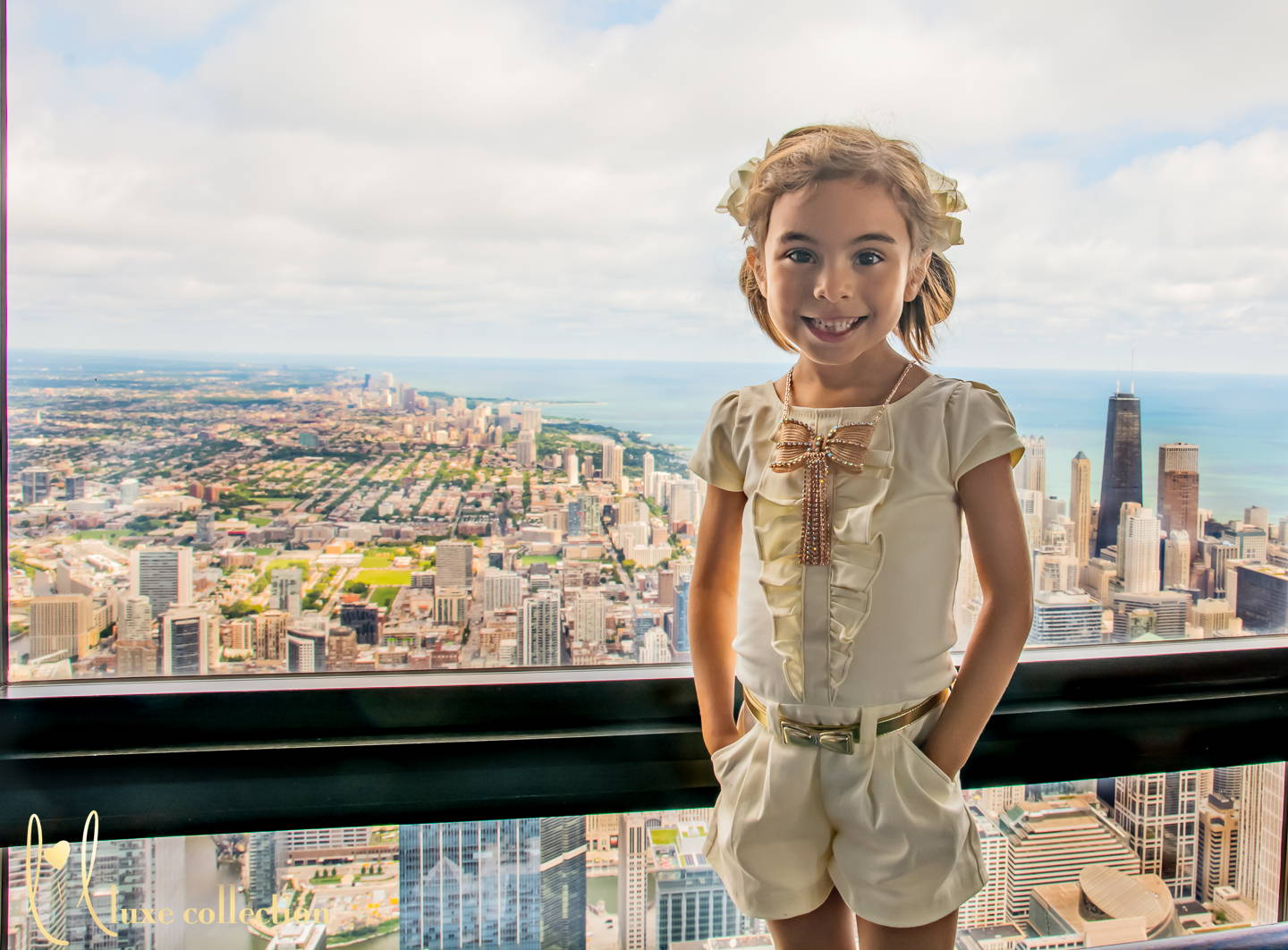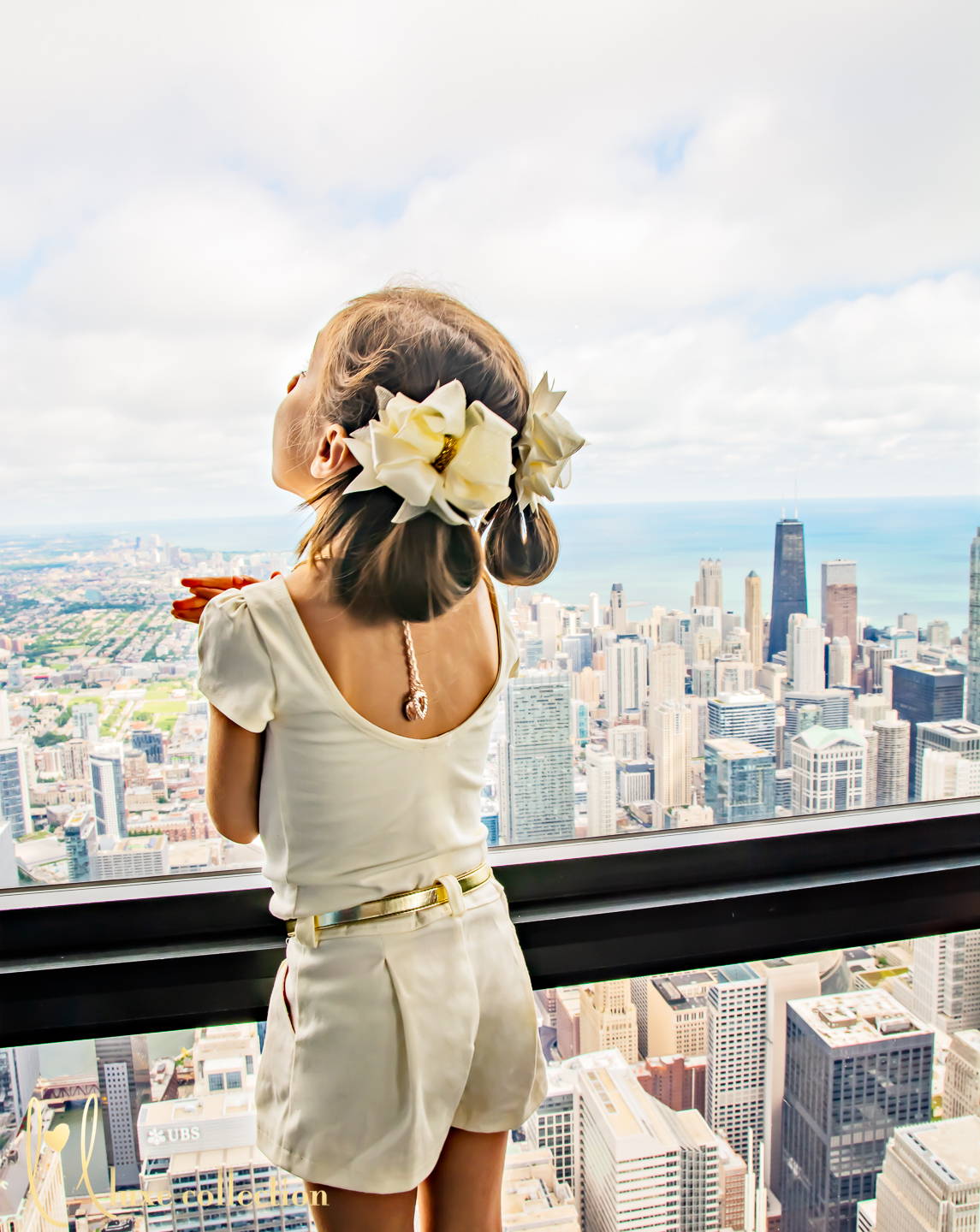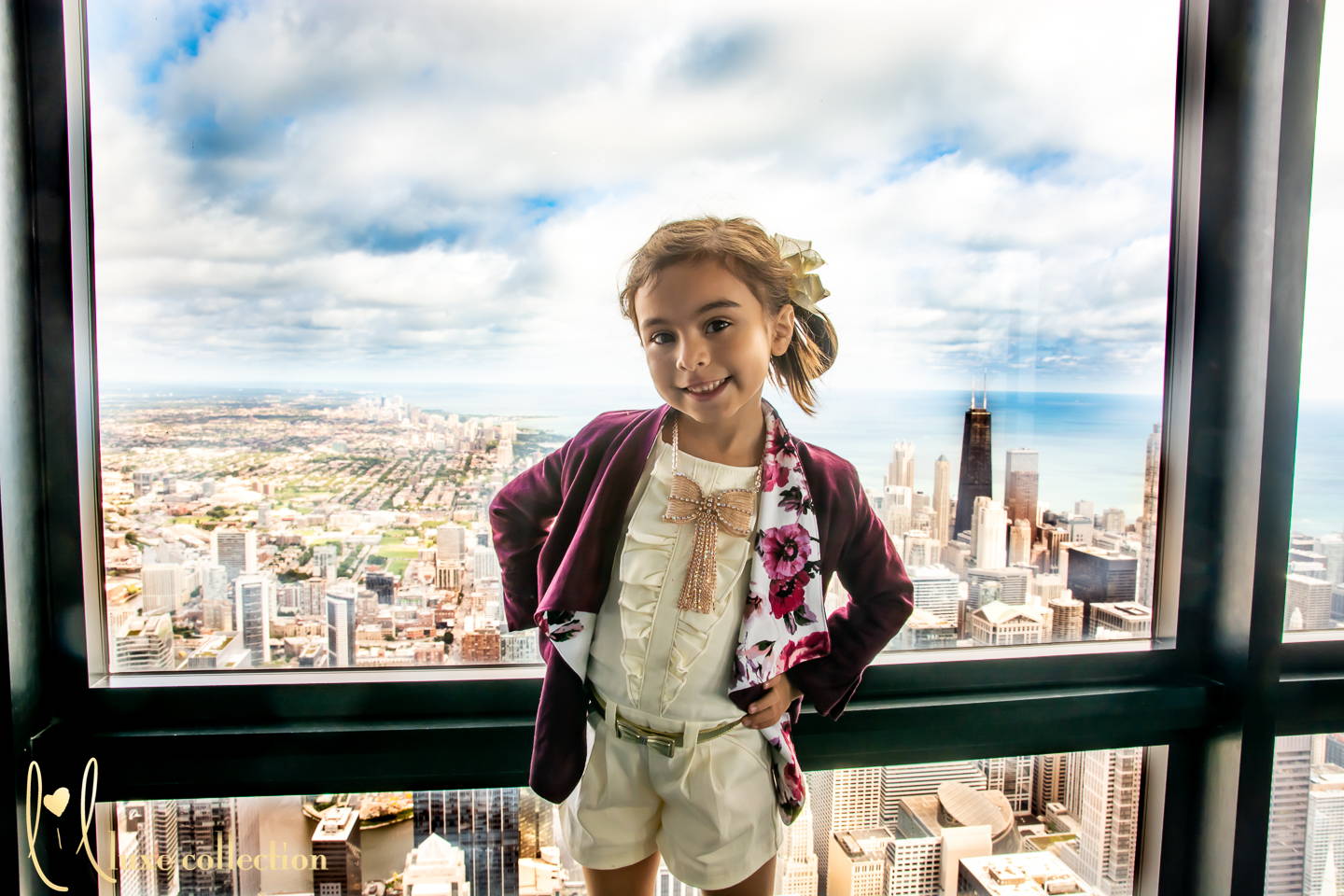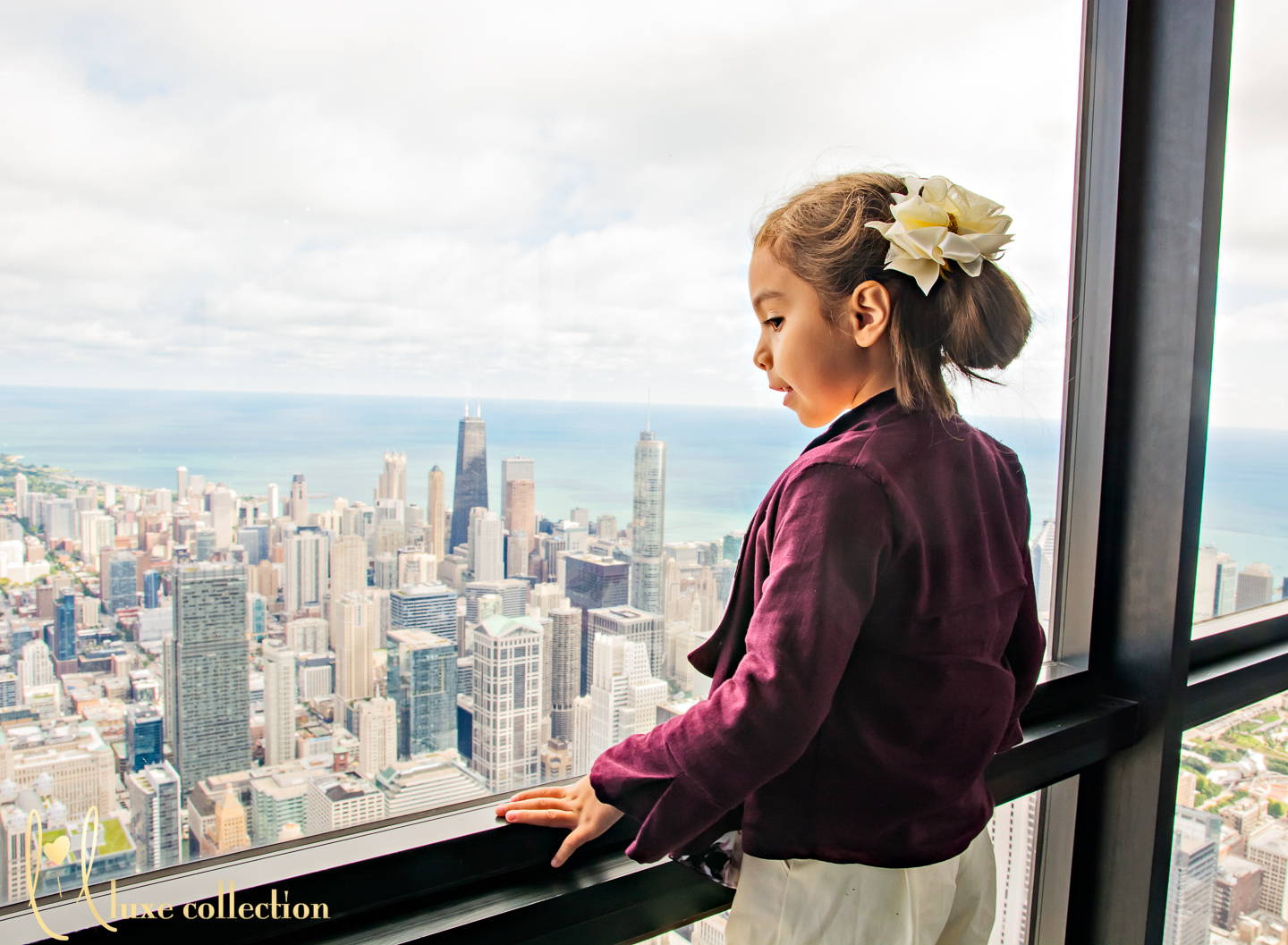 ---
I hadn't seen either of the Willy Wonka movies in a while so before getting started on everything, I put together a quick inspiration collage of scenes from the movie that I wanted to capture in my garments and photography.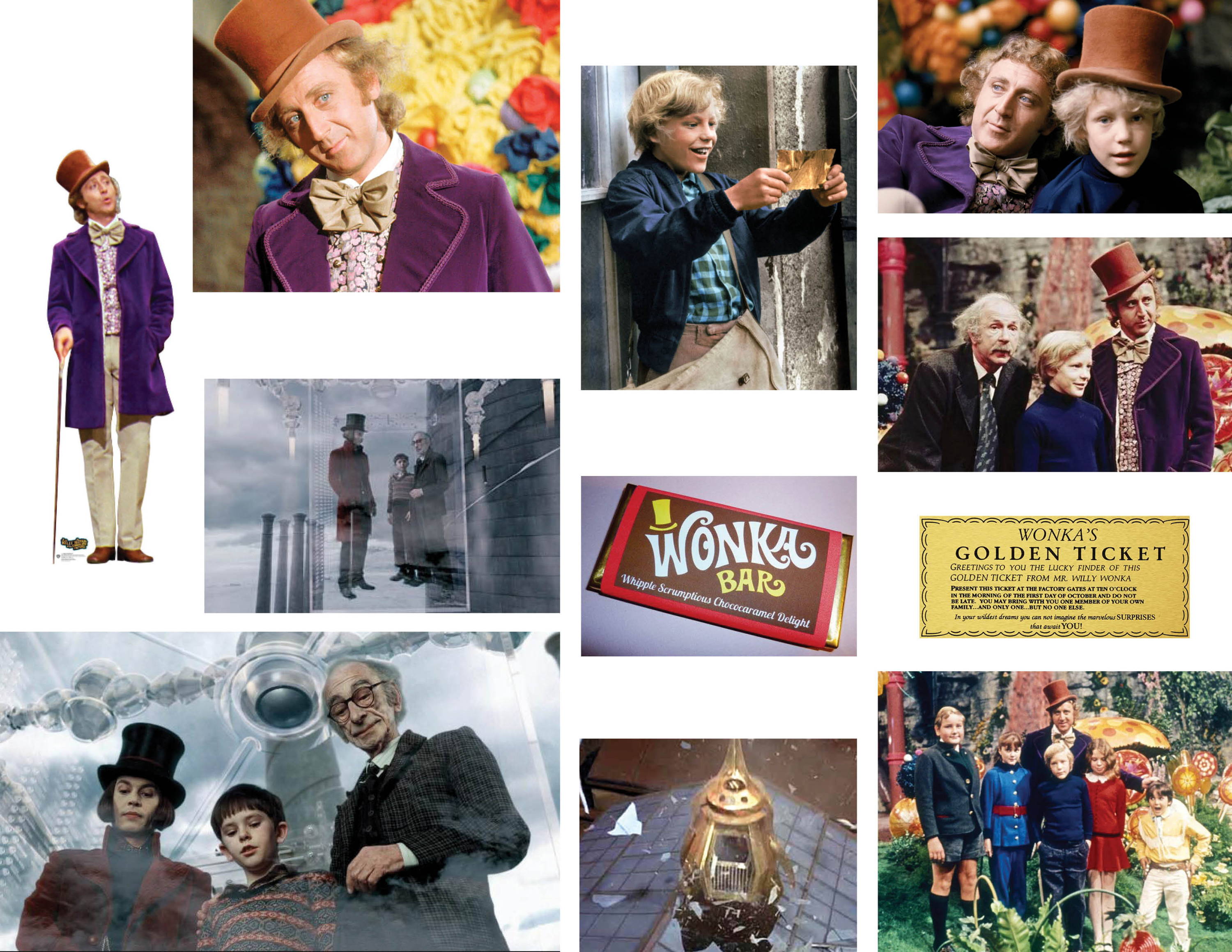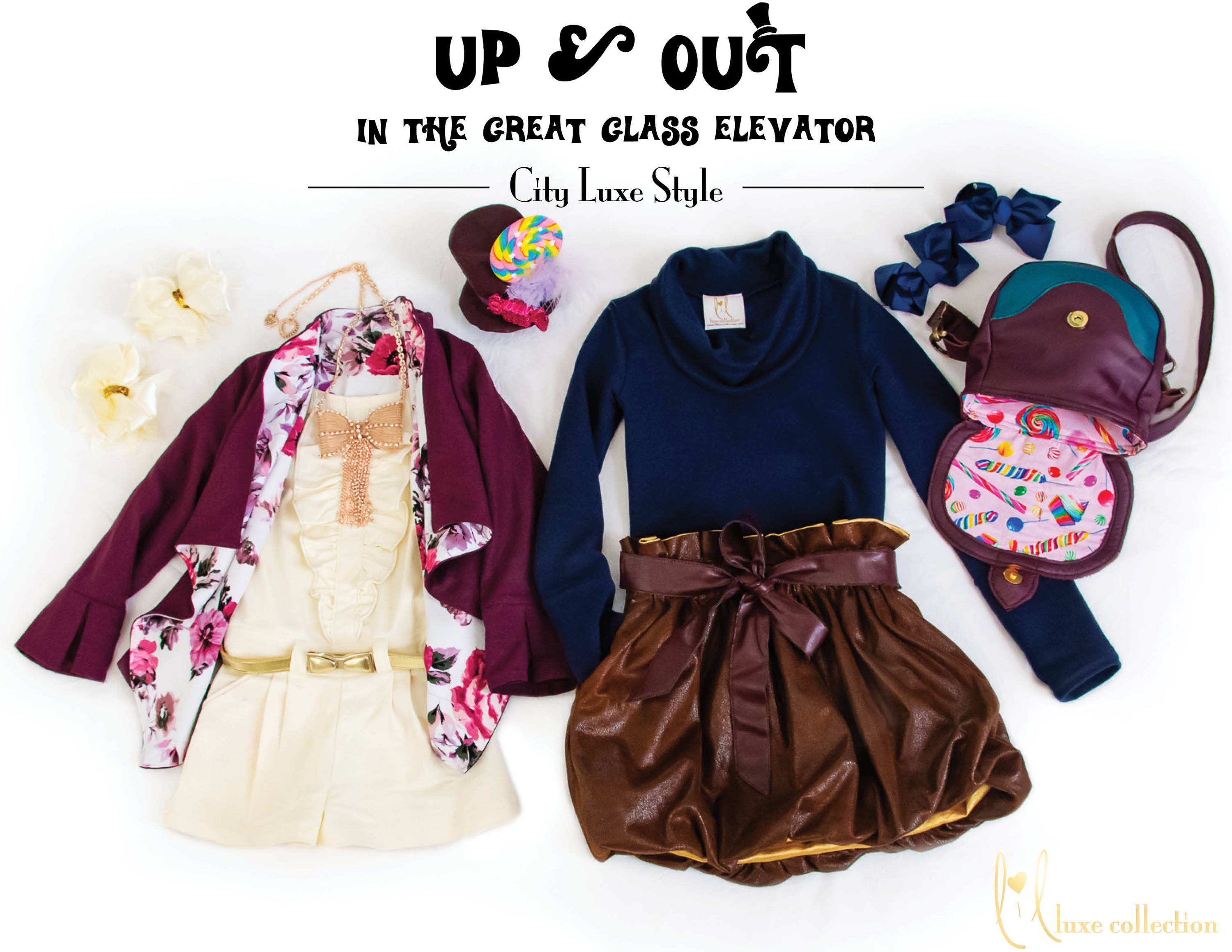 I love how this all came to life! I took a risk with my photography location but my girls did really well...and were fairly compensated ;) So we were all happy in the end and I was thrilled with the how the garments came together.  
Thanks for reading!
Voting begins Tuesday, Sept. 4 and ends Thursday, Sept. 6 at 7pm central time so be sure to check out the rest of the designer's looks and vote! The winner of the challenge will be announced Friday, Sept. 8.