Update: We Won first place!!!
Here's what our Celebrity Judge Marcie of Oonabaloona had to say: What a wonderful thing you've given your daughters--the stories of the women that came before them, and the inspiration behind these gorgeous pieces absolutely shines through every stitch of these gorgeous pieces! Overall Look, Creativity, Craftsmanship, Wear-ability...all home runs.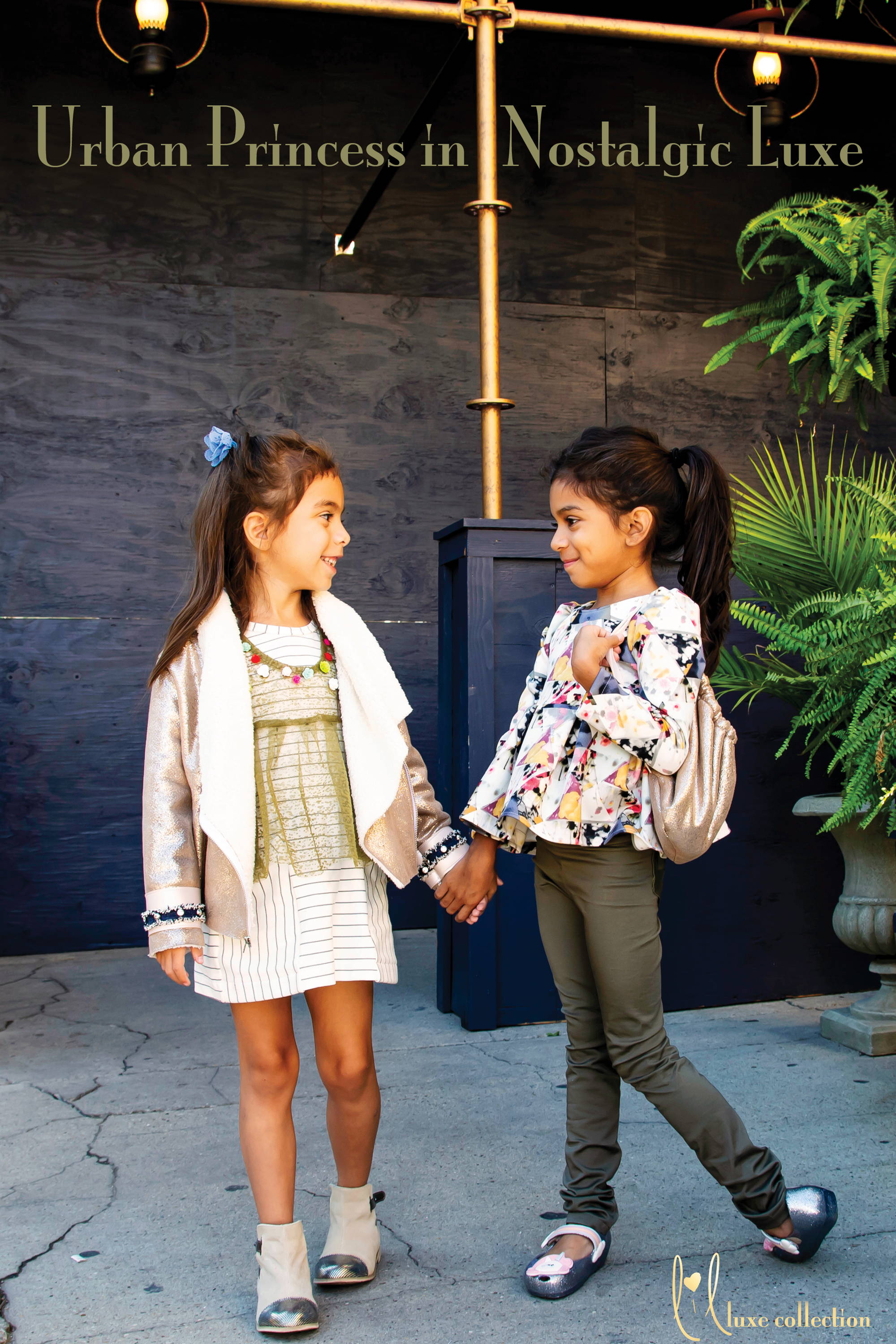 We made it to week four and I couldn't be happier!! I think I've kept true to my style throughout the entire competition with the themes in mind so I thought...ha...Signature Style will be easy. But no, just no. I got to week 4 and got creators block. I kept thinking how am I going to interpret my style with something new that I haven't already done in the competition? I felt like I'd created so much that I had been wanting to do and finally had the chance and occasion to do it, that I was out of ideas. Truth be told, it was easier having a theme to go with than coming up with just anything. So, I gave myself a theme. I thought about who makes me who I am today...what inspires me...what events stick out to me in my life that have shaped who I am and given me in a sense "my own signature style." I've titled this weeks theme Urban Princess in Nostalgic Luxe because in general I would describe Lil Luxe Collection as everyday street wear for the today's girly girl. Both me and my girls love to get dolled up fancy but comfortable enough that if we spot a park, we're ready to play! As for Nostalgia, each of the three outfits I created this week remind me of all the strong women in my family who have raised me to be who I am and have a certain meaning behind their look which i'll explain.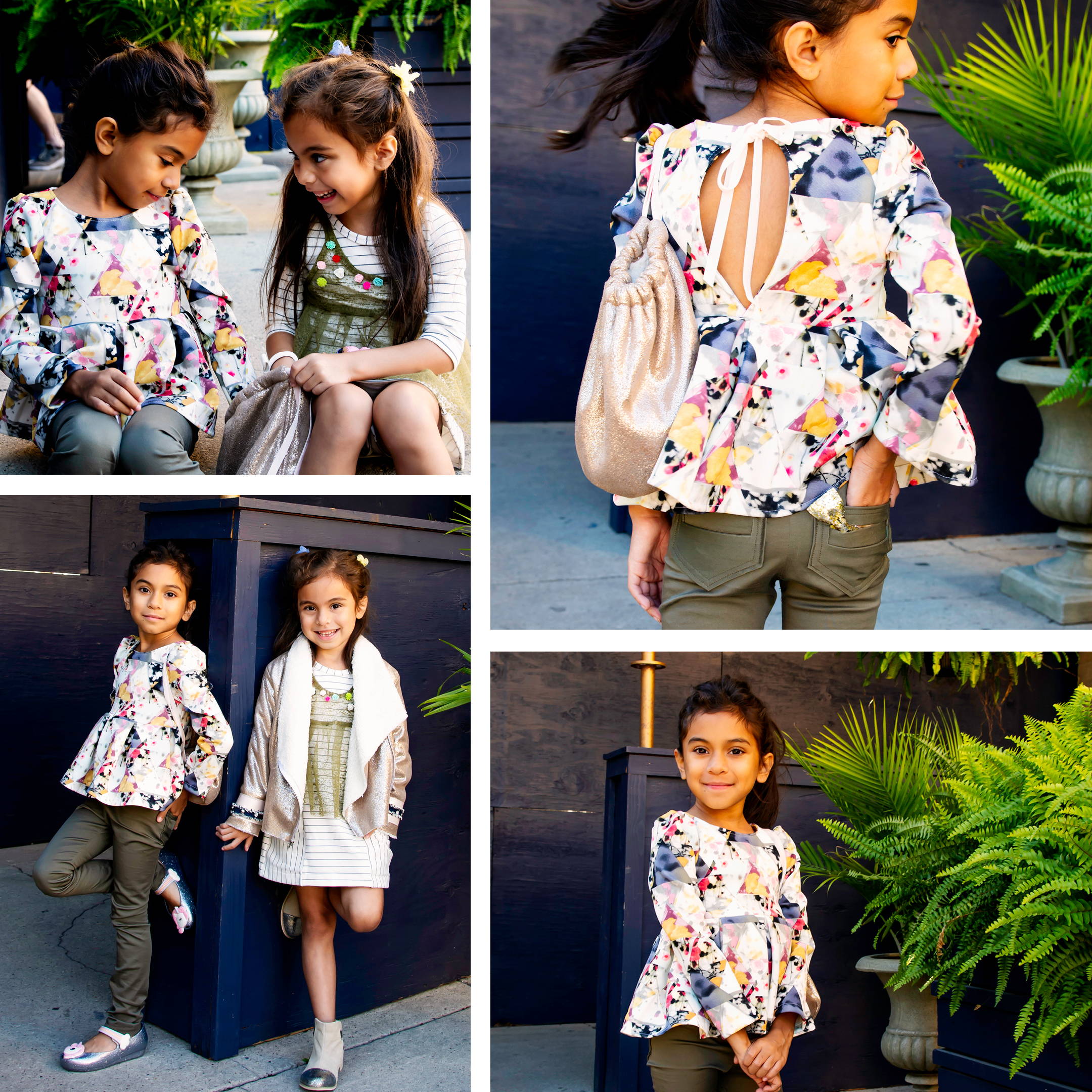 With my background in Architecture and Interior Design, I think I naturally gravitate toward angles and lines. All of this weeks garments are very linear in either shape or fabric choice. I'll start with the colorful triangular print my oldest daughter, AKA "mini me," is wearing. This outfit probably best exemplifies my signature style...Classic front with a surprise back. The top is light weight scuba knit fabric with colorful blocks of triangles, a minimalistic puff sleeve cap and an inverted box pleat peplum skirt. I hate sewing rows of gathering stitches...I would rather do the math to figure out the distance for pleats and how much fabric i'll need any day. Yes, I'm a total nerd and created an excel formula ready to pump out a number for me, LOL. The pants are a stretch twill, fitted, slim style with a double pocket detail on the back. The welt pocket is sewn onto the back pocket, then I topstitched the back pocket onto the pants leaving the top open for her hands. This outfit is reminiscent of my days in the city when I was going to college. We had to be ready to be on site in someones office giving a presentation or building models in class. Being dressed for anything was an understatement but I loved it.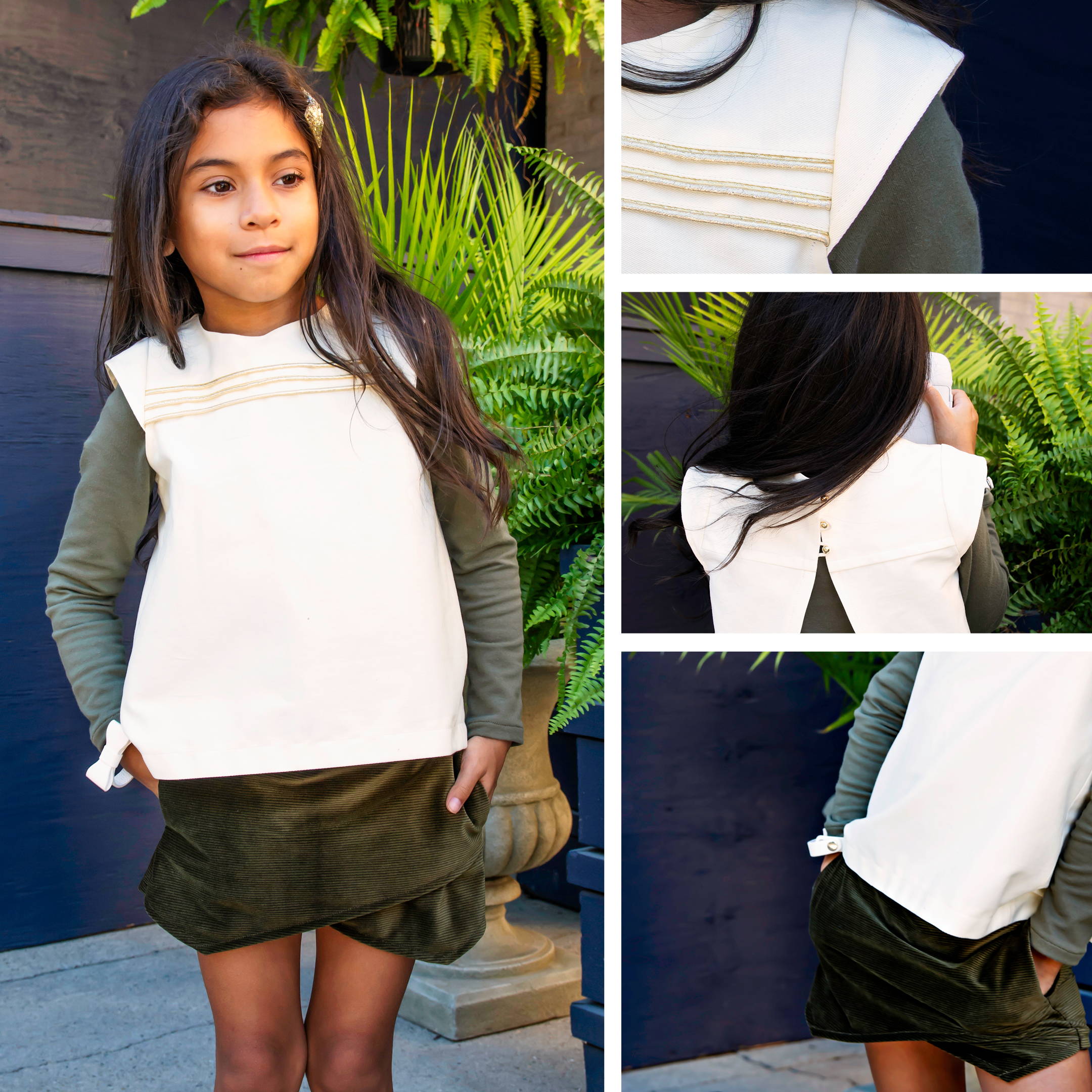 The second outfit she wore is a bit of a throwback to one of the first patterns I ever created, the Haute skort. Lil Luxe fans will be happy to know that this pattern will be back in the pattern shop now that I have graded it into our standard size chart with extended sizes. It's made with a lightweight velvet corduroy, complete with pockets and shorts underneath for running around freely without fear of exposing any panties ;) Like my sister, this skirt is trendy & cool...the added comfort of the shorts and fabric is bonus. The top is where the nostalgia really starts to get personal. We were raised by our great, great aunt who was like a second mother to us. We did everything together and she really impacted my life. She was a pretty trendy aunt for an older lady...always getting her perms and wearing pretty barrettes in her hair and she always wore an apron when cooking and cleaning around the house. The cream top is reminiscent of an apron that she had. To give it some modern luxe, I added three pleats onto the front, covering the seam allowance of gold piping and three gold buttons along the top of the back that signify the three generations of kids that she helped raise. On a hot summer day, I'm sure this style might be ok alone but for this occasion I paired it with a long sleeve tee in french terry.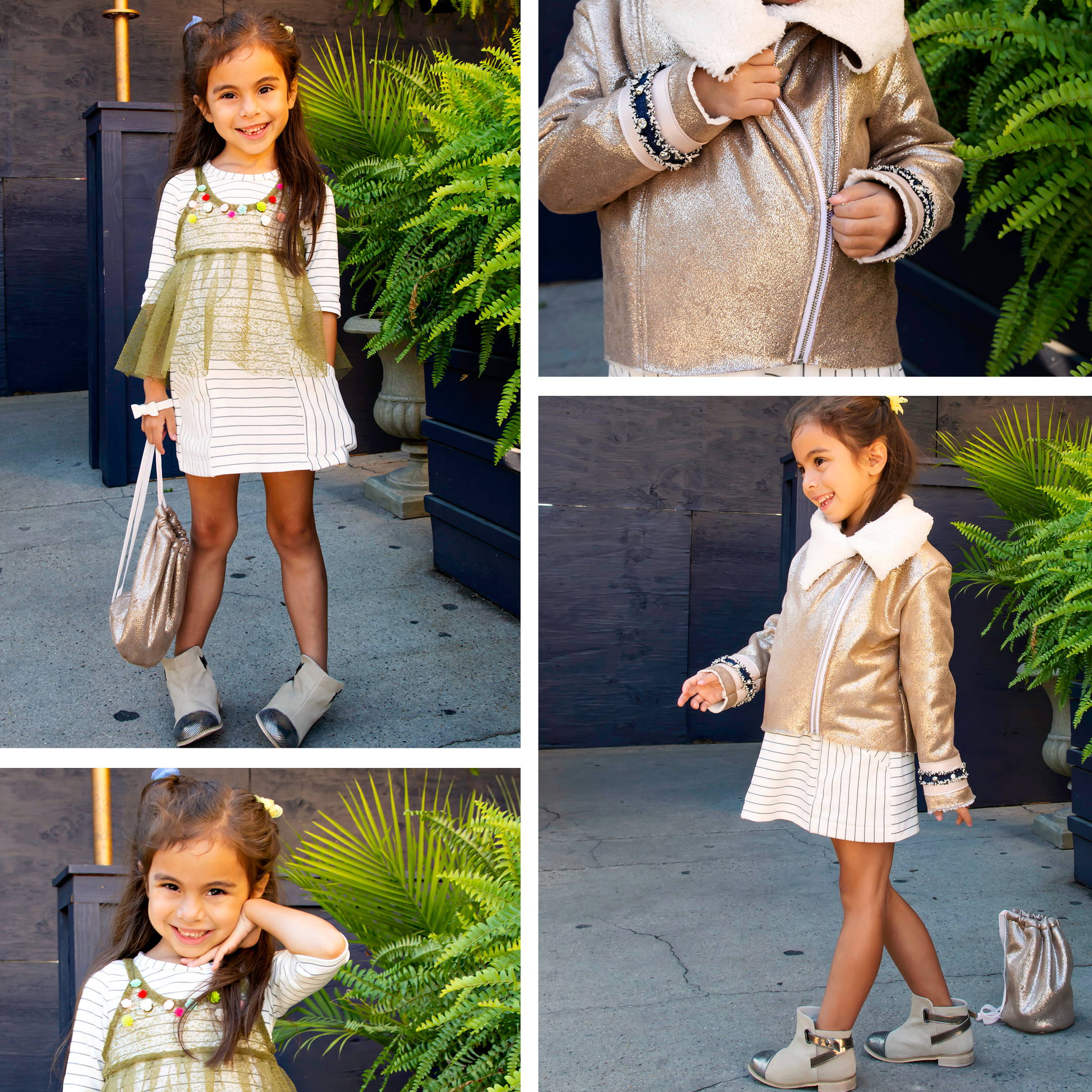 Now for the outfit my little one is wearing...enter mom. I used a stripped ponte from Cali fabrics in a classic beige and black in memory of the suits my mom would wear. She's a fierce career woman that I have always admired. The dress is a classic slim fit style on top with a play of pocket placement/direction on the skirt. I made matching shorties for her to wear underneath which will also go great with her leotards for dance class...Bonus! Although I love this dress alone, I had to add a little someth'in someth'in. The baby doll top is micro net tulle with velvety texture spots that I just love. I added some colorful floral beads on the neckline to tie in the colors of my other daughters outfit. The skirt of this top is also pleated. This top is reminiscent of the top Alicia Silverstone wore in one of her outfits in Clueless....a movie my sister and I would watch over and over again when we were kids. This outfit is wrapped up in a sherpa jacket with a metallic front. I just love this fabric and have been dying to make it into something. I hadn't done a garment with zippers this season so this white separating zipper was a must on this crossover with cowl neckline when closed, drape front jacket when open. I embellished the cuff, which is another signature lil luxe detail, in leather and denim studded trim. The material of this jacket really spoke me and the women in my family...hard exterior, super softy and emotional on the inside, LOL. Once you get past the zipped up layers, you really see who we are :)
I've made an accessory for each week so I couldn't go without making one for the final challenge. The bag my daughter is holding with her LOL dolls is a pattern I created when I was in 6th grade. We were always the house on the block where all the neighborhood kids would gather. We would play out on the curb with our dolls or collectibles cards/toys, etc. One day we decided to put together a carnival for the smaller neighborhood kids and our parents so I hand sewed a bunch of scrunchies and bags in all kinds of fabrics from old clothes I found for prizes at the game stations. I guess you can say this is when my sewing career got started! This bag really brought it all home for me. I love what I do, the memories I have with my husband and our girls and the times with my family that has brought me to this day. I'm so grateful for life, health and love.  
We took our pictures curbside, just outside where we got desert. It was a perfect spot that coincidentally had all the right elements and color I needed for this photoshoot. Thank you City of Chicago for being so vibrant, unique and colorful! I love finding little gems in the city.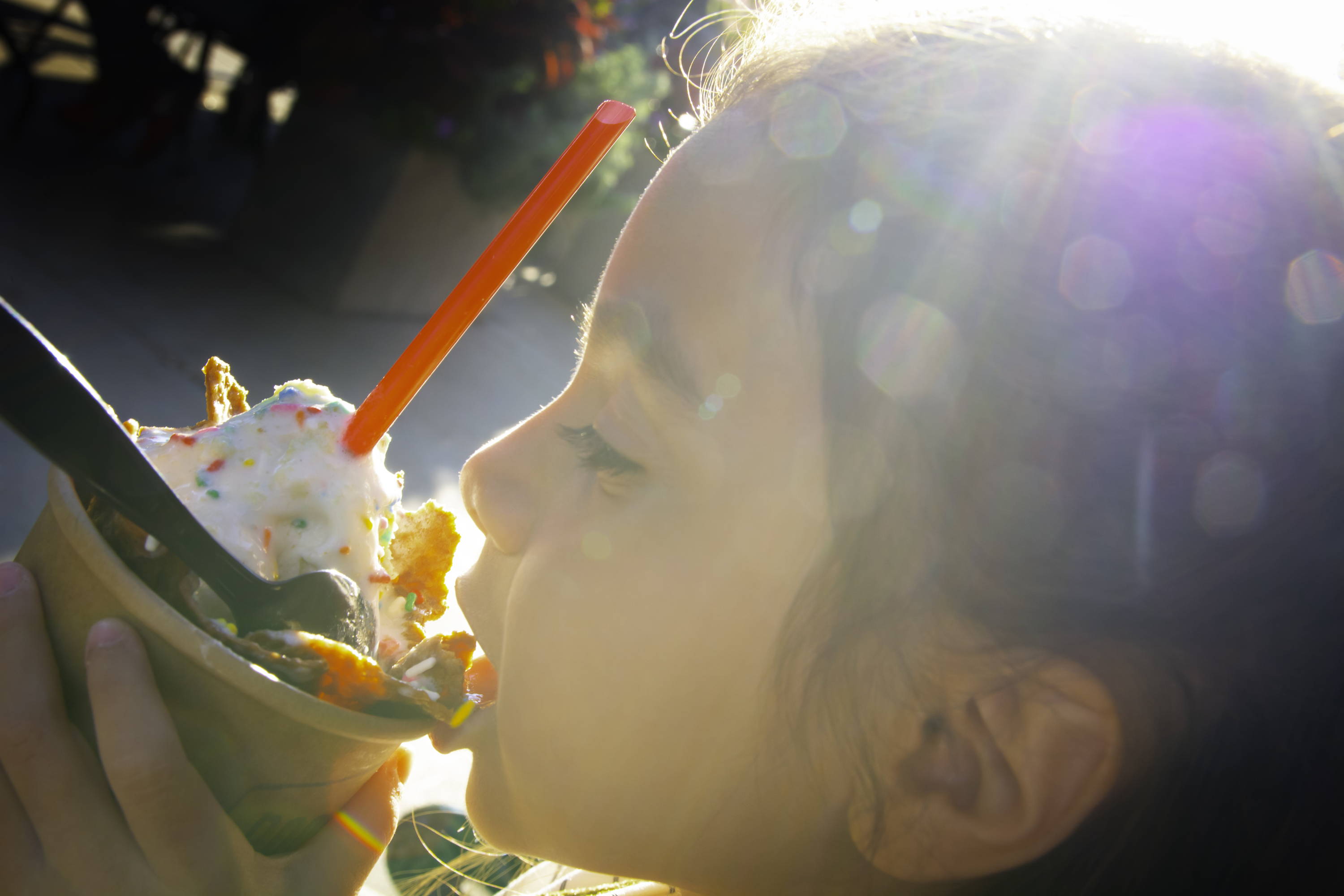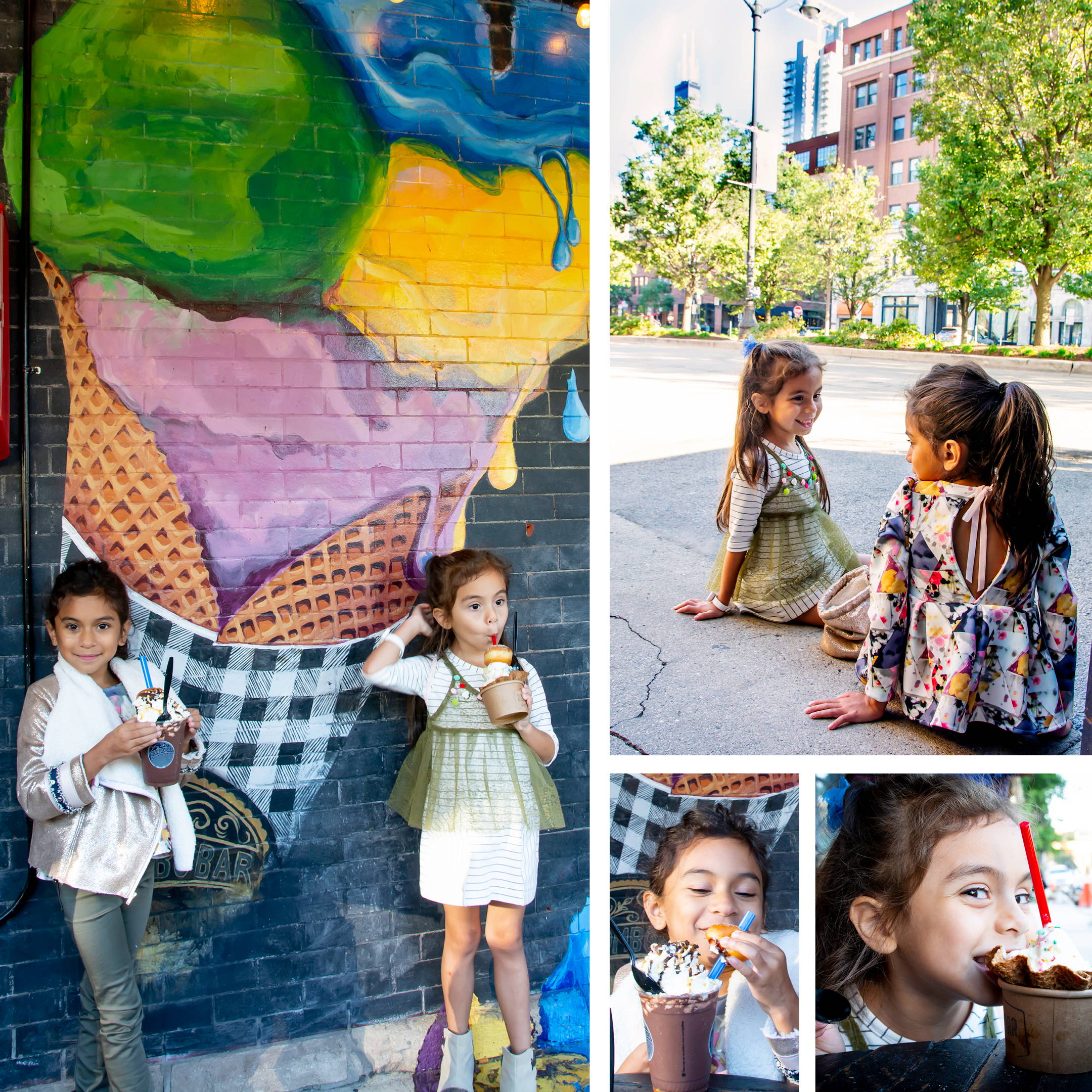 The girls have been rockstars throughout this entire season! They really make me the happiest mama. Each week I tried to make each photoshoot fun like a little adventure. We fully took advantage of the great fall weather, scouting the city, trying new foods, lots of deserts (did you see the mini doughnut on those ice creams above?! Geez...my metabolism can't handle that but I'm glad theirs can, lol) and above all, enjoying our time together.
To wrap up the nostalgic moments, we took this last picture in a photobooth. I love how these photobooths can still be found. We had brought along our new version of a polaroid camera to use a prop for our photos but it was easier to take front facing pictures without it over their faces so it only showed up in the one picture of Olivia in the skirt outfit when she's turned around taking a picture of a bug on the fern.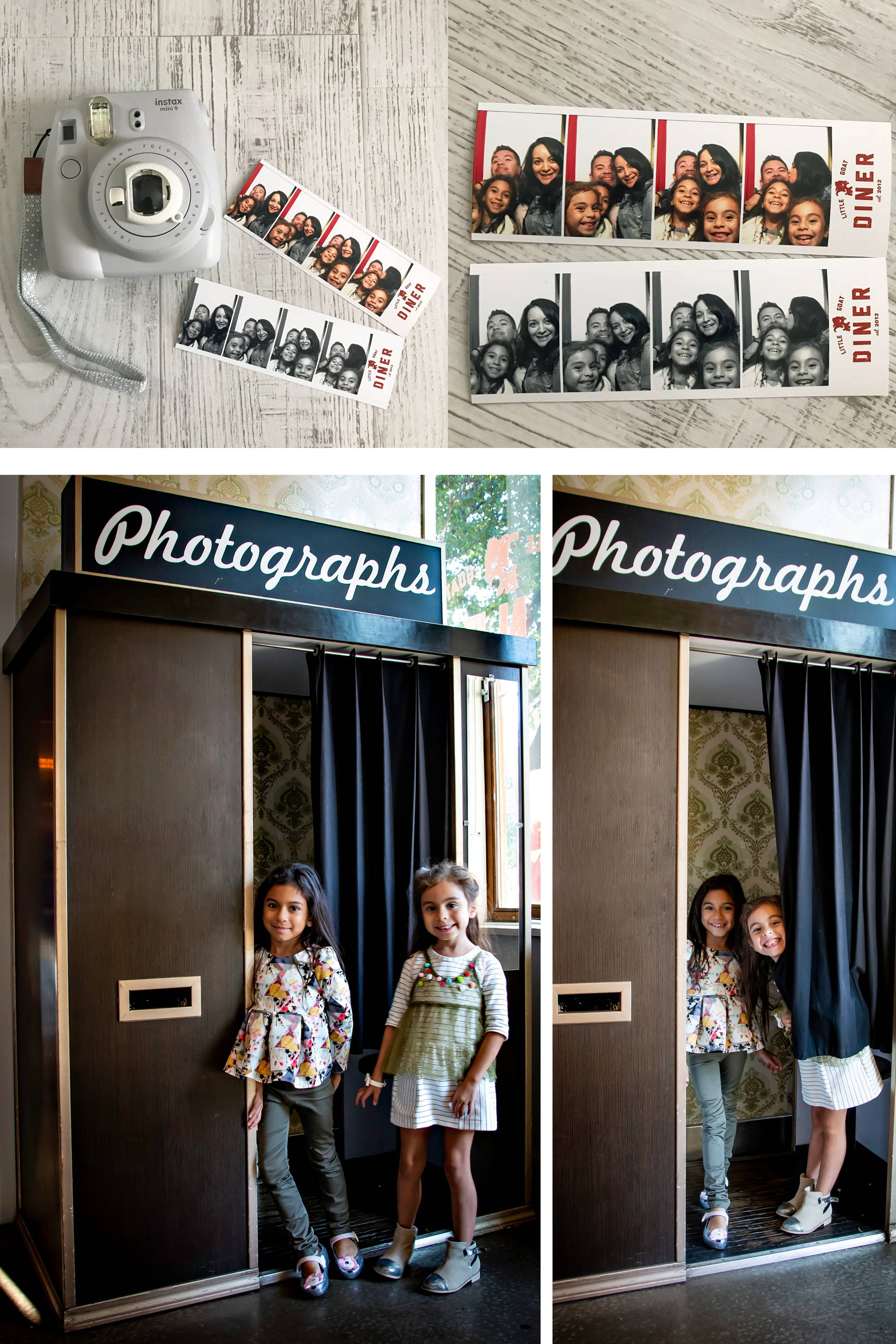 Thank you to everyone who has read, supported, voted and has been with me on this journey. I love my family and especially the women in my family who have made me strong, creative and courageous. I know my daughters will follow lead and I can't wait to see what the future holds for them.
Thanks again! This experience on Project Run & Play has been amazing!! Now that this competion is over i'll have to check through my reciepts and see which I spent more money on...fabric and notions or ice cream and LOL dolls. HAHAHA!