update: First place & halfway there!
Here's what Abby of While She Naps, our celebrity guest judge, had to say: I love all the elements and especially enjoyed the satin jacked and the winged backpack (every little girl would enjoy that backpack!)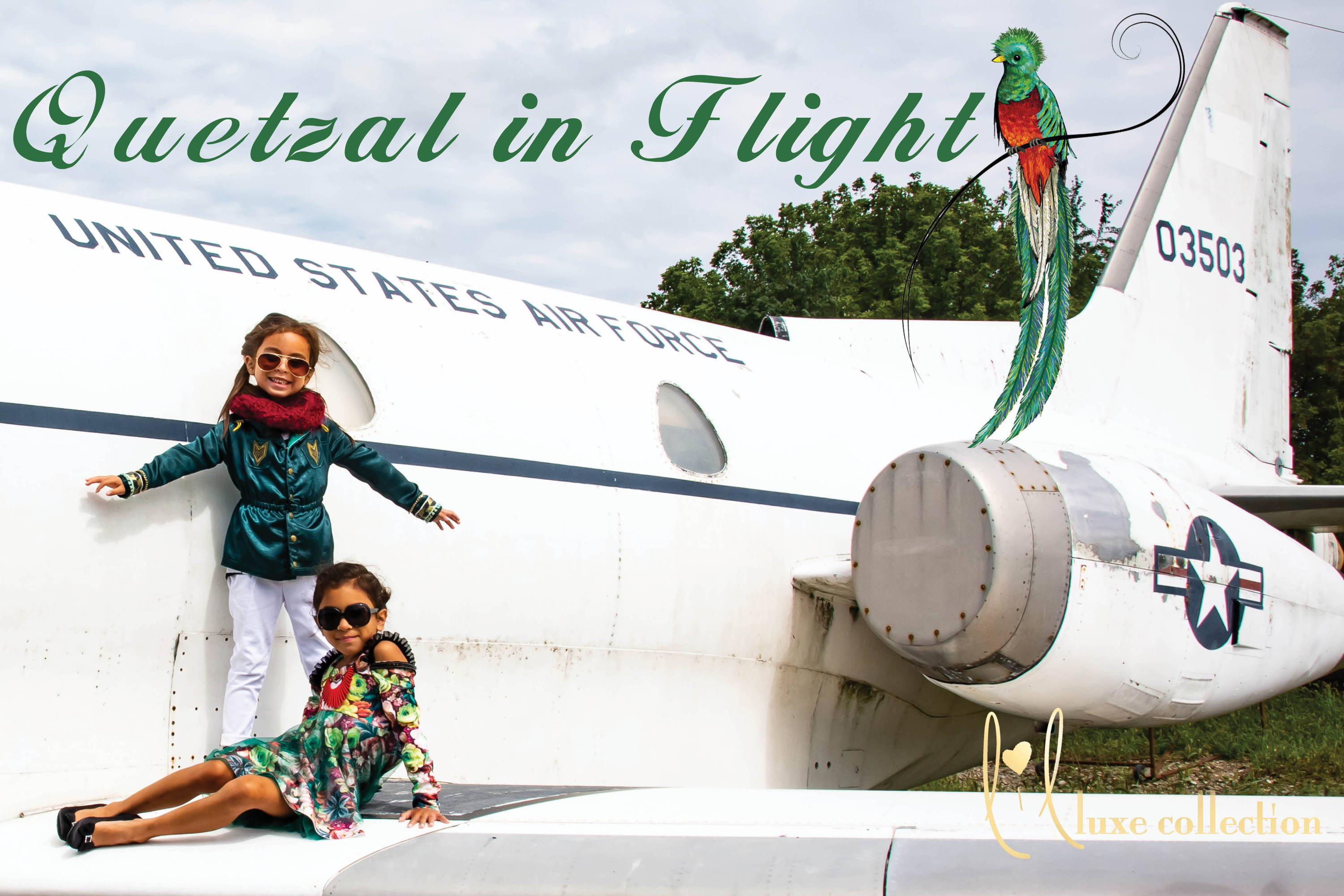 Week 2!!
This weeks challenge, Flights of Fancy, was definitely a challenge but fun once I figured out the direction I wanted to go and where I wanted to shoot my photos. My grandfather passed away a few weeks ago so I chose to use a Quetzal bird, the country's bird from where my grandparents immigrated from, Guatemala, in his honor and serve as my inspiration. I love the long tail feathers and the beautiful shiny colors of the Quetzal…but here was the challenge…how do I make these colors: red, green, white and black not look like Christmas and how do I make my garments not look "costume-y"?!?!?! I put a lot of time and effort into my details so I always try to design wearable pieces that my girls can wear for different occasions. As I was pondering all of this while sitting in the pattern section of Joann's I got an email from my daughter's teacher saying they would be talking about 9/11 and having a Patriot's day Assembly in remembrance of what happened that day and BOOM…a light bulb went off!! The story I would tell would be aviator themed with the Quetzal as inspiration for my designs!! For my looks I chose to depict a classic aviator with a lady to wave him off…very Ben Affleck and Kate Beckinsale from the Pearl Harbor movie. Yes, I'm a sucker for romantic dramas ;)  
Here was my inspiration board for the looks.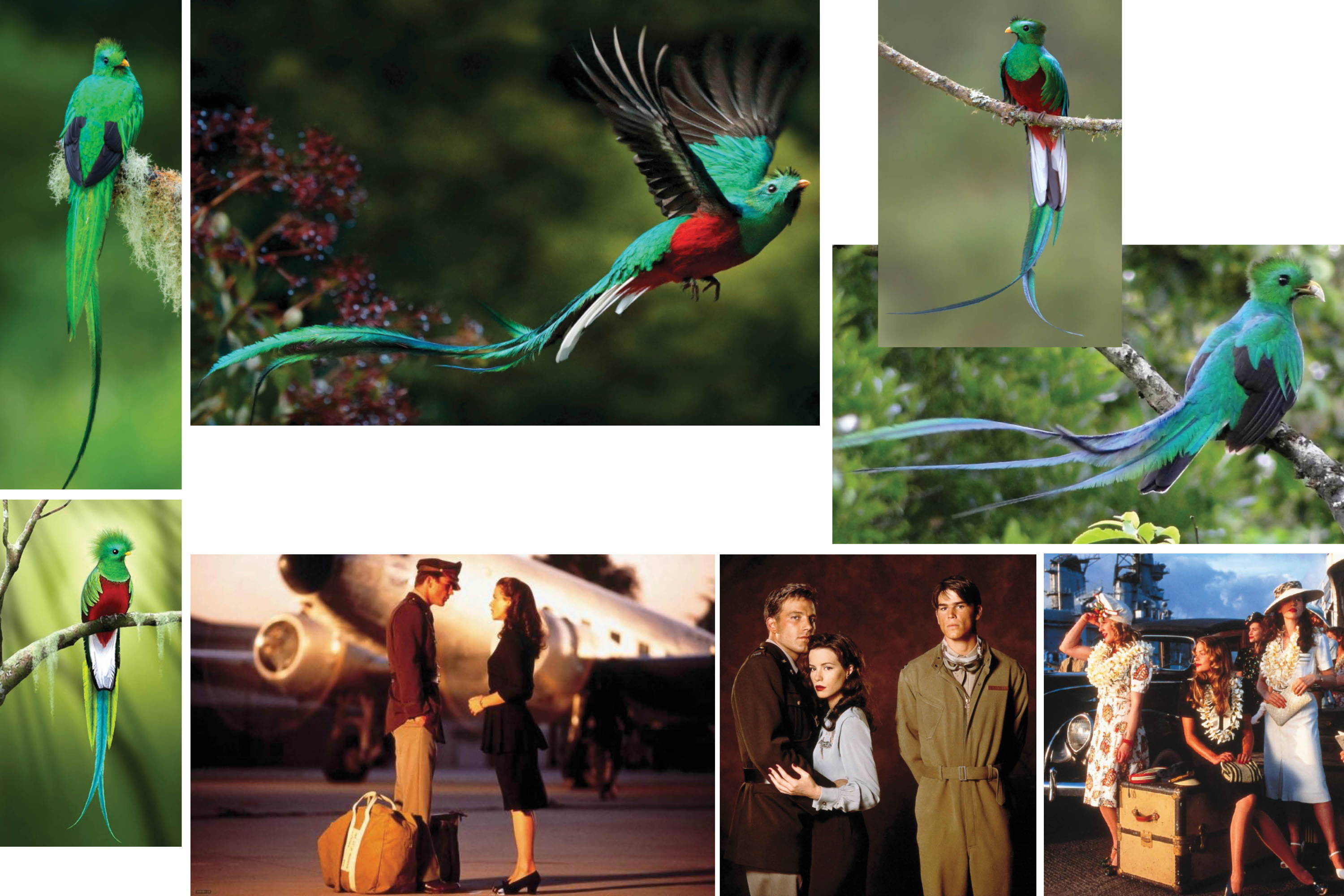 ---
Ladies first! For my first look I really pulled from the Quetzal's long tail feathers and the triangular shapes the feathers form along their backside when not in flight as inspiration. I used the LLC Alley Cat bodice as my base, drafted in a shoulder opening and designed the back to have 6 layered angles in the feather coloring and formation of the Quetzal. Add in 3 layers in varying length of high low circle skirts in green tulle and the main fabric (a scuba knit from Cali Fabrics) and Voila, you've got a Quetzal inspired dress! The trims along the shoulder also form the triangular angles of the feathers and outline the cut outs for effect. To bring in the red chest of the bird and tie the whole look together, I made a bright red beaded necklace on a metal chain.
Click the left and right arrows to see more pictures.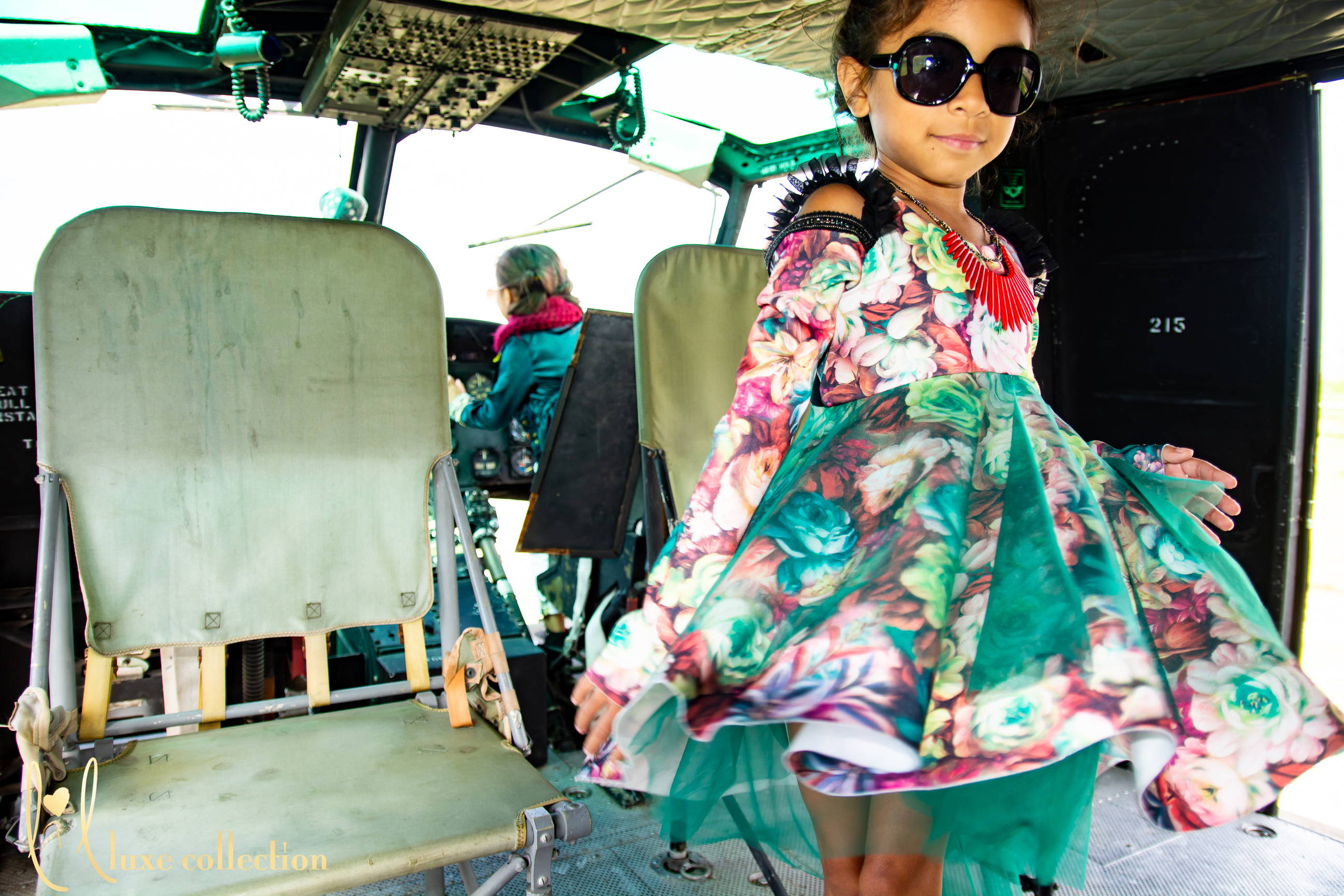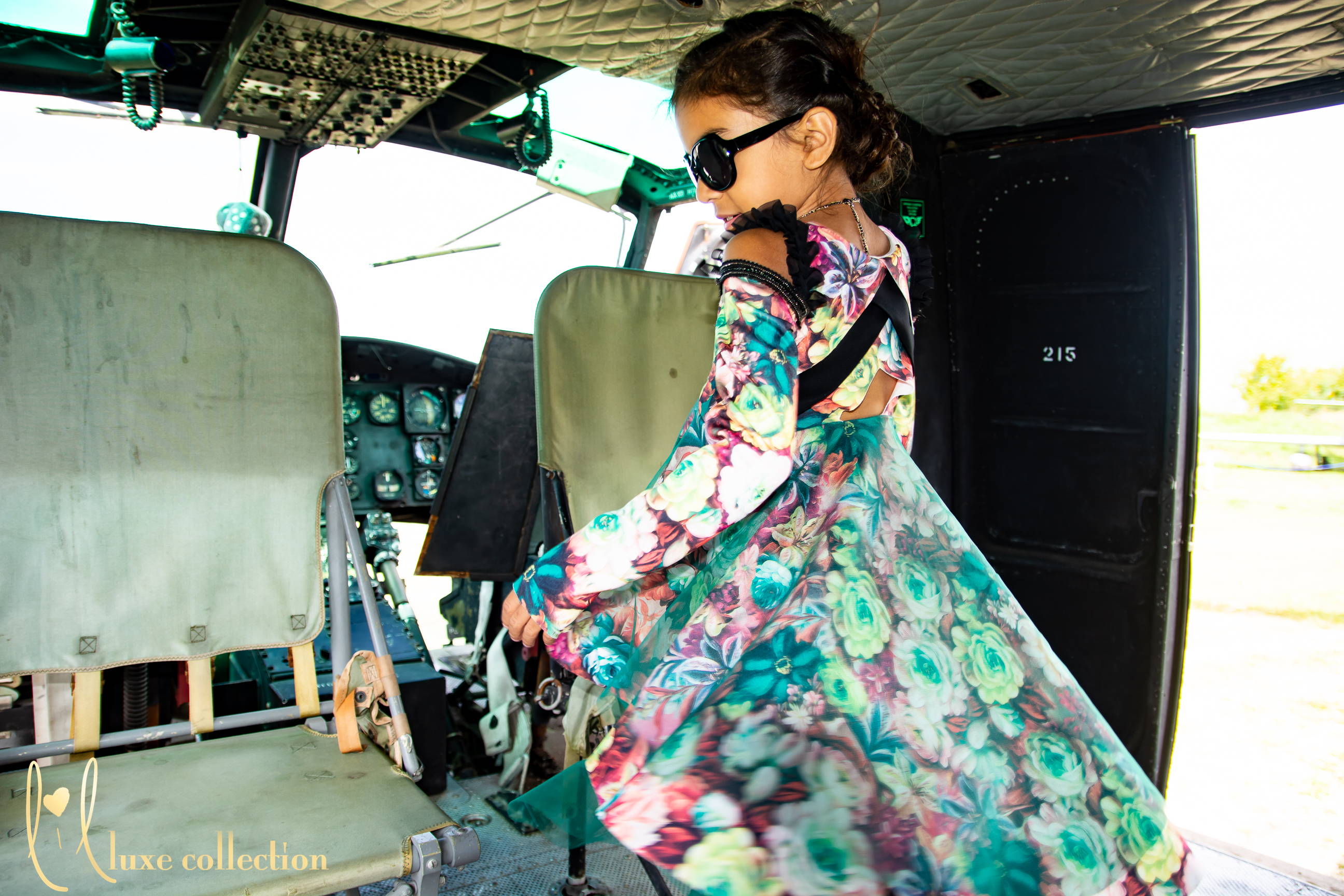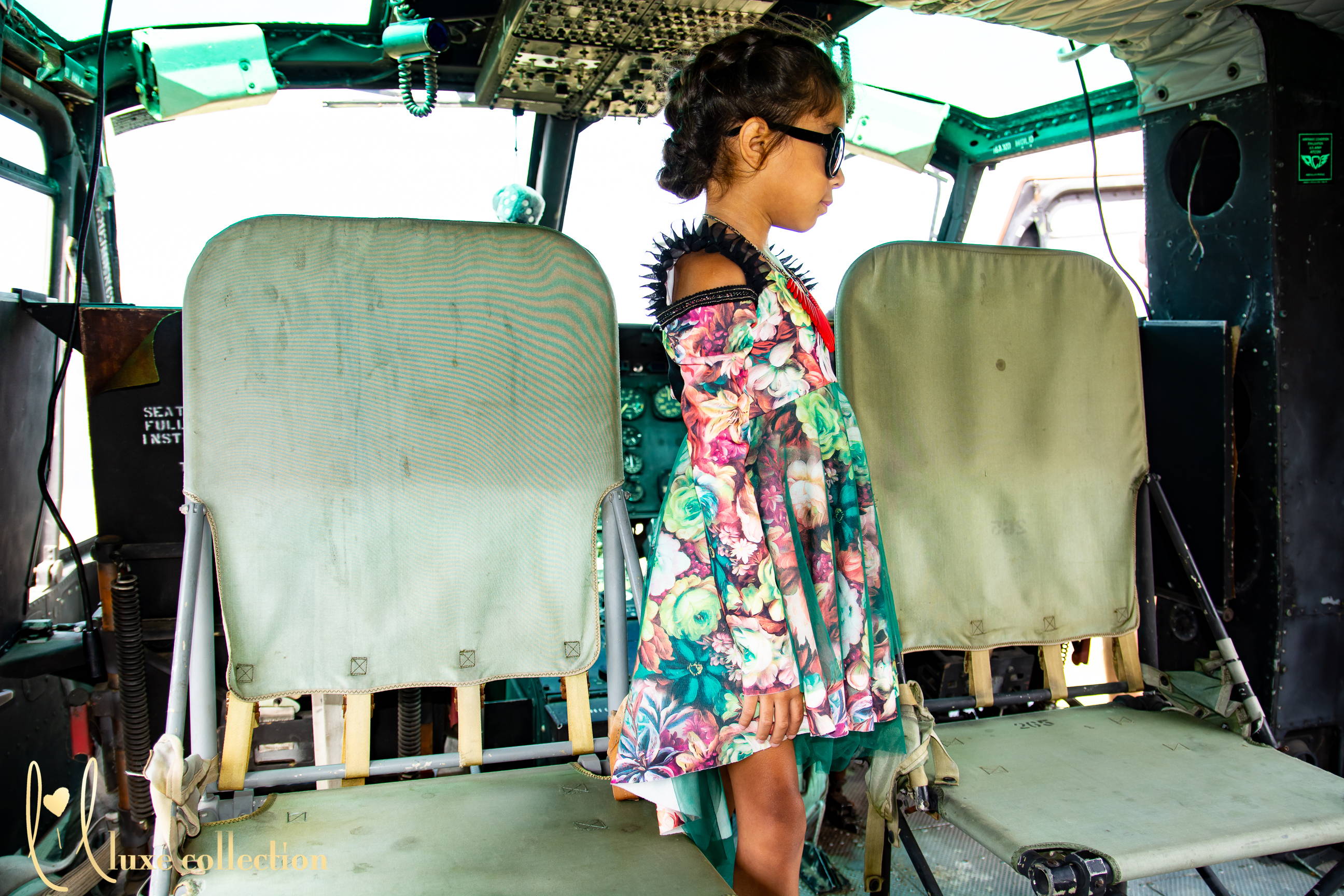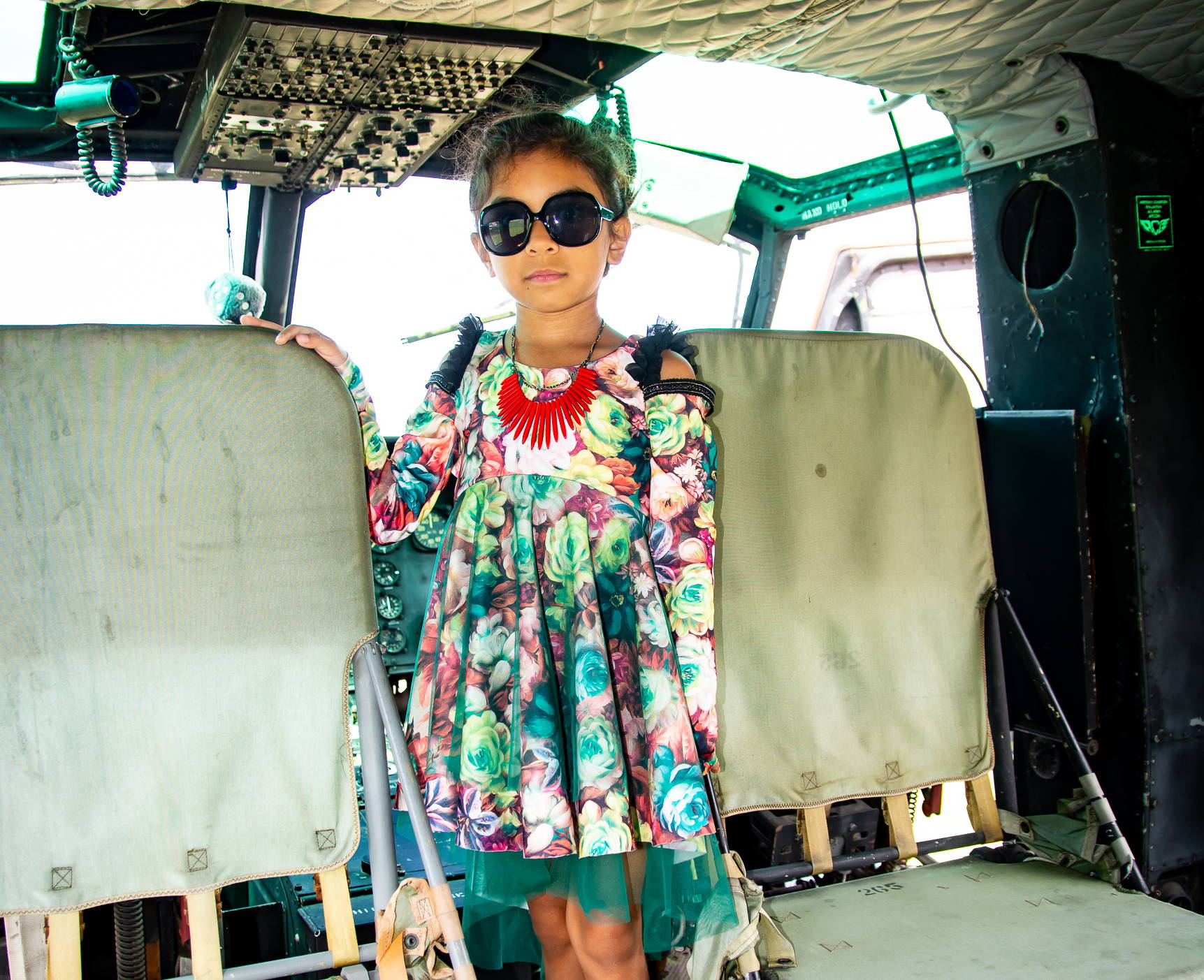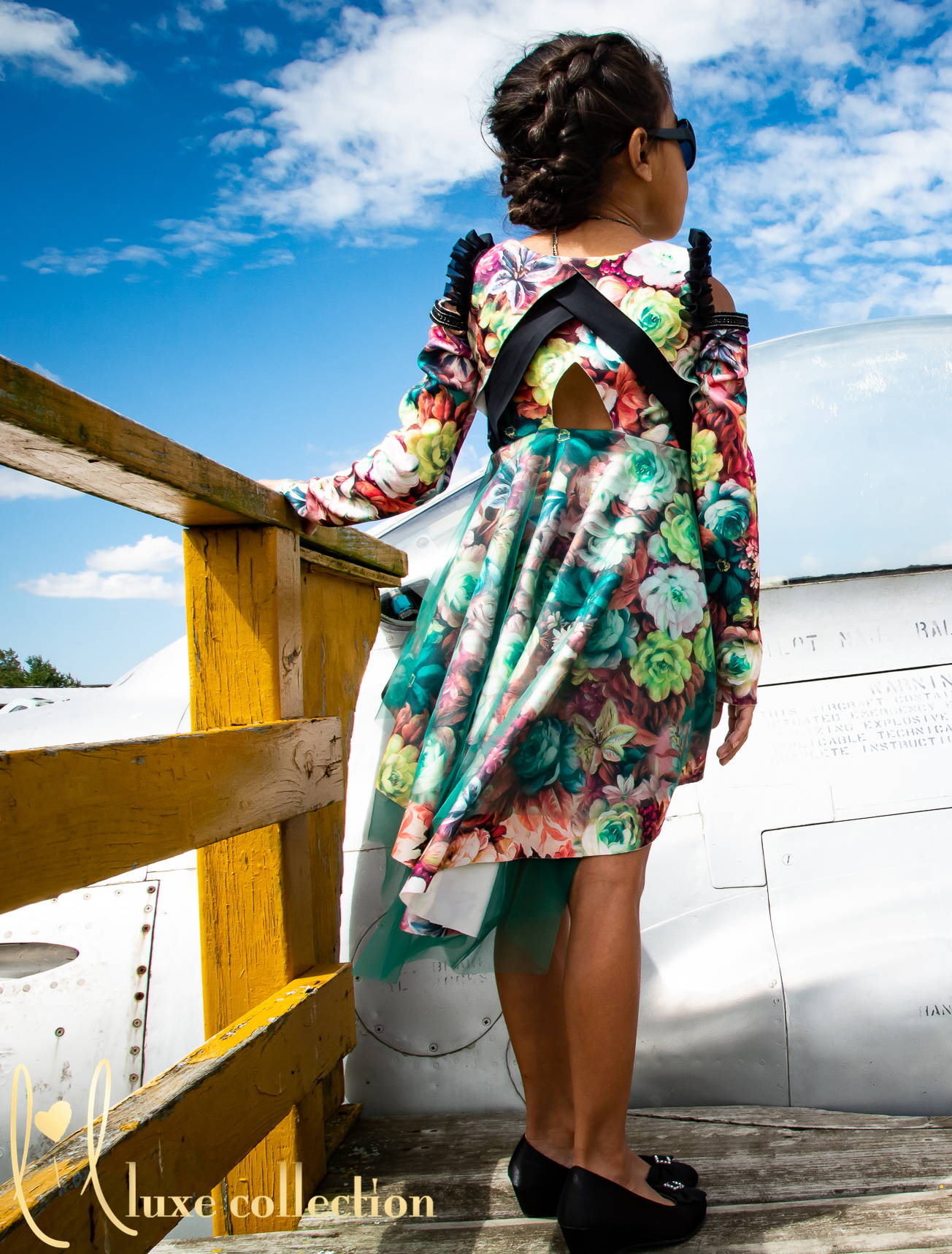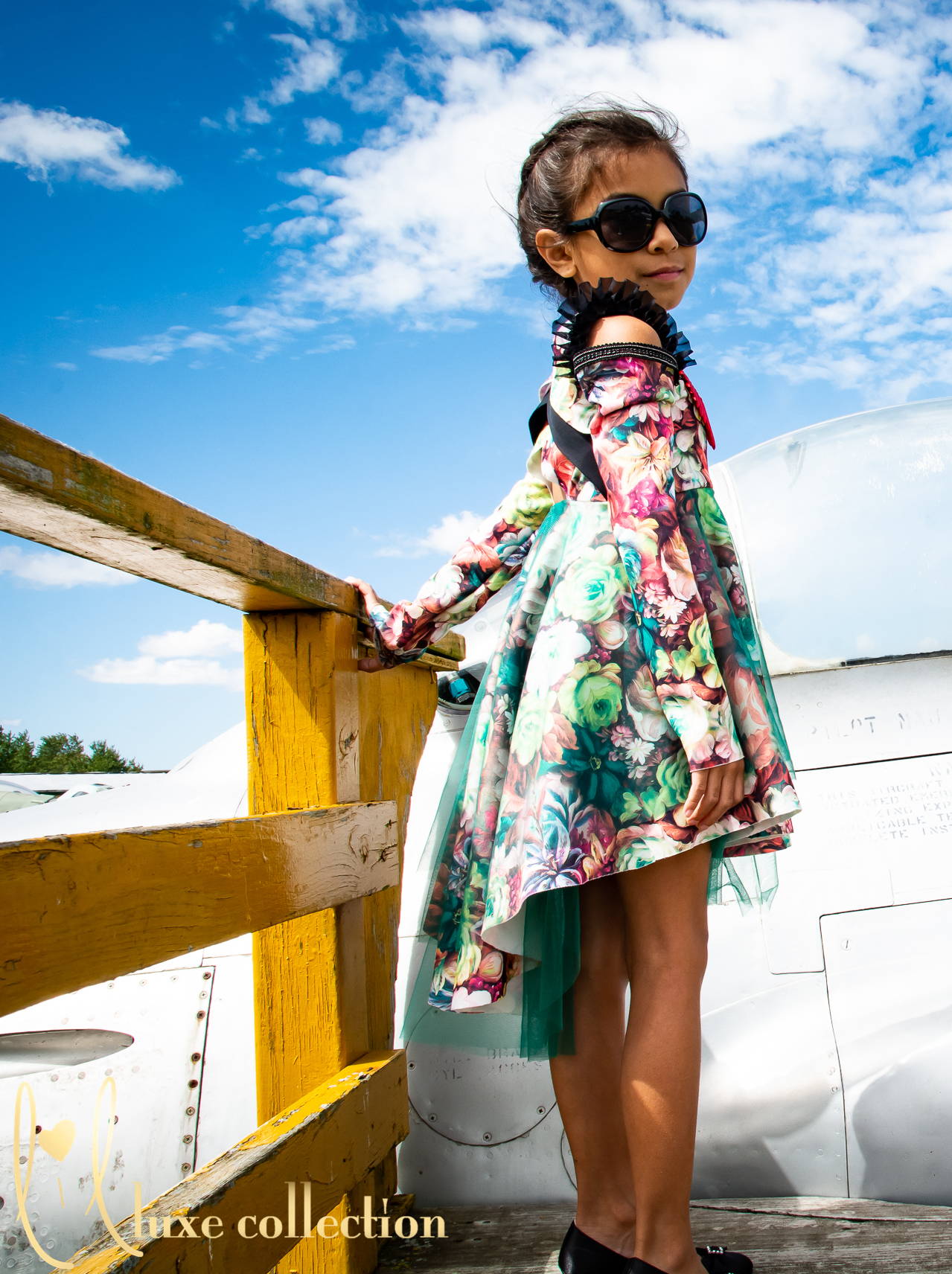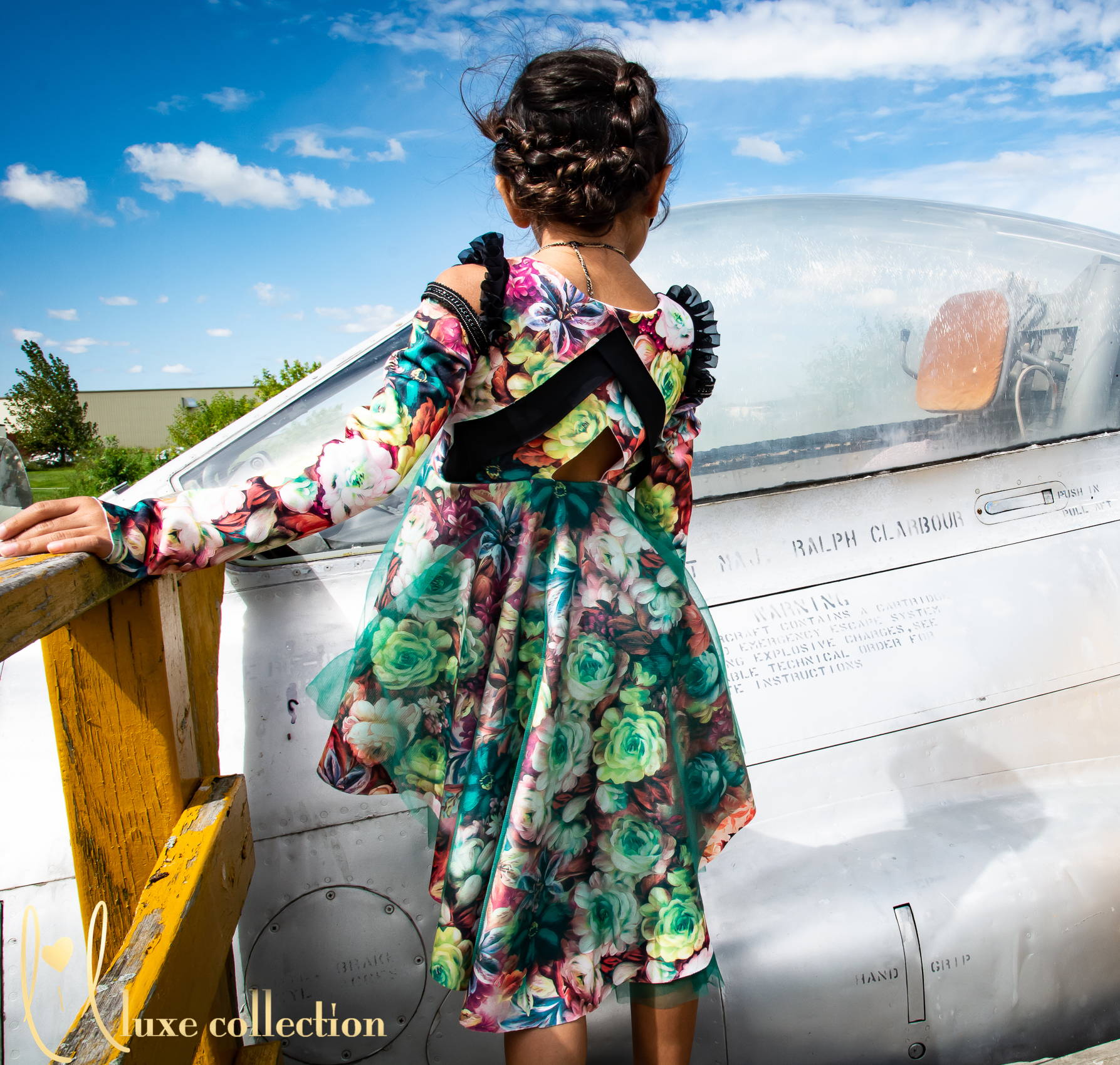 ---
Now for my fearless little aviator! I really, really wanted to do a satin jacket so the sheen would be representative of the Quetzal's shiny coat of feathers but I couldn't decide on a style. At first I thought the obvious bomber jacket but ultimately I decided to draft my own version of a military inspired jacket. I drafted the jacket right on my mannequin with a raised collar that would cinch tight or loose using a cord stop, an elastic casing along the waist, heavy duty snap buttons with velvet trim on the inside, pockets on either chest side dressed up with military patches and sleeve cuffs embellished in three coordinating layers of trim. Because the jacket doesn't have a lining, the whole garment is sewn with french seams. The top was also drafted on the spot using the LLC basic tee as a base. I changed the back to a racerback style using a green knit for the main, added an asymmetric front layer in a black and white knit and finished off the neckline with a classic collar in the same green knit. The pants are the LLC Canterbury knickers lengthened to pant length with an added faux button flap along the front sides and a folded up cuff using the same embellishment as the jacket. I crocheted an infinity scarf to bring in the red chest of the bird again and no aviator would be complete without her flight pack. So I made a leather backpack that zips closed and folds over the top to tuck into a contrasting layer of leather, trimmed in a hand stitched gold chain also used in the jacket and finished off with feathers on the shoulder straps to complete her flight pack.
Click the left and right arrows to see more pictures.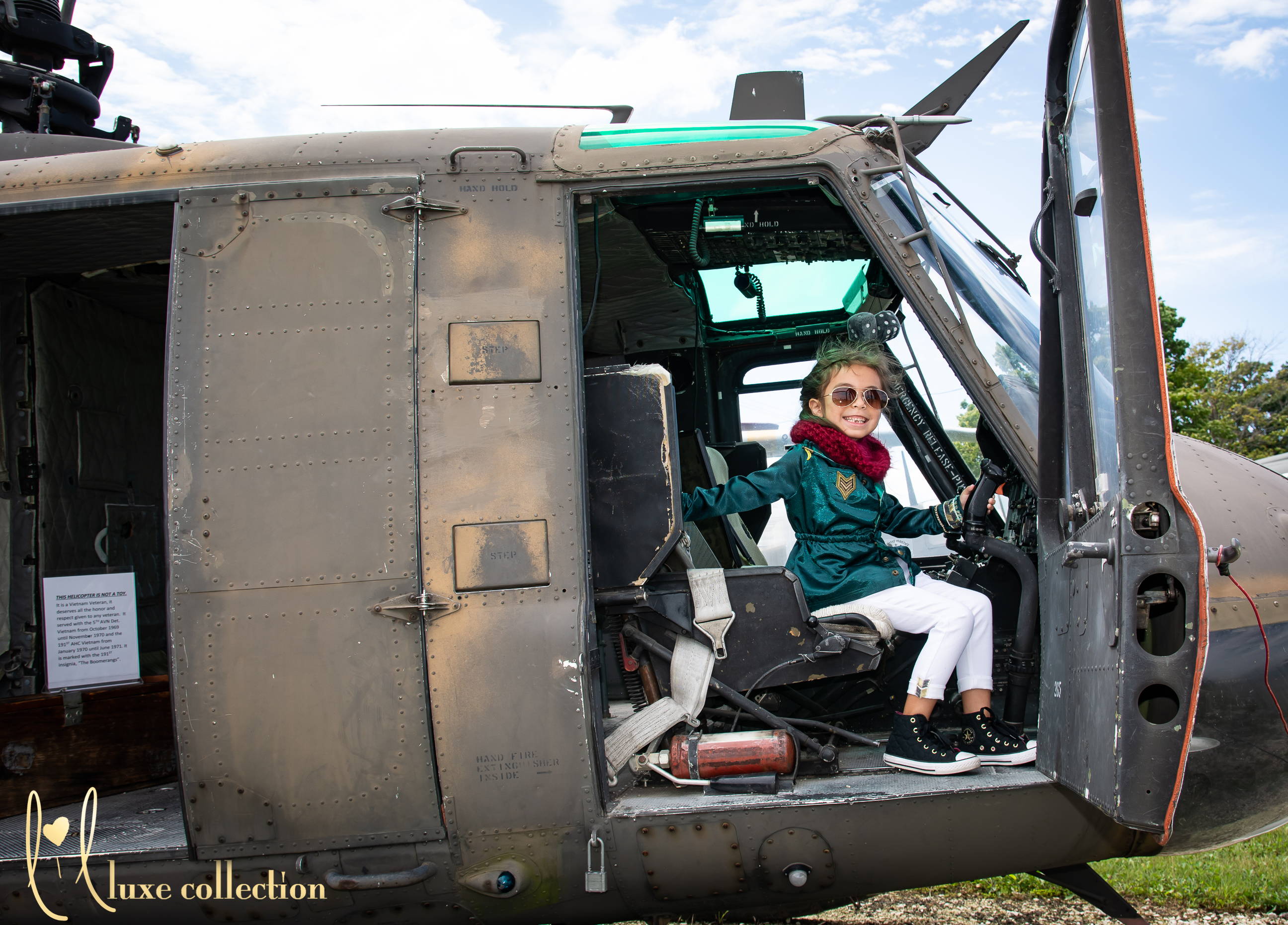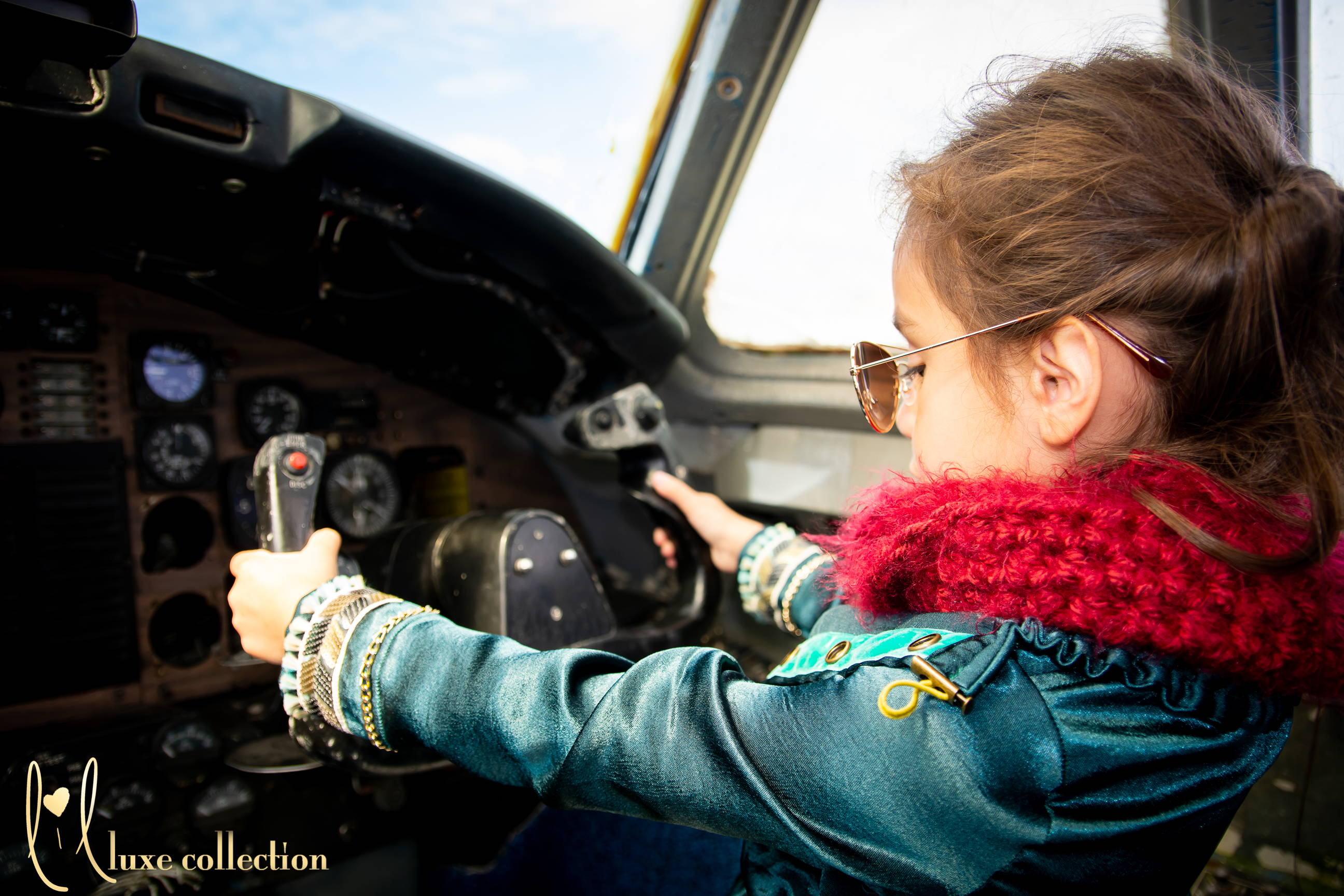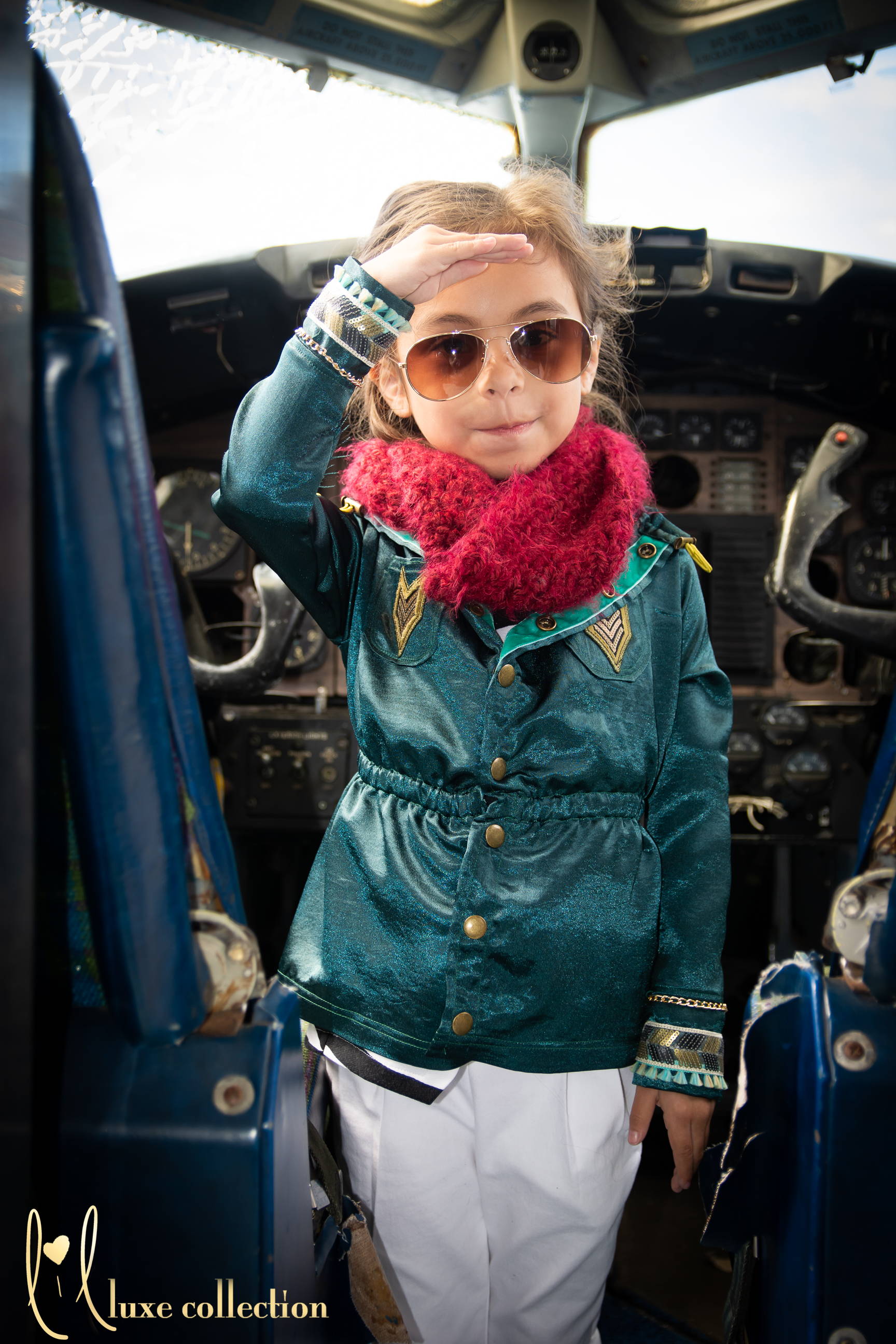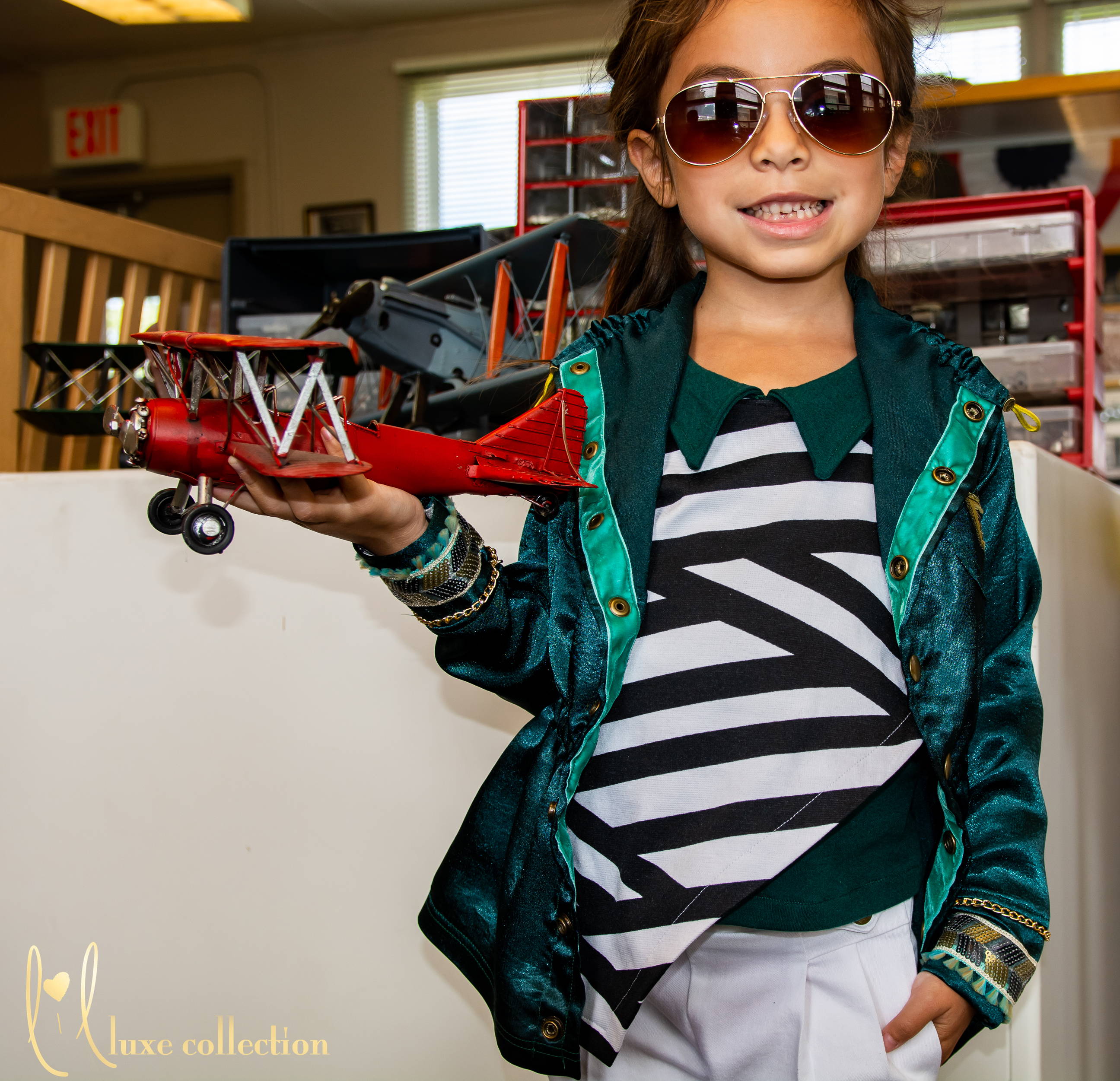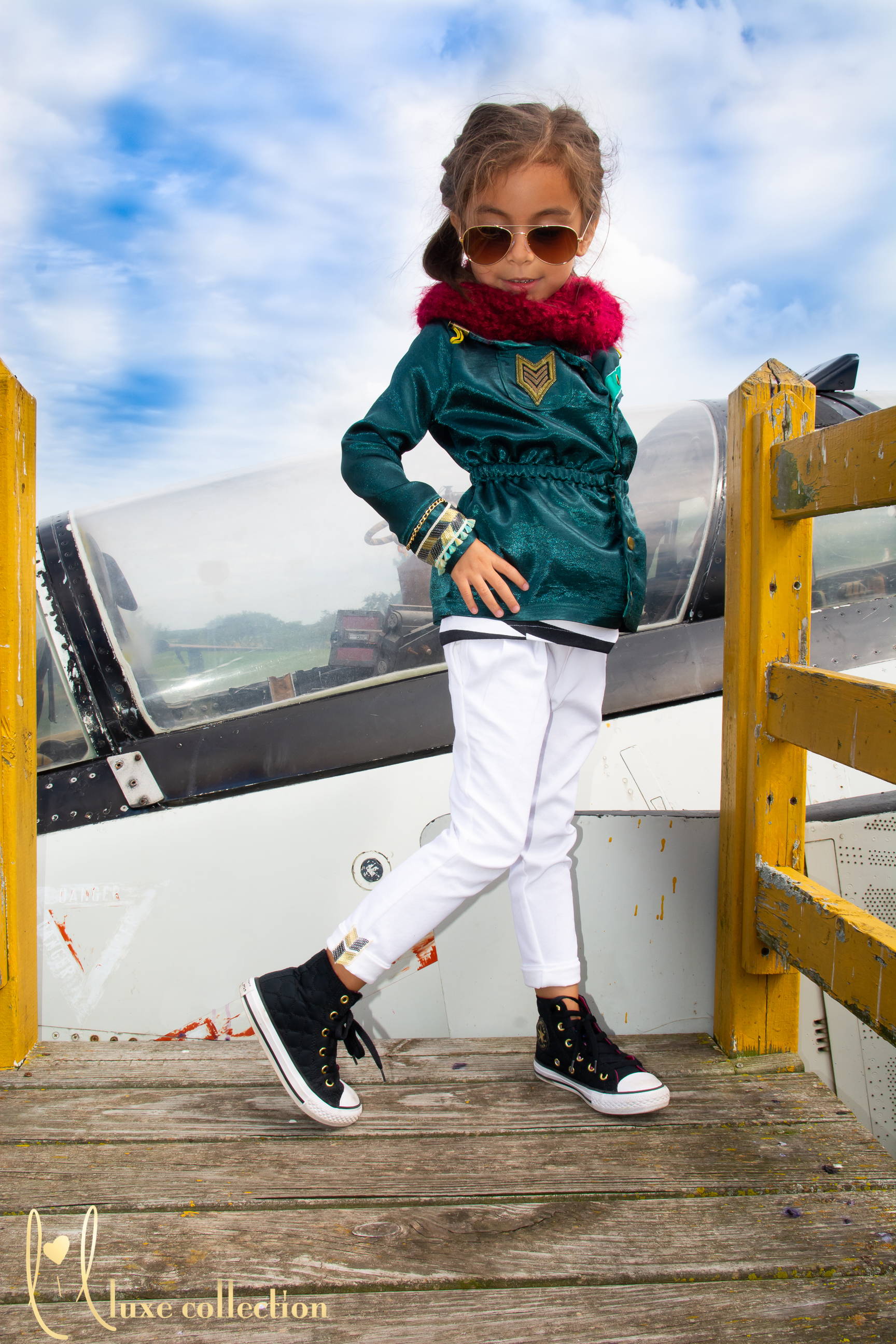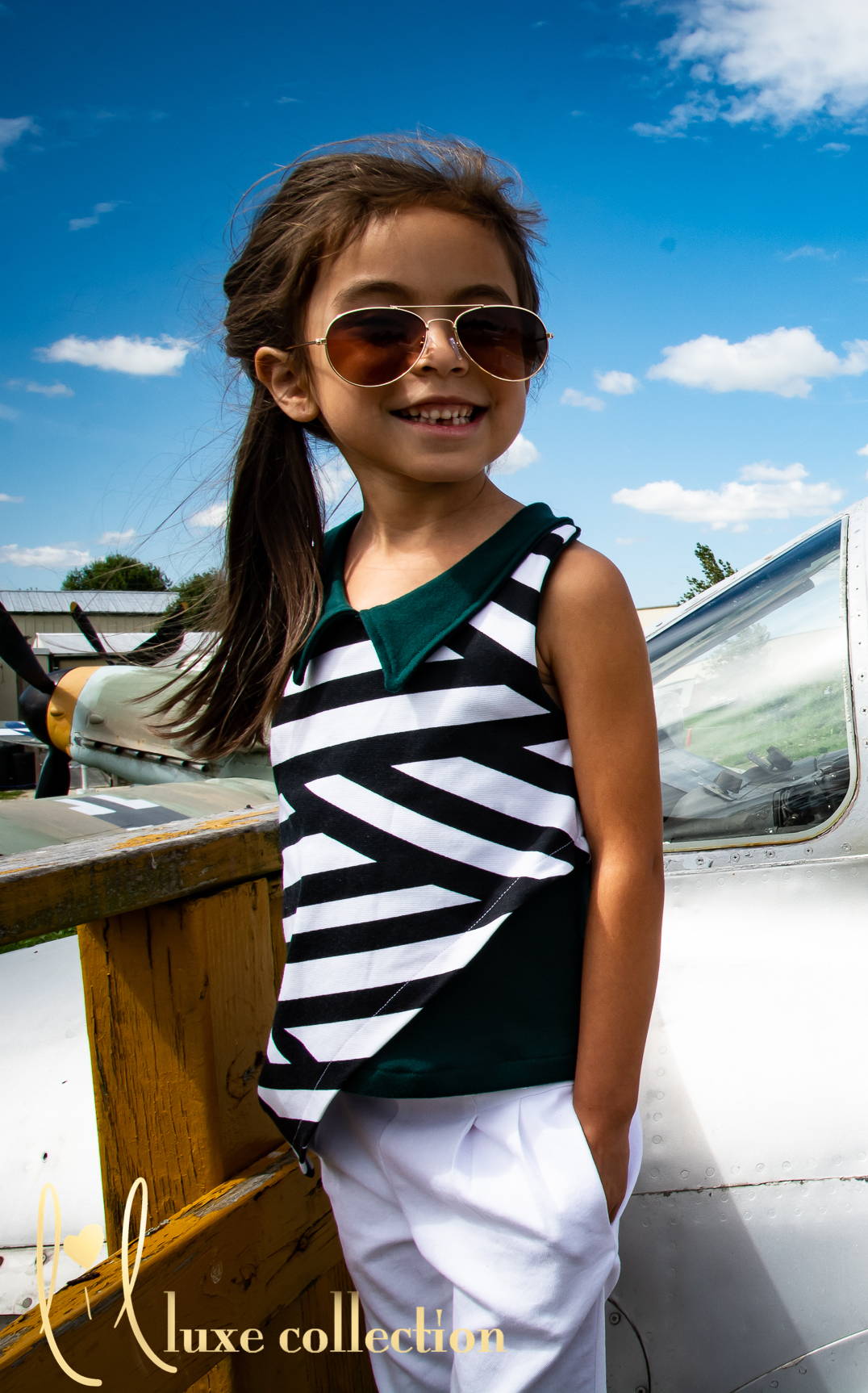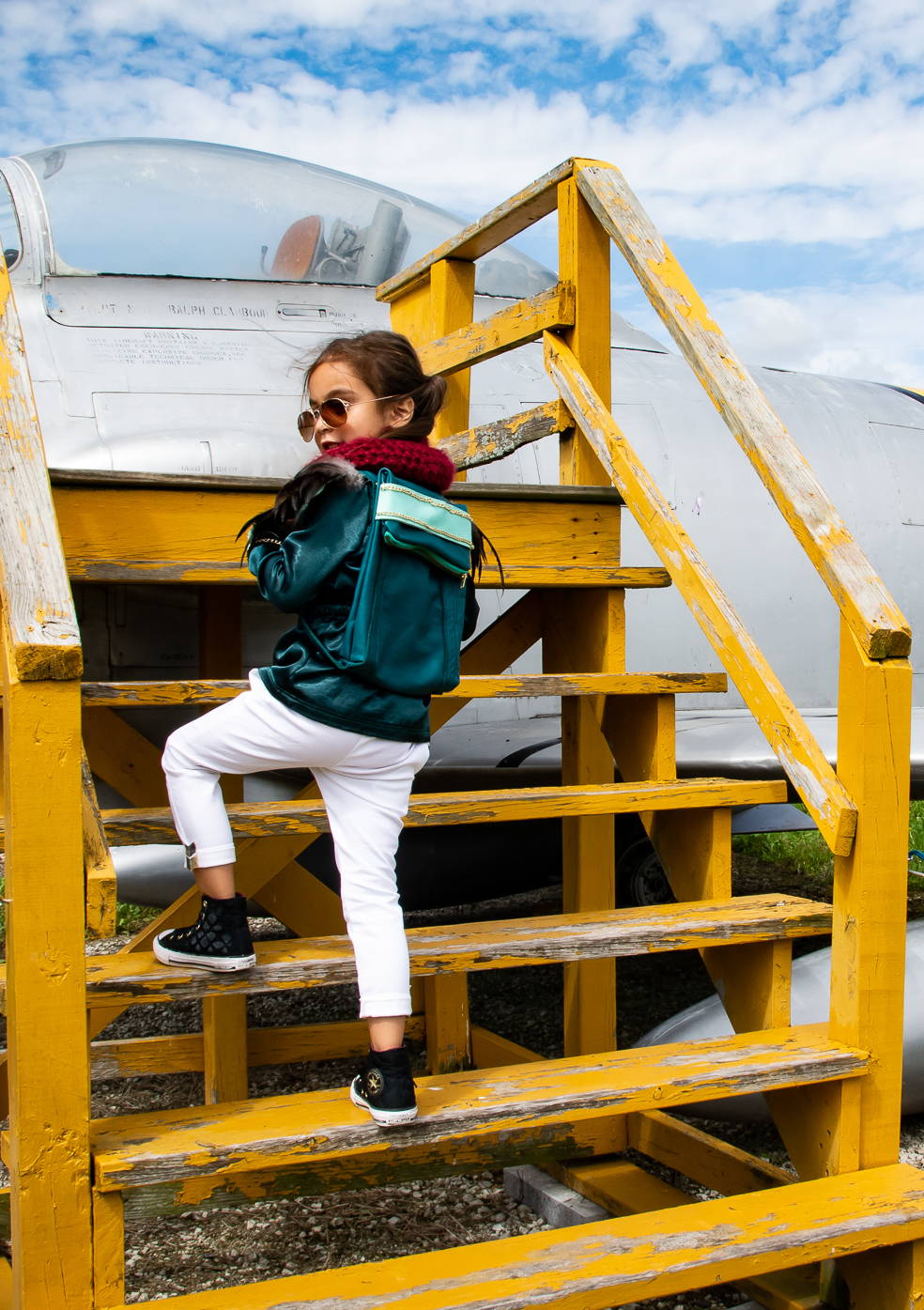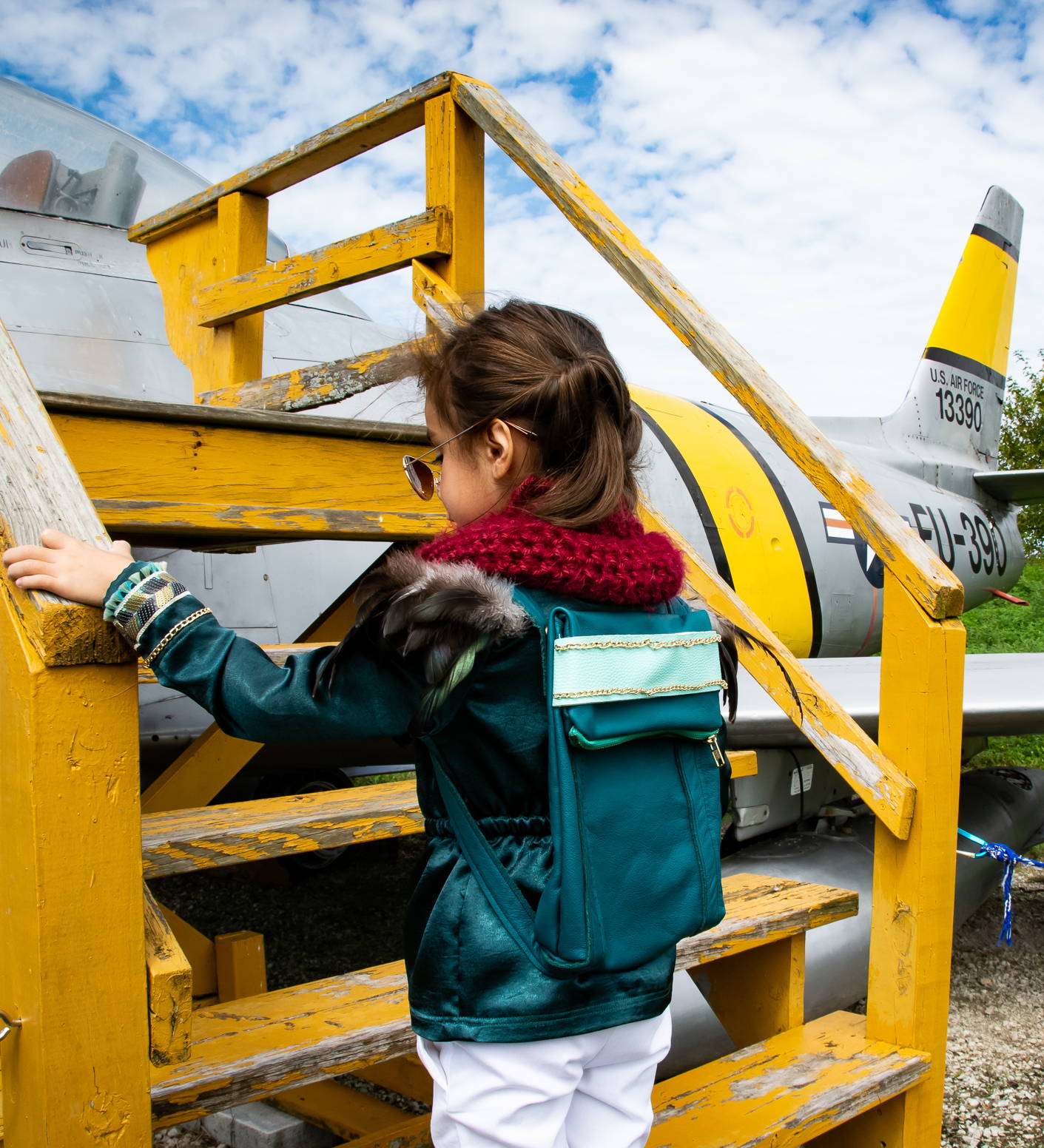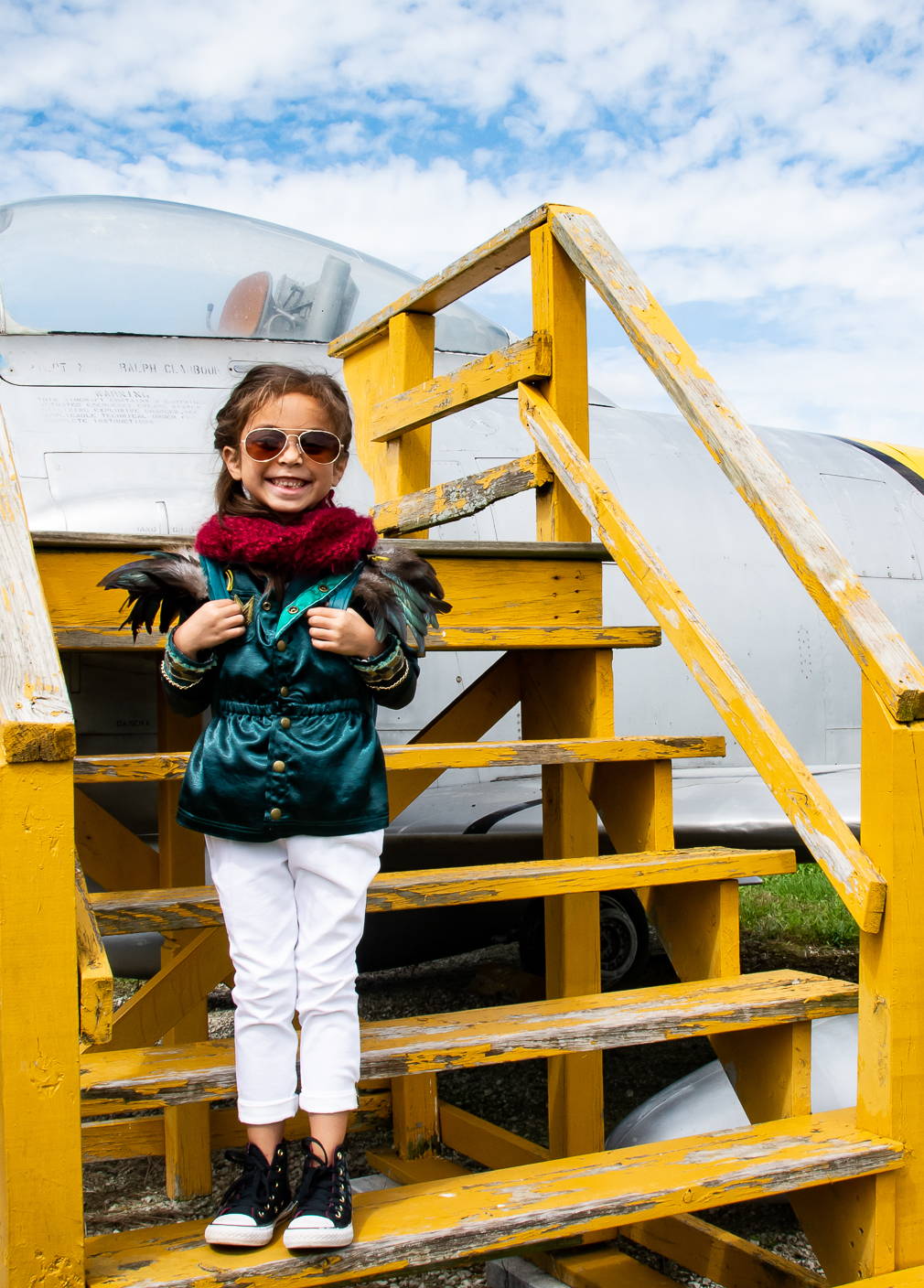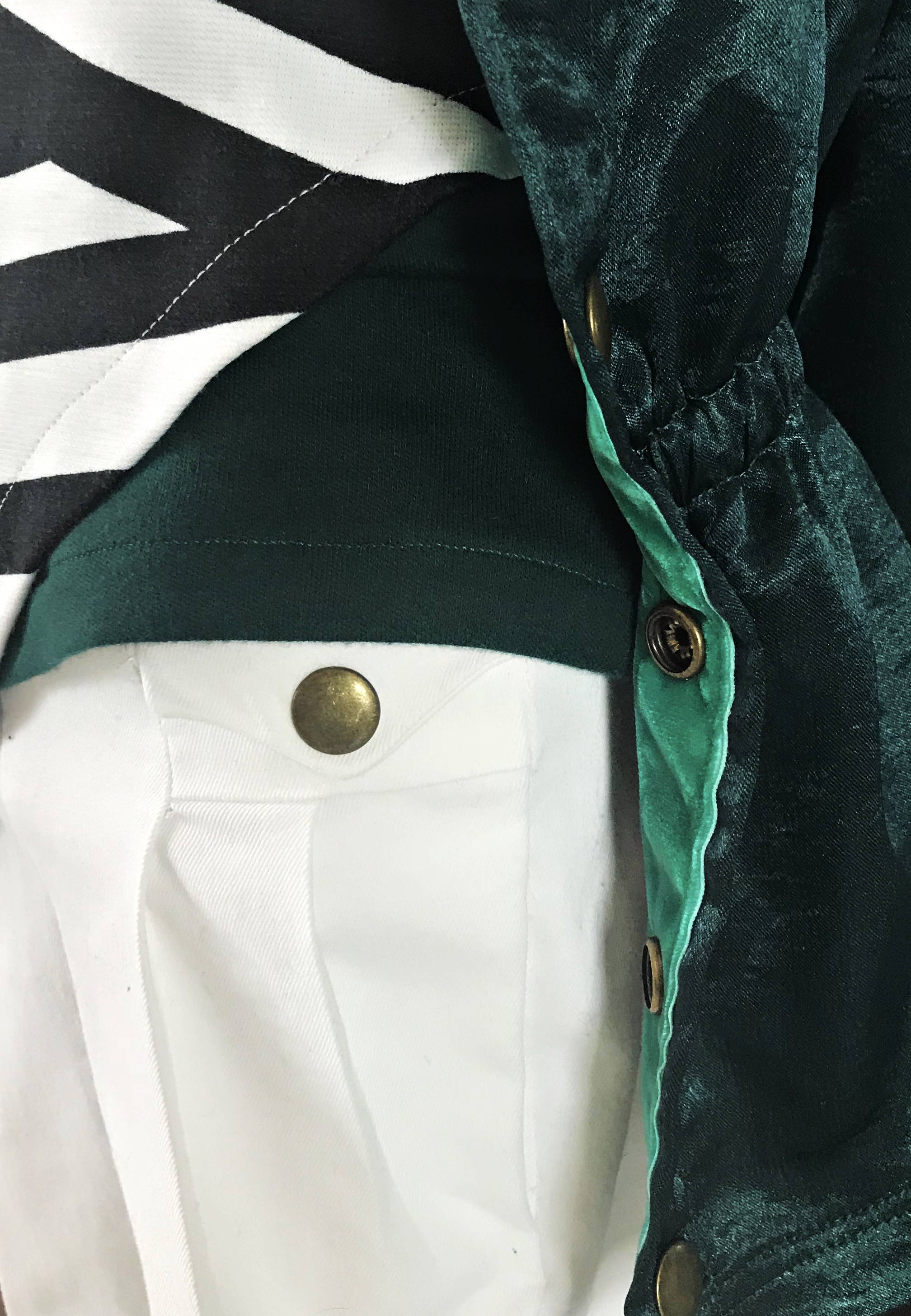 ---
Once I got going…I couldn't stop! I had so much fun creating these looks and I love that my girls will be able to wear them for more than just this challenge. My girls love aviation and we loved visiting the war vet museum in our area. This challenge was very near to my heart so I hope you've enjoyed!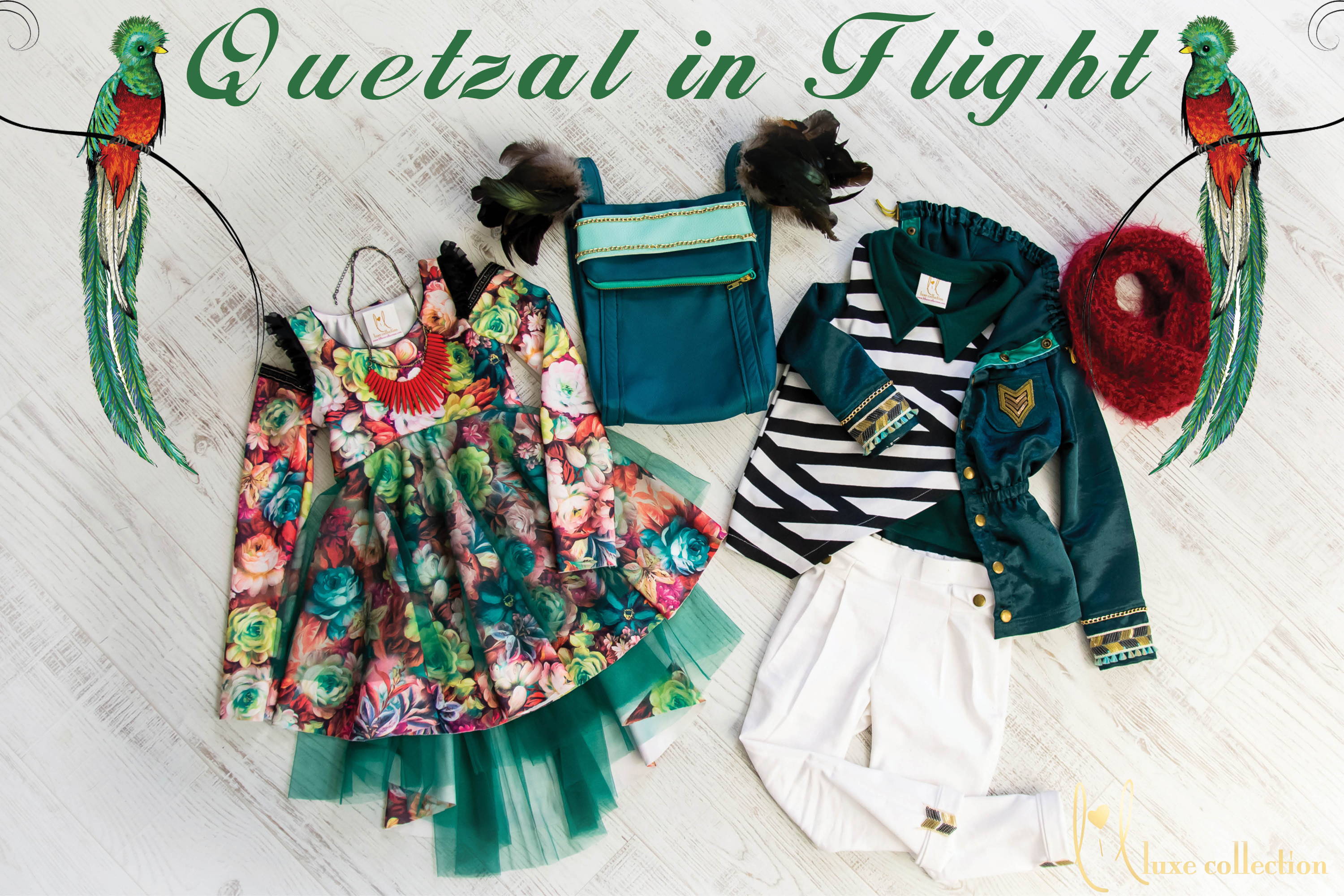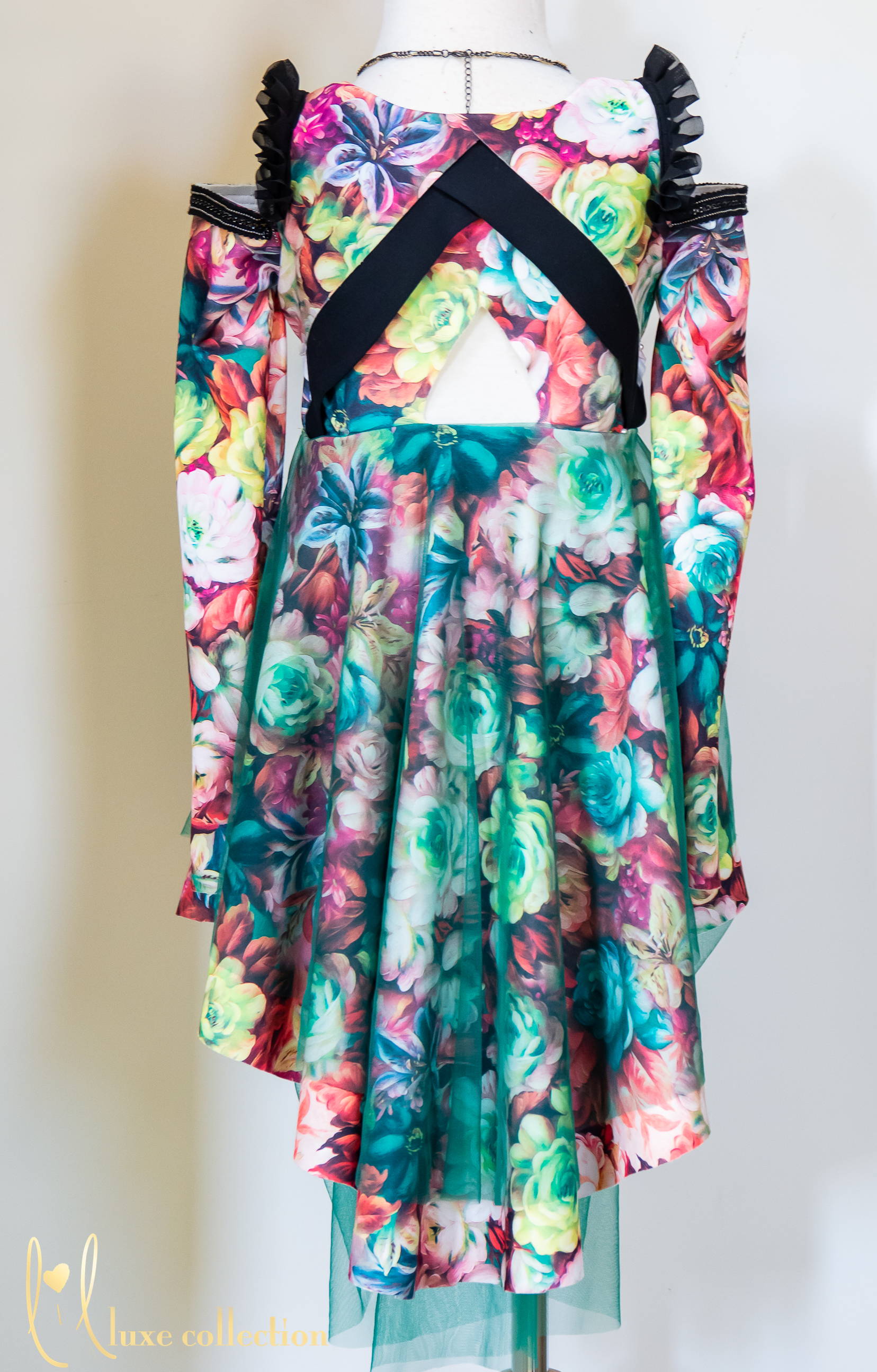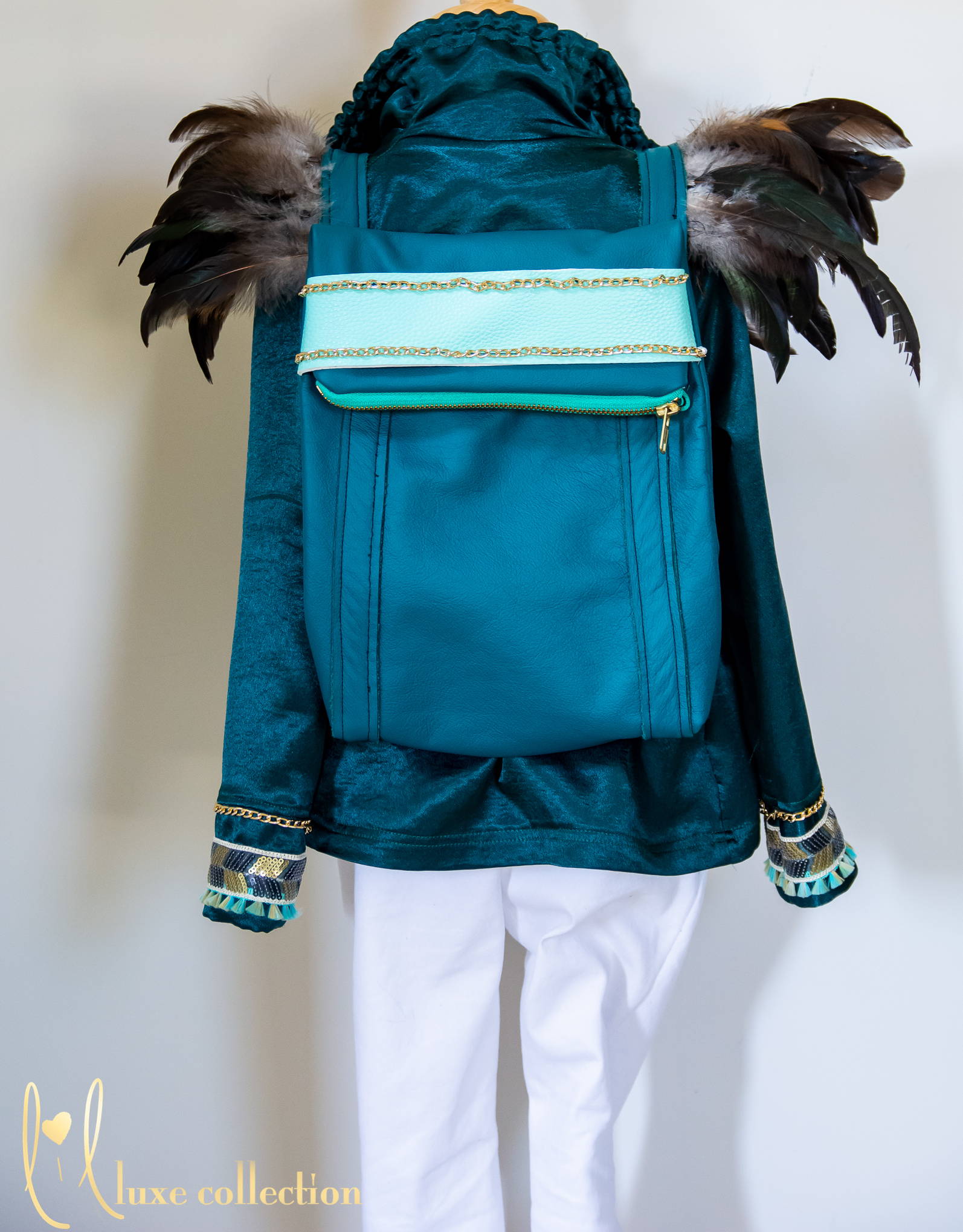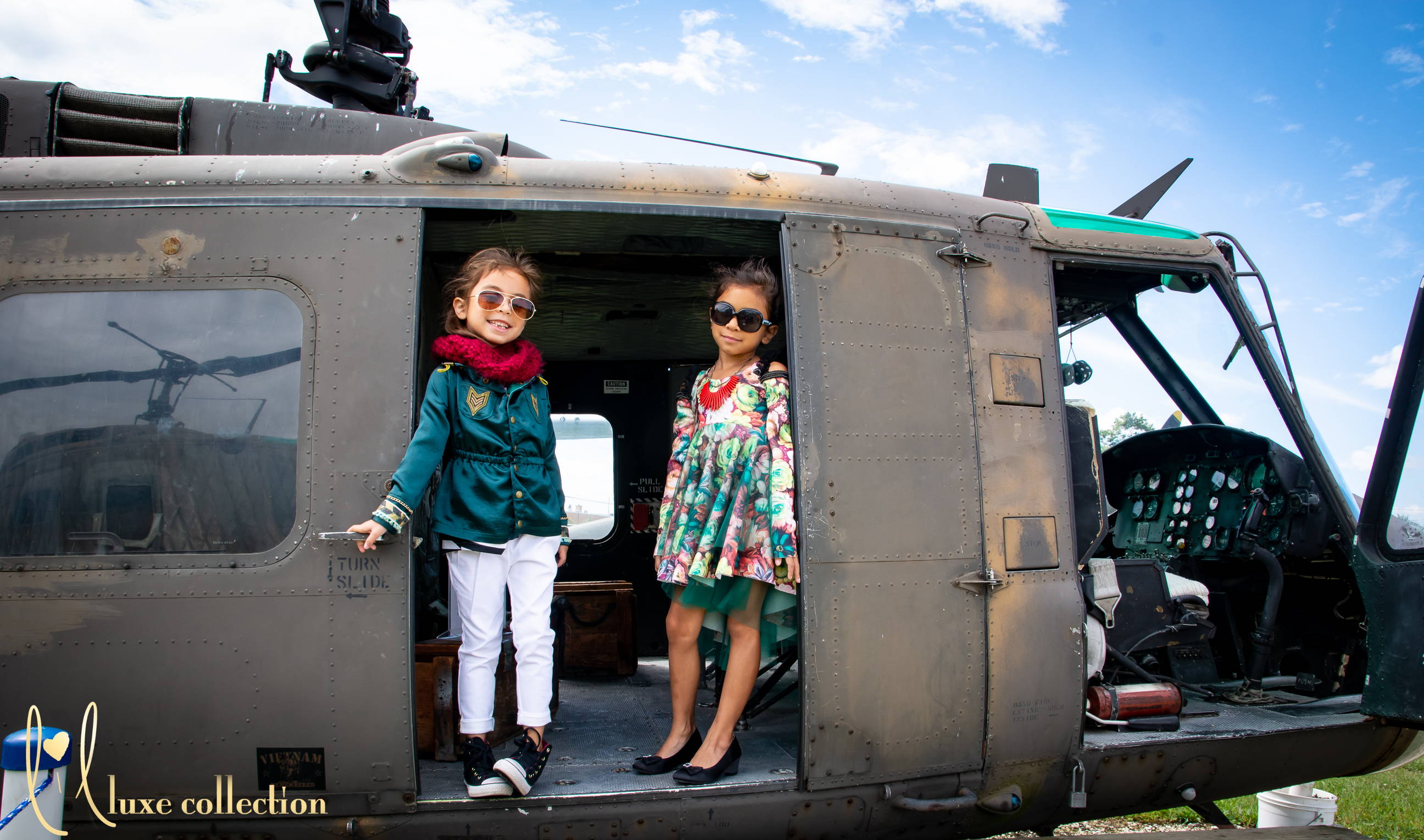 I believe we have a future pilot on our hands! She was very interested in hearing about all the gages and operations of the planes.