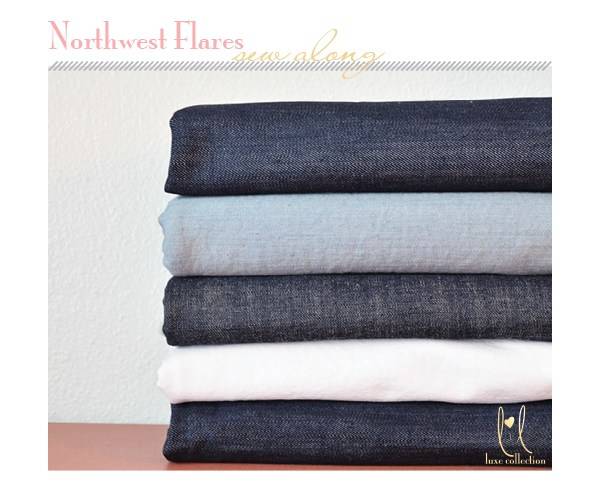 Hello Lil Luxe fans!
Angie Burgett here, introducing the Northwest Flares sew along! Jessica has received so many requests to host a sew along featuring the flares pattern and I am happy to say – that day has come!

DATES
The sew-along will be held Sun., January 24th-Sun, January 31st. So mark your calendars!  I will be updating this post daily throughout the sew along and helping you perfect a few of the techniques included in the pattern. In addition, I will guide you through how to distress your jeans for that one-of-a-kind look!
PRIZES
Winners from each category will receive a Lil Luxe Pattern of their choice + $25 gift certificate from our sponsor, Threadbare Fabrics. Categories are "Fan favorite" and "Best styled and photographed". Winners will be posted on the blog the final day of the sew along, January 31st.
HOW TO ENTER
Please link up your flares to this blog post (bottom of post) by midnight on January 30th, 2016 to be eligibile to win. You may also post photos to inspire others on the Lil Luxe Collection FB Group page or on Instagram using #northwestflares !
WHERE TO BUY & COUPON
If you do not own a copy of the Northwest Flares Pattern yet, use coupon code NWFLARESSEWALONG for 20% off January 19th-31st (expires at midnight, UTC)!
For this pattern we recommend using bottom weight stretch fabrics with 2-3% spandex or more such as stretch denim, stretch poplin, stretch cotton sateen, stretch twill, or stretch corduroy.  Check out the selection from our sew along sponsor Threadbare Fabrics.
We hope you join us on January 24th!
Angie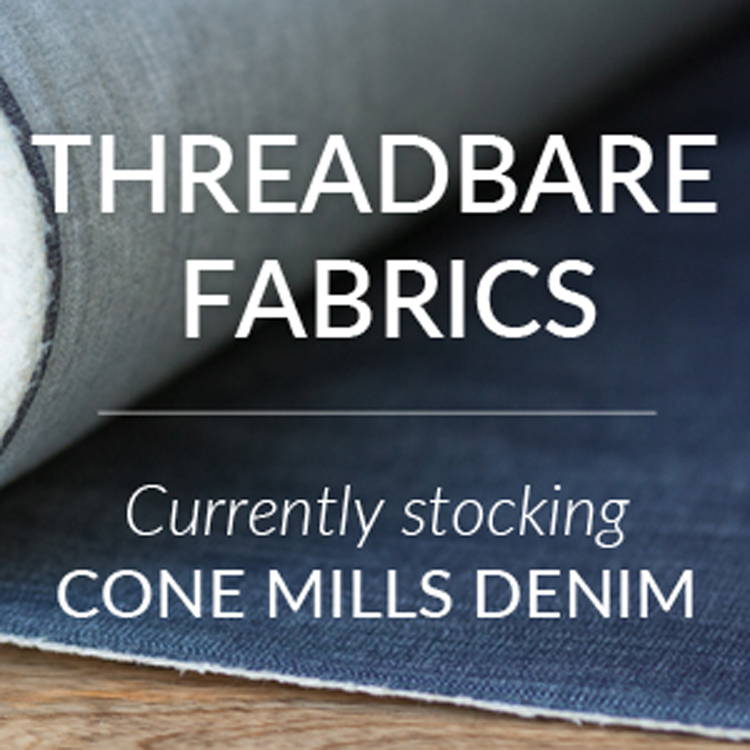 ---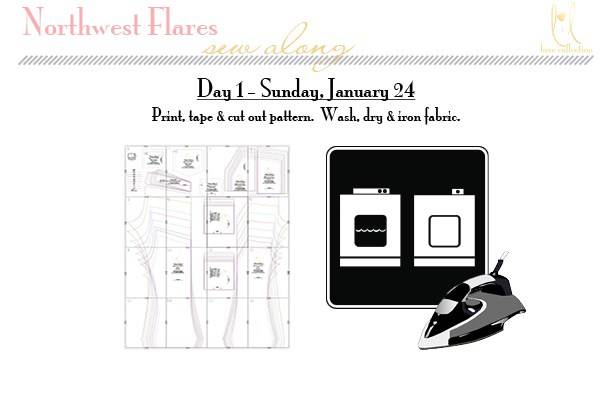 Good morning everyone!
It is day one of the Northwest Flares sew along and today we are preparing and cutting our pattern. So let's get started!
There are a lot of great fabric options for these jeans. Our sponsor for the sew along is Threadbare Fabrics and they have some AHHHHmazing Cone Denim that will work perfectly for these jeans. Look at these two washes – aren't they gorgeous!!!!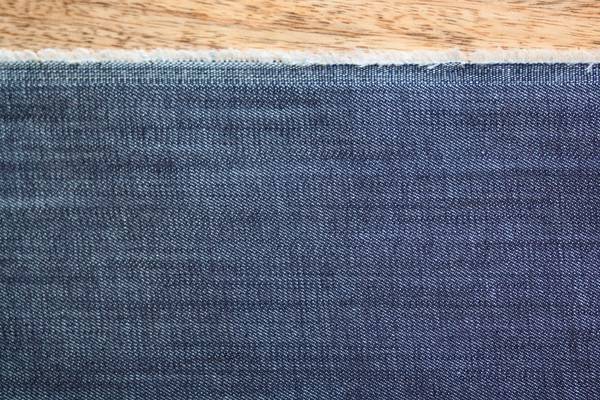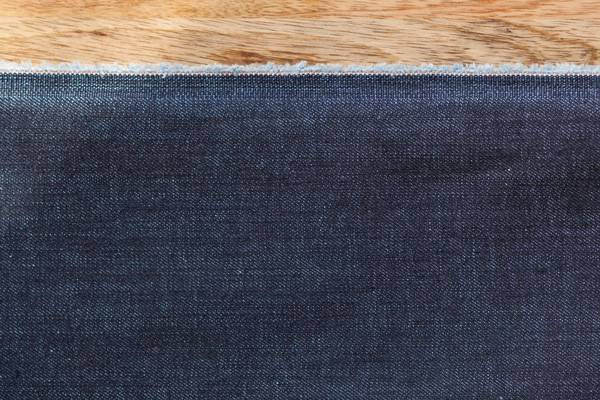 Whatever bottomweight fabric you decide to go with, please make sure it has 2-3% spandex or more for best results. We also want to have 2" wide elastic, denim/topstitching needles, fusible interfacing and thread. Topstitching thread is optional but it really gives an authentic store-bought jeans look! I like to apply my topstitching thread to the slash pockets, back pockets, side seam stitching, hem, waistband, and all flat felled seams.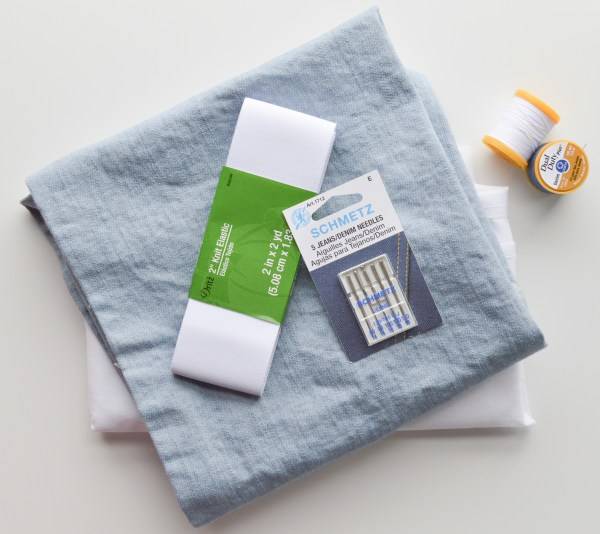 First we want to wash and dry our bottomweight fabric. You are going to want to pre-wash and dry your fabric to get rid of all the nasty chemicals and also allow the fabric to shrink before cutting. We don't want to put all that hard work into a product only for it to shrink, now do we?

Lets pick a size. Joni is finally wearing a 5T with no modifications but your sweetie might be taller/shorter than the waist size so you really want to double check measurements before printing your size. If your child has a longer/shorter inseam than the waist measurement, please follow the customize section on page 4 of the tutorial in order to get the proper length for your pattern pieces prior to cutting.
Now that we have chosen a size, you have a two printing options. You can choose to print all the sizes and either trace/cut the size you need OR you can use the handy size tool to select only the size you want to print.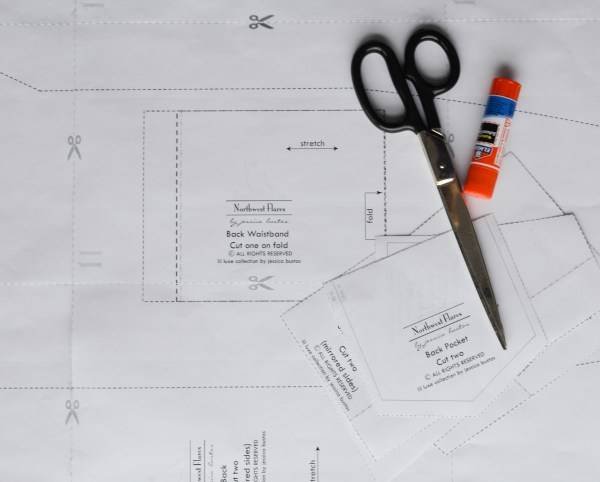 Once you have printed your pattern, go ahead and piece together with glue or tape. After you do this, you are ready to cut your fabric tomorrow!
See you then….
Angie
---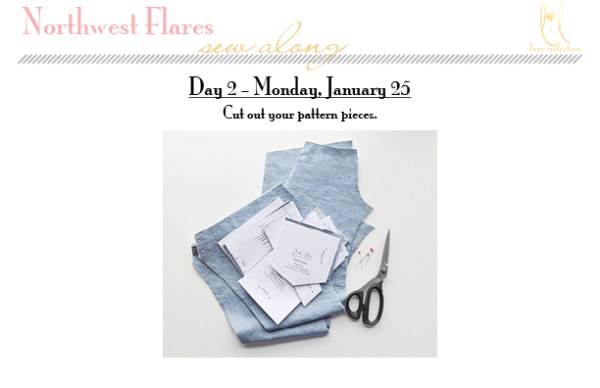 Hello!
Today we are cutting our fabric pattern pieces and it is very important that we place them correctly prior to cutting.
When you look at your pattern pieces, you will see grainline indicator marks. These are shown as a straight line with arrows on each end.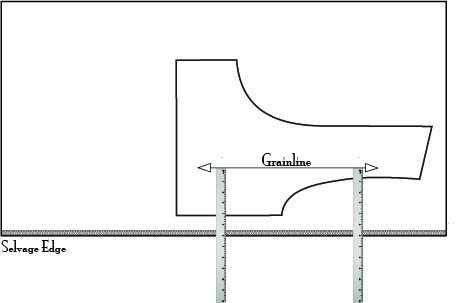 Grainlines designate how your pattern pieces should be placed on the fabric. Pattern pieces are generally cut on the lengthwise grain, but sometimes your pattern might stipulate placing on a crosswise or bias grain. It is very important to be mindful of the grainlines in order for the garment to drape correctly and fit the wearer's body without any twisting or wrinkles. Cutting your pattern out accurately is also important when making sure your seams come together smoothly.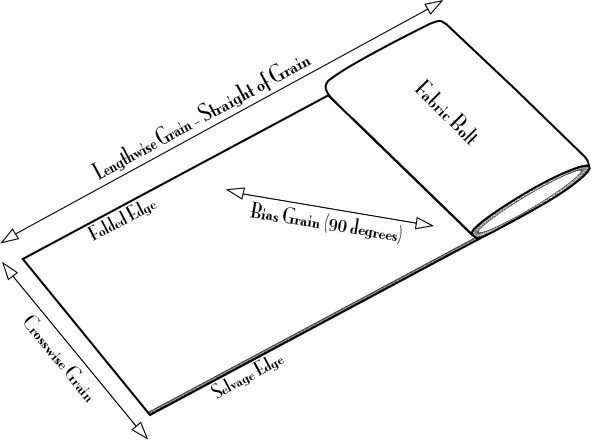 After you wash your fabric, you will need to restore the fold line on the correct grain. Most patterns will show the grainline running parallel to the selvage edge. To find the lengthwise grain of the fabric, align the selvage edges with right sides facing. Make sure the selvage edges evenly aligned with each other for the length of your fabric and that there are no twists or wrinkles in the folded edge. The selvages and the fold line should be parallel to each other and the fabric should be smooth and flat. Alternatively, some fabrics respond well to making a snip along the selvage and tearing across the fabric widthwise. You may also choose to pull out one thread from the snip you made and gently pull it out of the fabric like how I did in my distressing tutorial.
These grainline indicators should always be parallel to the selvage edge of your fabric when laying out your pattern pieces. In order to make sure you are correctly placing your pattern pieces, you must measure each end of your grainline marking from the selvage edge to ensure it is equal distance.
If you are using a directional print or a print that you wish to match at the seams, you may need to buy additional yardage other than what the pattern calls for.
Once we have established our grainline and properly placed our pattern pieces, it's time to cut them out! After you finish cutting, transfer all markings to the back of your fabric pieces. The only markings for the Northwest Flares are shown on the pocket welts.
We are officially ready to get started sewing tomorrow!
Angie
---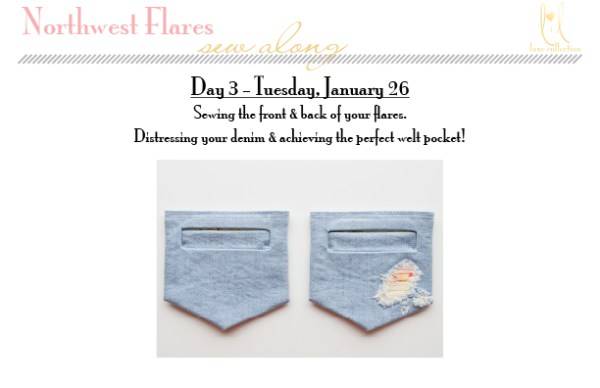 Good morning everyone!
Today we are sewing the front and back of our flares. I will also be showing you a method I love for distressing denim.
Follow the steps on page 7 to create your jeans front with slash pockets. You should have this when you are finished: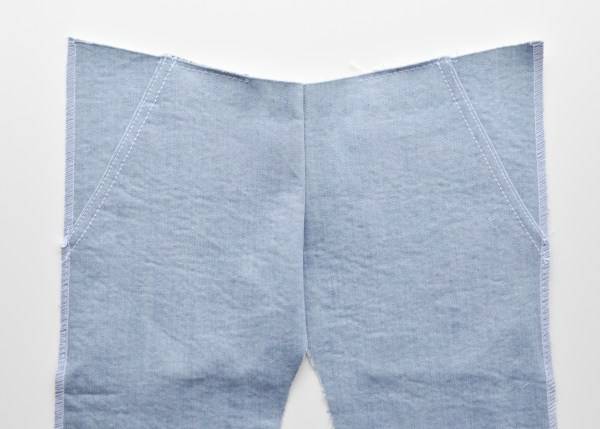 ---
Let's take a break for a minute and talk about distressing...
I like to plan ahead and decide where and when I want to do the distressing. For example, I wanted to add a fun pop of floral behind my distressing on these jeans so naturally I need to distress before sewing all the seams so I can stitch the fabric behind my distressed areas. You can always distress after the jeans are sewn by placing a block of wood under the areas you are distressing. If you are sewing fabric to the back, you might consider doing your distressing first.
There are so many ways to distress fabric. You can use a cheese grater/microplane, sanding block, tweezers, a block of ragged wood, ridged rocks, box cutter, drimmel tool, razors, wire brush, pumice stone…the options are really as limited as your imagination. Today I am going to show you my personal preferred method of distressing but don't let that stop you from trying other methods, get creative and have fun with it!
The tools for this technique are:
Marking pencil/chalk
Seam ripper
Tweezers
Razor
Razor blade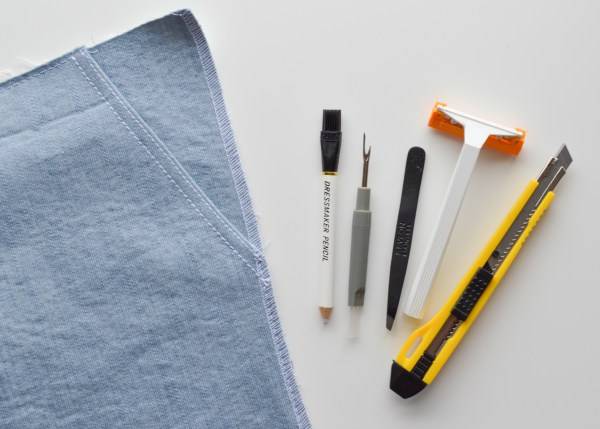 You are going to begin by marking a shape where you want your distressing.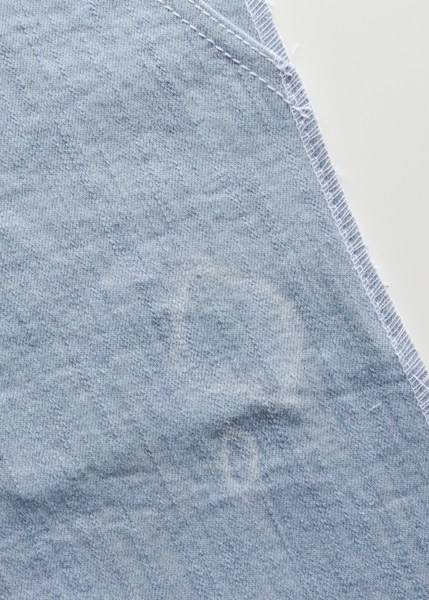 Make small horizontal incisions with your seam ripper around the perimeter of your shape. You can also use your scissors for this but I like the control of the seam ripper. You will want these lines to overlap. If you are distressing a large area, you might want to consider cutting all the way from side to side of the shape in in a few spots spacing your long cuts 2″-4″ apart but still making small cuts around irregular areas. I have found that this created more work for me when distressing smaller areas but works great on the larger areas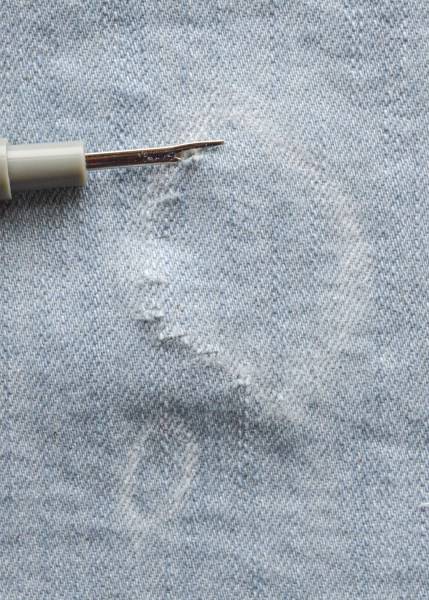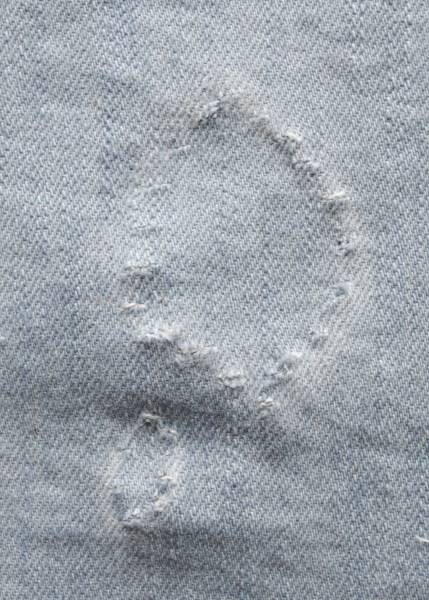 Gently pull the vertical strands out using your tweezers. The first strand is the hardest but after you get going, they come out quite easily. Keep pulling strands out until all the vertical strands are removed from your shape. While pulling, if you notice that the strand isn't coming out make sure the snip you made at the other end is cut all the way through.  This is the part where making sure you overlap your snips is important.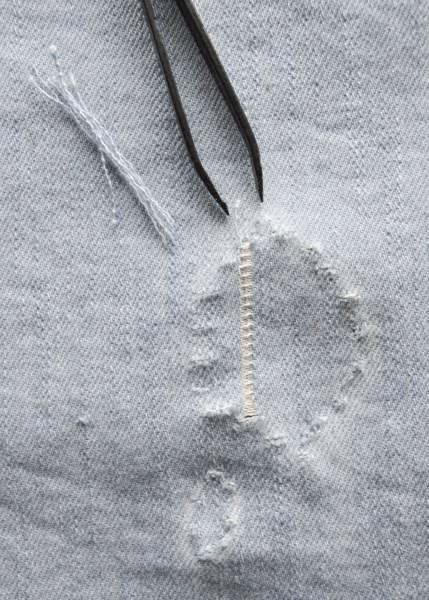 Check out that distressing!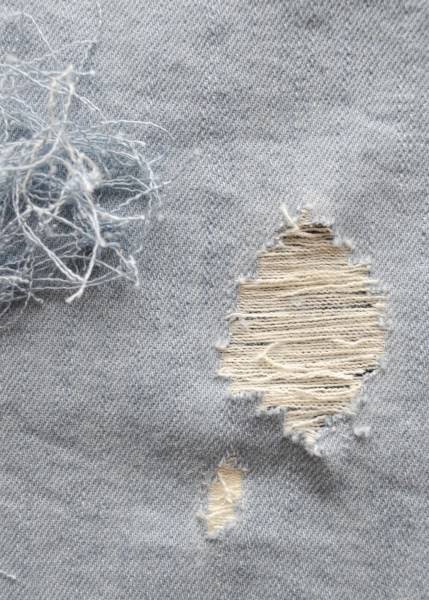 At this point, you can go ahead and feather and soften your edges with the razor or razor blade. Or you can place fabric behind the distressing and sew around the perimeter of your shape and then feather the edges. Finishing the edges of your fabric patch is preferred to keep it from fraying on the inside of the jeans. One thing about feathering….you can really get in there and scrape it but be careful if you have fabric behind it that you do not cut your fabric. I like to take the razor blade edge and rub it vigorously back and forth over the edges. With the razor, I work my way around the edges pulling in an outward direction. You can see in this next picture how the little edges get shaved off and fuzzy. I also like to snip a few horizontal strands so my fabric print can peek through!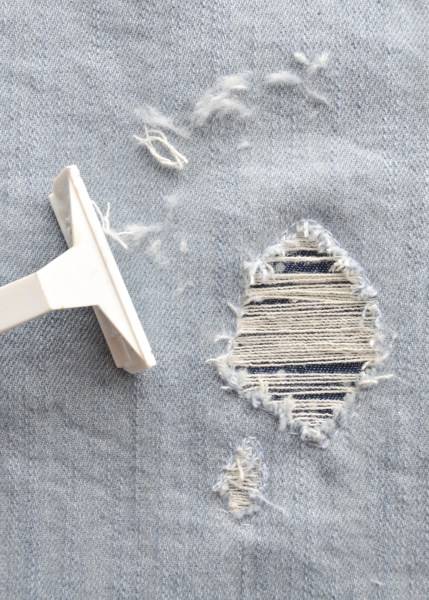 You can also take that razor or razor blade and scrape along the edges of the pockets, the lower hem and the top of the back pockets!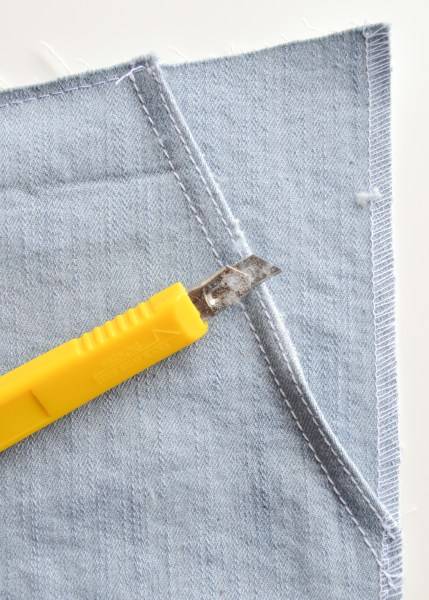 Next we are ready to tackle those welt pockets. They might seem daunting if you have never sewn one but I assure you, they are really quite simple and I personally find them a lot of fun to sew. Once you master this, you will be adding welt pockets to all sorts of garments with confidence!
For those following along in the tutorial, we are currently on page 8. You will start by transferring the rectangle marking to your welt pocket, if you have not already done so. Center the welt pocket over your back pocket piece. Stay stitch the top and bottom line, securing it to your back pocket.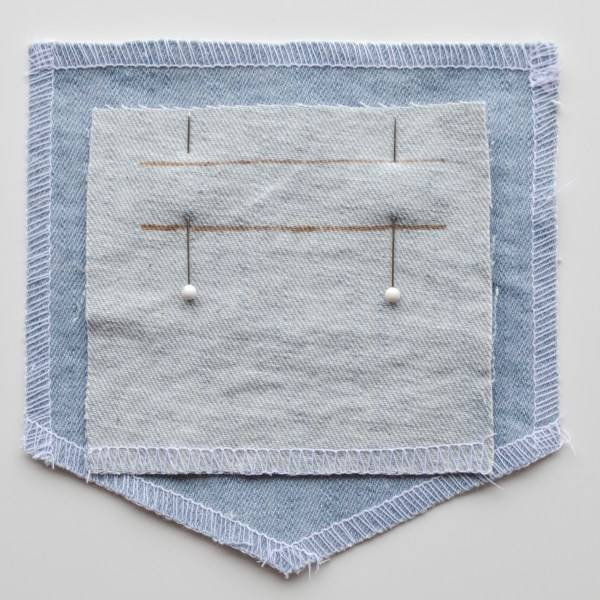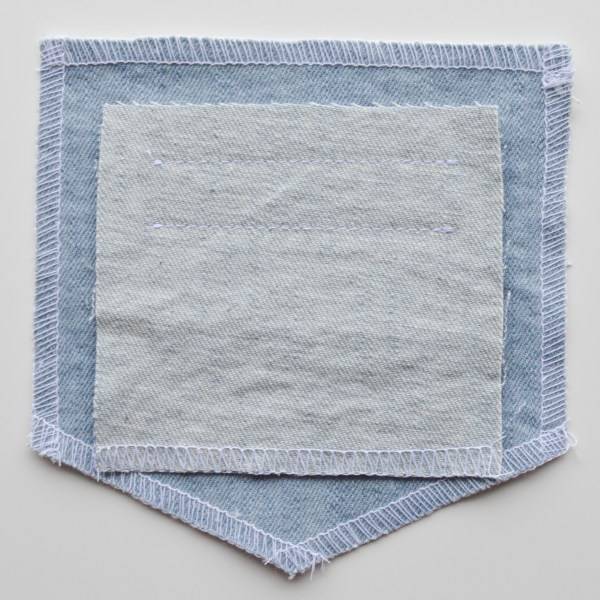 Cut through the center of your lines, then snip toward the angles of your rectangle. Get as close to the corner without cutting into your stitching.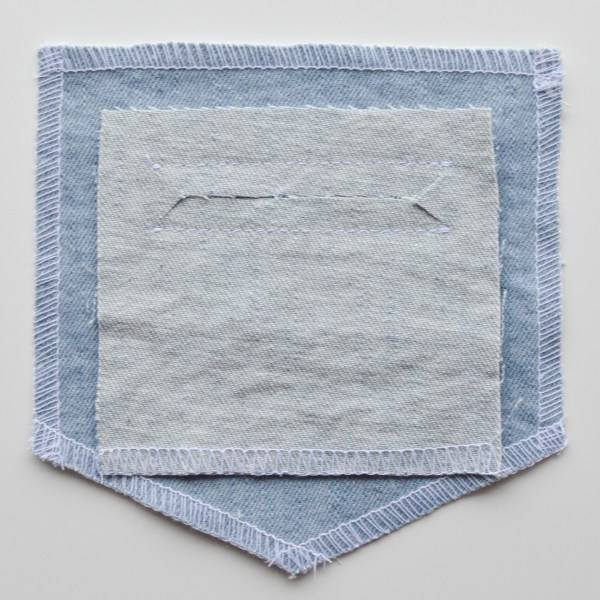 Push your welt pocket through the opening so that the wrong sides are now facing and give it a good press. Accordion fold your welt pocket up to cover the opening and press in place.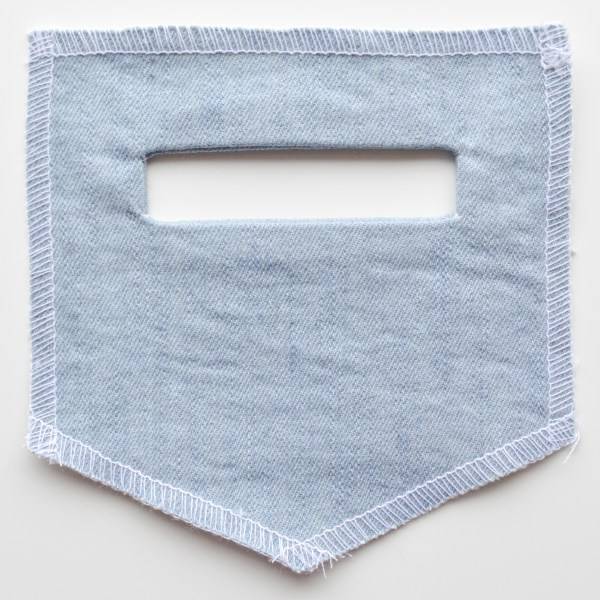 You will now pull your large pocket away from each side and understitch around the bottom and sides, making sure you catch the little triangle flaps on each side.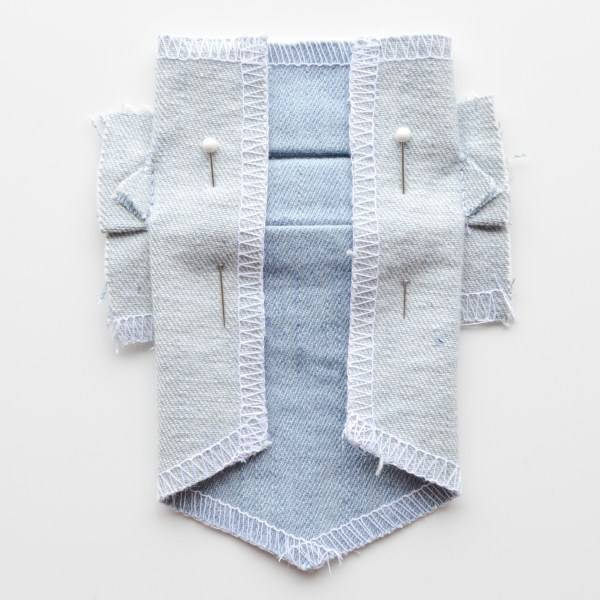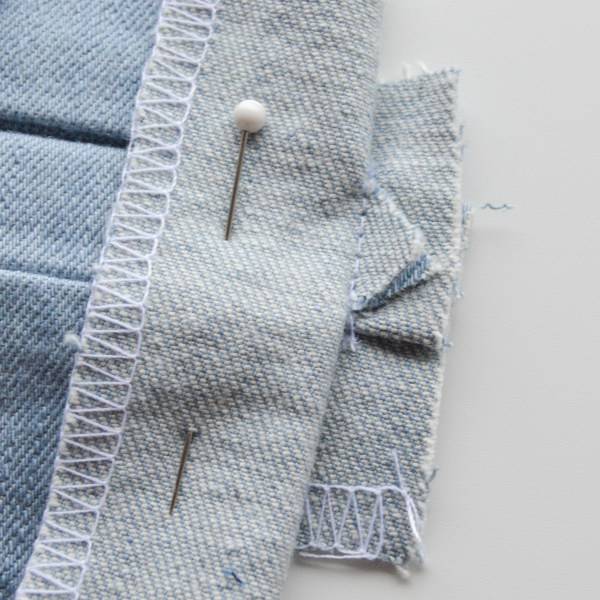 Right sides together, sew your pocket bag to the bottom of the welt pocket. Press and topstitch across the seam, sewing through all layers.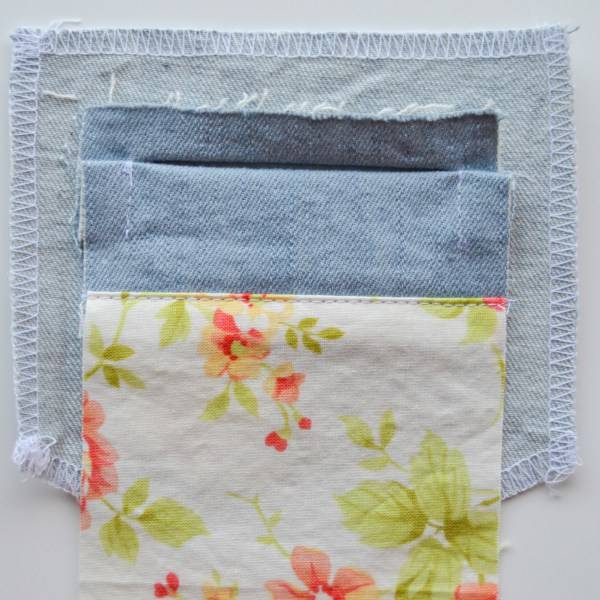 Fold your pocket bag up to meet the top of your welt pocket. Pull your back pocket away and sew around your pocket bag, including the welt pocket in your seam. Do not sew your pocket bag onto your back pocket. The edges of the main pocket fold over enclosing the raw edges of the pocket bag, so finishing the edges of your pocket bag is not necessary. *The photo below only shows the top seam sewn. You should still sew all three sides, I got a little too quick to take a picture here*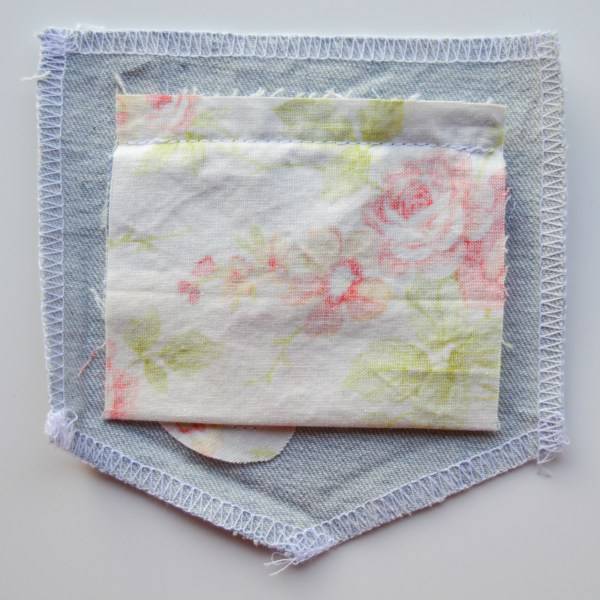 Press the top edge of your back pocket down by 3/8", topstitch two parallel rows across the top. Then press your sides and bottom angles.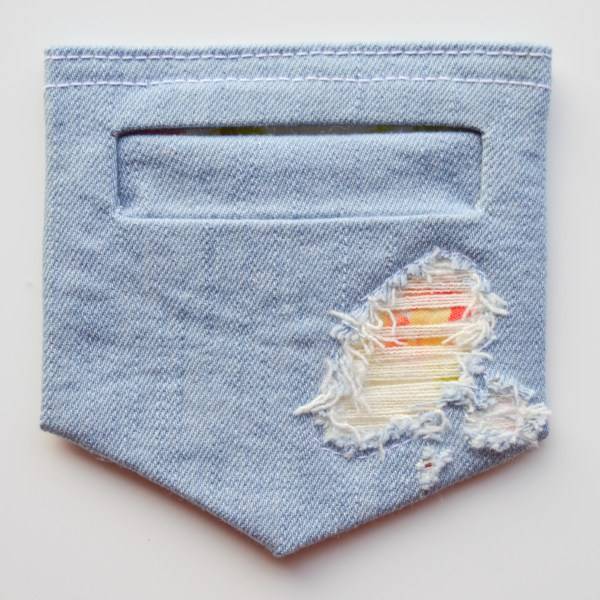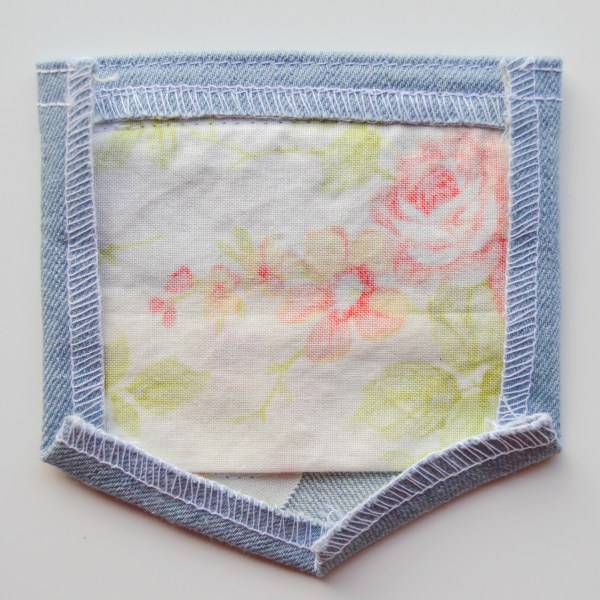 Repeat these steps for your other back pocket.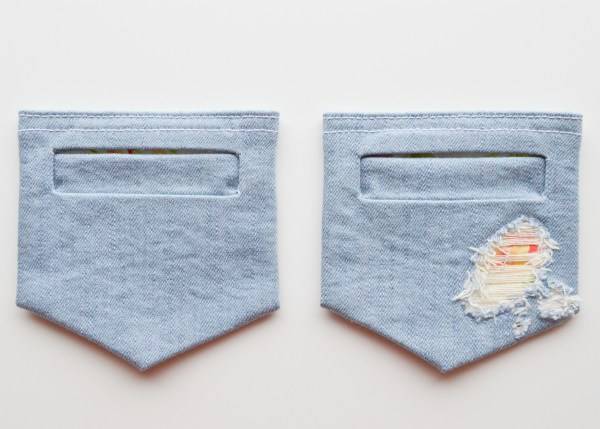 See, now wasn't that fun!?

Now you will want to finish the back of your jeans by following illustrations 11-15 on page 9 of the tutorial.
You should now have the front and back of your flares complete. Tomorrow we are going to finish our jeans, so get excited!!!
Happy sewing, Angie
---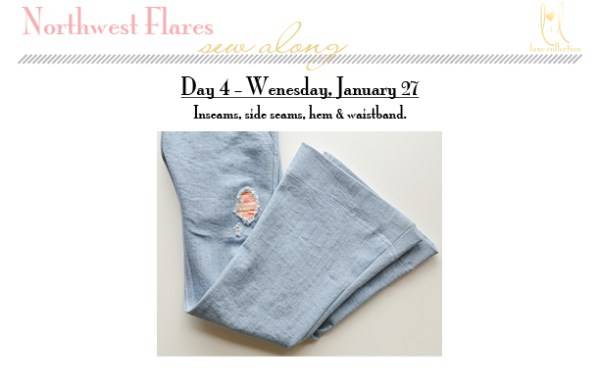 Welcome to day 4!
Today we are finishing up the flares by sewing our inseams, side seams, hem & waistband. For these steps, you will start with illustration 16 on page 9 and continue to the end on page 10 of the Northwest Flares Pattern.
If you got a little hung up on how to flat-fell your back yoke yesterday, that is okay. I got you covered with a step-by-step on how to flat-fell your inseam and yoke.
Wrong sides together, sew the length of your seam. If you are using the optional topstitching thread, you will want to make sure it is on the side that will be visible when folded over. You will be folding the yoke seam up and the inseam will be folded to the back.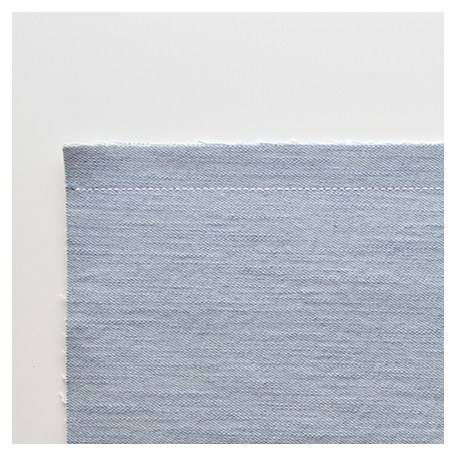 Trim the seam allowance from the back.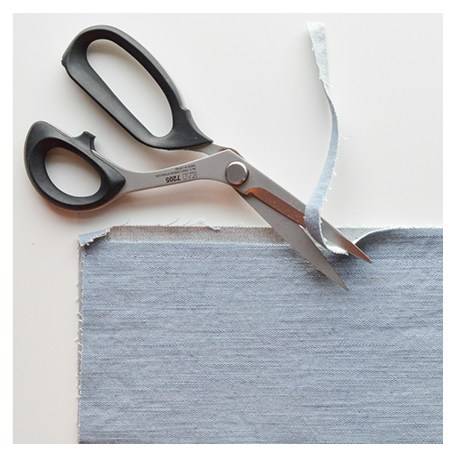 Press seam open. Fold the untrimmed seam allowance to meet the center seam.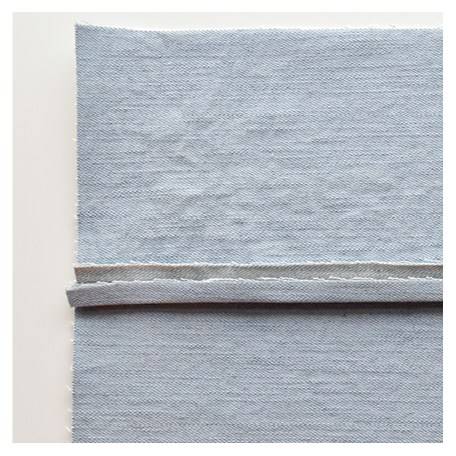 You will now tuck the trimmed seam allowance into the folded edge you made in the last step.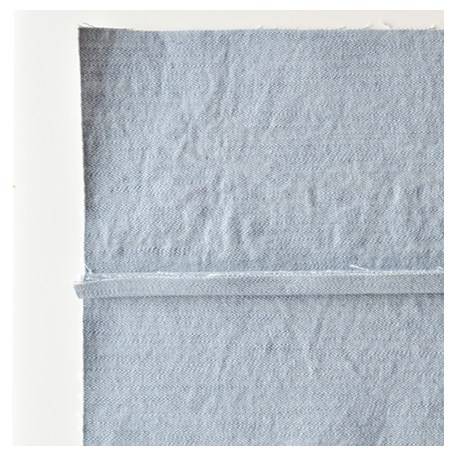 Fold the entire seam over, concealing the raw edges. Give it a good press and pin in place.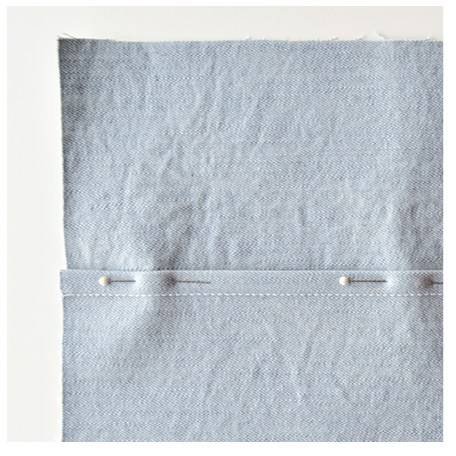 Topstitch edge in place. If you are using topstitching thread, you will use it on this seam.
The backside of your seam should look like this.
Hope you join me tomorrow for a day of catching up!
Angie
---
Not shown (but equally cute paired with these jeans): Reversible Crop Top | Symi Blouse | Calabria top  ...and so many more!
That is all for today! Sending happy sewing vibes your way and I will be back tomorrow to wrap up the sew along.
Best,
Angie
---
You made it! It is time to post pictures of your sweet girls rocking their Northwest Flares Jeans, if you have not done so already!
I really love how mine turned out! I paired these jeans with the Starlight City Dress which I shortened to top length. And of course, a cardigan which you have all probably seen a million times if you follow me on social media – cardigans are wardrobe staples for us because they are just so versatile for transitioning pieces through the seasons. There is no such thing as "summer clothing" with a cardigan in the closet!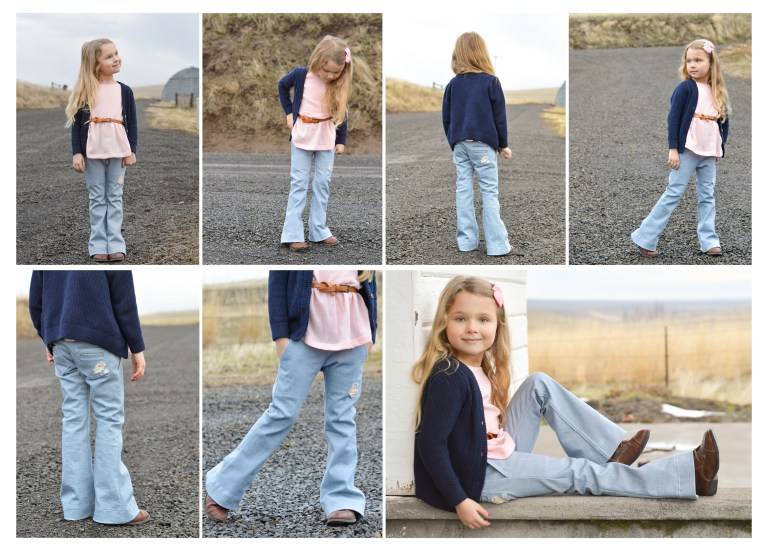 I was so inspired by the pair of white flare jeans that Mgeni from our tester team made for her daughter, I just couldn't resist adding a pair to Joni's closet too! I sewed up the City Girl Swing Top to go with these and sewed the jeans sans welt for variety!

Stay tuned tomorrow for pictures of the gorgeous pair of flares that Jessica made!
Angie
---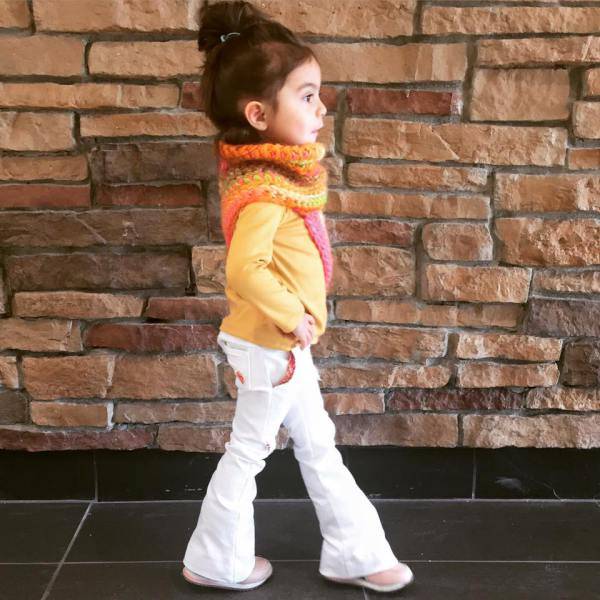 Hi Everyone! I hope you've enjoyed Angie's post and sew along. She is truly talented and we're happy to have her on the Lil Luxe Team!
Until now, my girls have only ever worn skinny jeans, tights, and leggings, so you can imagine their reaction…"mom, why is it so big at the bottom?!
as they shake their leg in the air. It only took a couple wears to get them used to their new style of jeans but now they love them and I can't wash them or make them fast enough. Flares are trending again and I haven't seen any girls flares in store…so be a head of the curve an make some for your little fashionista!
I love how the distressing came out on the white pair I made!!! I couldn't get good pictures of Abby because she wouldn't stop wiggling around this day, so I hope you can see it better on the indoor pictures I took of Olivia. Here are a couple pictures of white denim and blue denim ones I made.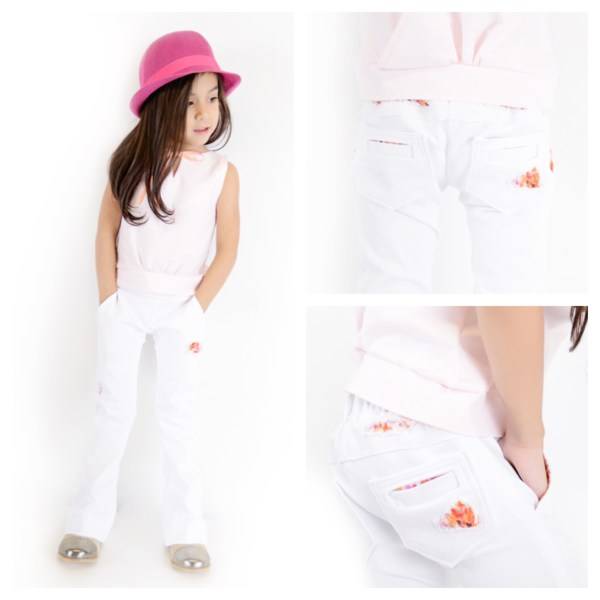 For the denim ones I made, I used a metallic top stitch thread to make them extra special…and since these were the first ones I made, I had to make them sparkle in order to get them to put them on

Abby is wearing them here with a peplum style top.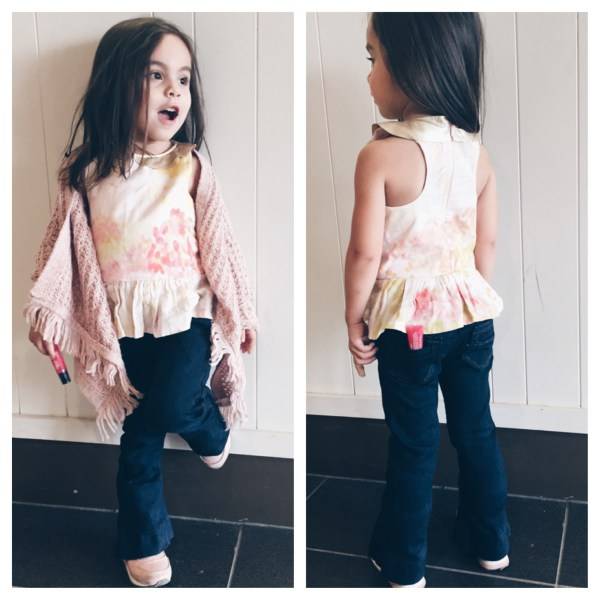 And now for my final modeled pictures! We had to go a little over the top, hehe

 Abby is wearing her blue denim flares with a metallic knit Alley Cat top, Tan Floppy hat, aviator glasses, fringe purse, and fur crop jacket.  Here is my modern retro inspired look: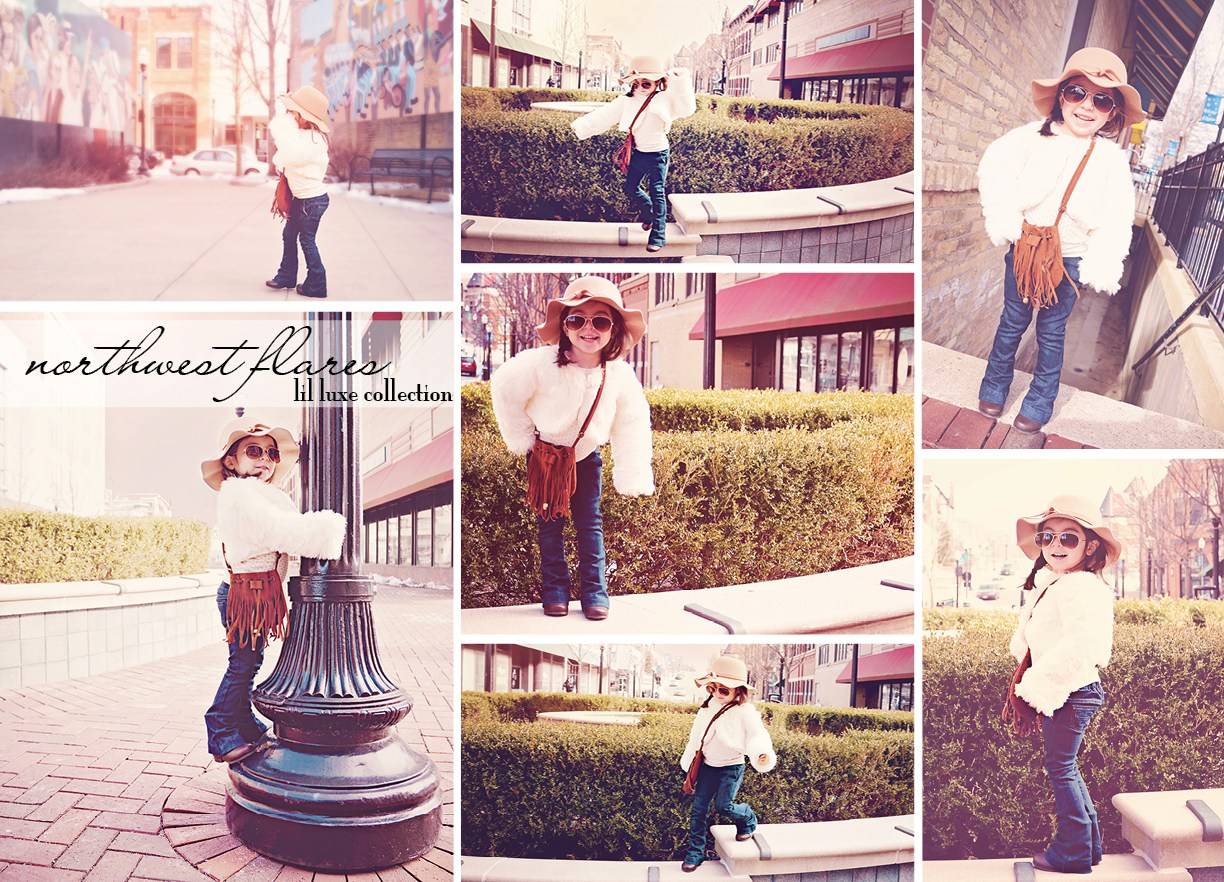 Don't forget to post your final modeled pictures by midnight tonight!!!
Thanks for sewing with us!
-Jess