Today is the final day of the blog tour but the fun isn't over yet! I hope you are all feeling the inspiration from the wonderful bloggers we have had and are planning on joining us for the Sew Along which starts Sunday, February 21st! I am so excited to get started on that and see all of the lovely dresses you make from the pattern. <3 Here with us today to further feed your sewing mojo is Dorothea Cain. We love everything Dorothea makes and are so happy to have her joining us for the tour!!! Make sure you check out her blog to see all of the adorable outfits she makes for her sweet girls and for a special sneak peak of what is currently in testing!
I'm so honored to be a guest blogger on for the LLC Luxe Dress Blog Tour.  My name is Dorothea, but I go by Sam and I blog over at Bonnie and Lottie.  Welcome into the crazy corner that is my sewing space, I'm super excited to have you here!
Thus far I've sewn 2 Luxe dresses, both for special occasions.  This time I've decided to go with something between an everyday running-around-the-school-grounds dress and a picture-day dress.  Of course, I still wanted the dress to have that special touch, so this was also the perfect opportunity for an embroidered panel!  Hence, my first mini tutorial: Inserting a machine embroidered bodice panel.
Step #1: Choose your embroidery design.  This will determine the size of your panel.
I was torn between these two designs for my panel.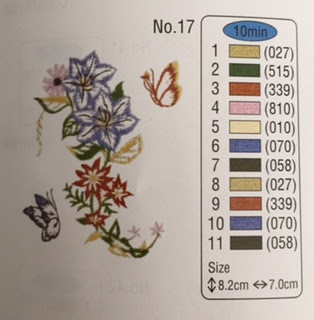 The deciding factor was the size and orientation of the embroidery design.  I wanted something with a longer vertical profile so I went with the first design.
My design was 3.5″ wide which dictated that the panel had to be greater than that. I thought that 2″ from each side of my center bodice would be enough to have my two 3/8″ seam allowances on both sides.
Step #2: Choose where your panel will be on the bodice.
Personally, I like to have the panel centered in the front.  There are 2 reasons for this; there is more flat space in the front of the bodice, and it brings the eye to the center of the dress.  Now the question becomes, how much of the bodice space do you want to take up?  I wanted the panel to be centered around the neckline. To do this I took my pattern piece and drew a line 2″ away from the center down from the neck.  This creates a center panel piece and a side panel piece.
Step #3: Alter your pattern pieces to match your vision.  Don't forget to add the seam allowances!
Since your lining pieces will not be modified from the original pattern, you will need to trace your pattern onto another piece of paper to segment and add seam allowances.
Add a 3/8″ seam allowance to the left hand side of the center bodice panel.
Add a 3/8″ seam allowance to the right hand side of the original center panel line on your side bodice panels.
Step #4: Choosing your interface.
Now this is important, so pay extra attention here. It's the worst feeling to spend so much time on your panel only to remove it from the hoop and find it all puckered and wavy. Examine the density of the pattern that you chose. Determine if your design is super dense, such as images that don't have a lot of empty space between them or have two colors in the same space. The denser your design, the thicker your stabilizer needs to be. In some cases, you may want to double up on your stabilizer. Luckily for me, I chose a fabric that is pretty thick already. So I just used the thickest stabilizer I own and did not need to double up. My husband bought me an embroidery stabilizer box set from Embroidex. It has 4 Rolls of stabilizer; cutaway, tearaway, water soluable, and polymesh. This is in no way sponsored by them, but I find that between the 4 of these choices, I have everything that I need. At least thus far! For reference, this panel used the cutaway.
Step #5: Hooping your panel.
Hoop your panel nice and tight.  The tip that is often mentioned in the manual is that your fabric should make a drum like surface.  I'm not really sure about that since drums are pretty darn tight and I'm afraid of stretching the fabric out.  If it's stretched out too much, it'll relax after it's un-hooped and that can also cause a wave.  I make sure that my panel is nice and flat and can not wiggle.  Also, I'll hold it up and see if there is a "sag".
Step #6: Embroider!
Following the instructions for your machine, select your design.  My machine tells me which colors to load into it for each step.  I like to line up my colors so I don't make a mistake and grab the wrong one.  Now you can just walk away while your machine does its work.  However, whenever I turn my head something always seems to happen.  My embroidery machine is like a toddler in this way.  After it's all complete, stand back and admire your work!  I know it's mostly the machine doing it but, if your machine is like mine, you might have had to do some engineering on it.
Step #7: Cut out your panel piece.
After you remove the panel, use your modified pattern piece to cut it out.  Whew this step is always unnerving for me.
Step #8: Sew your panel to your side bodice pieces.
Right sides together, match the outer edge of your center panel with the inside edge of your bodice side panel piece. Sew together with 3/8″ seam allowance and press seam outwards. Repeat for other side.
Step #9: Embellish! (optional and fun)
This is my favorite step because the hard part is over. Your bodice panel is sewn and now it's time to add your flair. For my bodice, I was blessed by my messy sewing/crafting table. Since I started this dress before Valentine's Day, I was helping my daughter cut some ribbon for the little bags she was giving her classmates. The lace fell out the box and rolled over to the fabric for the dress I had put to the side. In a moment of fortuitous vision, I thought, "wow! This looks great together." The best part, it was a dollar store find! I placed the lace on the side of the panel, just slightly overlaying the edge and top stitched it down on both sides of the lace.
You can do this with any trim you can dream up; pompoms, sequins, sequined lace, ruffles, ric rac … etc. The sky is the limit here! You also aren't limited to just the sides of your panel, you can add a trim around the neckline or between the bodice and the skirt. That's why this step is so much fun.
Et Voila!  You have successfully inserted an embroidered panel.  Give yourself a cookie and a glass of wine.  Or go to bed since it's probably 3am if you have to sneak in sewing time like me.
Here's the finished product!
I also have a special surprise.  Lil Luxe Collection is finally expanding their collection into tweens and woman's sizing.  I'm dancing a jig in my head over here.  The first pattern that is getting "biggified", to no surprise since it is the epitome of the LLC style, is the Luxe Dress!  I was lucky enough to make a Mommy and Me version for B and me.
Since the dress is currently in testing mode, there may be some changes to the final version.  For my daughter's dress, I used a chambray I was gifted from her preschool teacher.  B's skirt is a beautiful Moda print that matched the embroidery so well.  My dress is made of a Robert Kaufman chambray.  I finished the skirt with bias tape made from the same fabric as my daughter's skirt.
I just adore the scoop back of these dresses!  Since I went with a more casual feel, I decided not to use the Horsehair Braid like the other 2 dresses I made.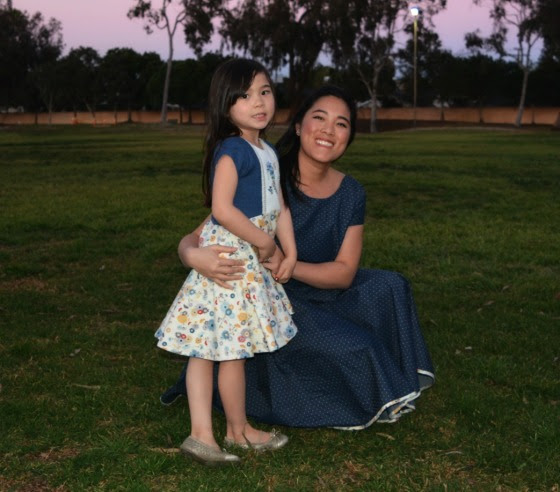 Thanks Jessica and Angie for inviting me along this fun journey!